Akim
The writer Akim has long been a figure in the international urban art scene. His artistic path started with spray-painted graffiti, but he soon moved away from this technique and adopted new methods of writing – such as paint-roller tagging, where symbols and lettering are applied to a surface with a paint roller and telescopic extension pole, or 3D-Writing, being the installation of letter-objects in the public space.
As an artist, Akim has intensively explored the question of his own individualized typography as well as a typography corresponding to the public space. This discussion led to the development of conventional letter-writing and – over the time – to the production of a new alphabet matching the medium of the street.
But Akim does not limit himself only to creating writings: fort he Urban Art exhibition by collector Rik Reinking in Bremen, the artist created the installation Temporarily under Construction", a workshop which – as a place for thought and action – offered insight into the conditions and opportunities of indoor graffiti art. Fielded is the question of whether it is even possible to separate street art from its actual context to exhibit it in a museum.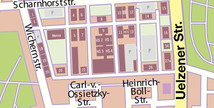 Works of art are created in the city center, the Rotes Feld area and on the university campus Scharnhorststrasse. standorte