Almut Linde
In the Leuphana Urban Art Project, Northern German artist Almut Linde is one of the more classic representatives of art in public space. Following her studies in Fine Arts at the University of Fine Arts of Hamburg and further educational studies abroad in Madrid, she has again and again moved beyond galleries and museums to bring her art into direct contact with the public.
Pinpointed in the "dirty minimal" – representing the main focus of Almut Linde's work – are the essential questions of our time. She investigates how societal processes configure the world and what the actions of the individual reveal about the social, psychological, economic, and political constraints and structures within which the individual operates.
Linde extracts from social units of order – such as the military, industrial production, or public space – significant forms by applying methods that she has evolved from Minimal Art and Concept Art to real-life situations. The resulting photographs, videos, sculptures, and installations bring to light the complexity of the powers and dependencies prevalent in modern global society.
For her artistic oeuvre, Almut Linde was awarded the Bild-Kunst Society's HAP Grieshaber Prize 2008 by the Stiftung Kunstfonds.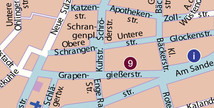 Works of art are created in the city center, the Rotes Feld area and on the university campus Scharnhorststrasse. standorte