Boxi
No matter whether viewed in public space, gallery, or museum, the life-sized and always realistic stencil works by British artist Boxi make it next to impossible to pass them by without feeling emotionally touched.
Boxi makes paper stencils, detailed right down to the millimeter, by hand – creating, through the superimposition of many individual layers of coloring, figures of particularly vivid appearance that are precisely filigreed and detailed. These figures – immersed in shades of gray – make just as realistic of an impression as would a black-and-white photograph and are just as multilayered in meaning as is the technique that engendered them.
What the viewer initially perceives at simply "beautiful" or "impressive" on the surface takes on, at second glance, much more complexity. Boxi always explores topics and circumstances that provoke individual reflection and subjective critical consciousness. One example of this is his work The Eembrace. It not only carries the name of Picasso's pastel drawing from the year 1903 but also reflects an imitation of two lovers hugging as in the Picasso original. Yet in Boxi's work the protagonists are not naked but rather draped in protective clothing. In this way, socio-relevant problems – like environmental pollution, risk of disease, atomic energy, and so forth – are integrated into the reception process.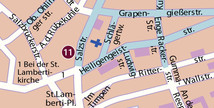 Works of art are created in the city center, the Rotes Feld area and on the university campus Scharnhorststrasse.