Brad Downey
Brad Downey's university studies were a first indication of his versatility as an artist. Downey's works – since his degree in painting from the prestigious Slade School of Art in London and precursory university studies in the cinema arts – have been characterized by their omnifariousness in terms of style, technique, and medium.

In his art, Downey correlates the mediums of film, painting, installation, sculpture, and sometimes even performance in pursuit of ways not only to depict his environment but also to react to it and to instigate a dialogue between art and reality, artist and public, art and urban setting. His objective is hence to disrupt – through subversive and subtle changes in their ordered structure – the signs and signals that govern, organize, and control life in society, thus taking their seeming necessity and logic to the point of absurdity. Through skillful manipulation, alienation, misappropriation, but also a strong measure of humor and irony, Brad Downey brings to light hidden mechanisms of social order, points to perpetually recurring institutional and public behavior patterns, and also attempts to educate his audience in the identification and confident counteracting of social control mechanisms.

Along this vein, Downey's art may be provocative, but it is, at the same, always sentient, highly conceptual, and, most especially, penetrating. He succeeds in discomposing familiar ways of perceiving and acting in public space, in upsetting the logic of urban signage and urban architecture, while masterfully juggling the ambivalence of individuality and conformity, of public space and increasing privatization within the so-called "public sphere."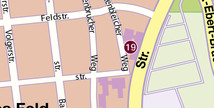 Works of art are created in the city center, the Rotes Feld area and on the university campus Scharnhorststrasse.