Daniel Man
As a classic graffiti writer, Daniel Man has left his mark on walls across the entire world. Following studies at the Braunschweig University of Art and at the Munich Academy of Fine Arts, Daniel Man is today chiefly concerned with the interior space of museums and galleries, which he permeates and fashions with his unique constellations of image, form, and coloring. To him, walls and architectural surfaces are not only to serve as background or canvas for his art, but also always as spaces for communication and as fitting projection surfaces for information. This is made up of – according to the artist – pieces of his "street trove," that is, findings and observations from his own Lebenswelt, which the Munich-citizen-by-choice generates and collects in the scope of his "… cultural ambivalence and pseudoscientific curiosity." Notable here is the fact that Daniel Man transforms his personal observations into a form of art that directly and associatively appeals to people from all walks of life and cultural origin. The spaces he styles – whether reflecting the Chinese New Year, Mardi Gras, the circus, places for contemplation, or a marquee – with their expressive colors and ornamental forms permit countless interpretive possibilities. Common to all is the immediate experience of the moment, of the art, and hence also of the space as well as the engendering a consciousness thereof, enabling viewers to project very individual meaning into this space.
Exhibitions
2008

Call it what you like, group exhibition at the Kunstcentret Silkeborg Bad, Silkeborg, Denmark
fresh air smells funny, group exhibition at the Kunsthalle Dominikanerkirche, Osnabrück, Germany


2007

we are the people who are darker than blue, group exhibition at the Stilwerk Hamburg, Germany

wakin up nights, group exhibition at de Pury & Luxembourg, Zurich, Switzerland
still on and non the wiser, group exhibition at the Kunsthalle Barmen, von-der-Heydt Museum, Wuppertal, Germany
2006

So wartet der alte Pflaumenbaum auf den Duft des Frühlings, solo exhibition at the Künstlerhaus Frise, Hamburg, Germany
Glauben und Wissen, group exhibition at the Galerie der Künstler, Munich, Germany
2005

The 1000 lies of Identities, group exhibition at Siemens Sanat Space for Contemporary Art, Istanbul, Turkey

Leben.eine Gebrauchsanweisung, group exhibition at the Haus der Kunst, Munich, Germany
A5, group exhibition for Peacock Visual Arts, Aberdeen, Scotland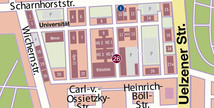 Works of art are created in the city center, the Rotes Feld area and on the university campus Scharnhorststrasse.