Evol
Berlin artist EVOL creates images that directly play on the architectural elements of urban geography – such as circuit boxes, as can be seen at the Leuphana Urban Art Project in Lueneburg. By means of various layered, superimposed stencils – created by the artist through detailed handcrafting requiring many hours of concentration – as well as many different paint cans, EVOL designs images that emerge as a synthesis of painting, photography, graffiti, and drawing.
The artist yields through his works an artistic commentary on the somber, functional design of modernity and its unwavering adherence to a rendition of an architectural utopia. He also focuses on neglected aspects of urban society and sets out to direct the attention of the viewer toward discovering the urban landscape. Moreover, EVOL aims to draw attention to mechanisms like gentrification or the visual disturbances (usually only subconsciously ascertained) characteristic for urban living space.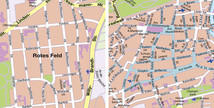 Works of art are created in the city center, the Rotes Feld area and on the university campus Scharnhorststrasse.