Flying Fortress
In the early 1990s, the artist Flying Förtress was already established among Munich's league of graffiti artists. But he soon discerned that the rigid and traditionally oriented writer world – with its stylistic conventions, rules, and strict hierarchies – would at best lead him into an artistic dead end. So, according to Flying Förteress, who had adopted the name of a fighter-bomber from the Second World War, initially stepped away from graffiti writing and concentrated instead on a degree in graphic design.
Armed with new ideas and influences, he soon turned back to streets all over the world, aiming to populate them with his unmistakable Teddy Troops – entire legions of teddy-bear-like characters dressed as soldiers, rockers, roadies, or cannibals and always sporting the unique Flying-Förtress helmet. The Teddy Troops soon became a trademark of Munich, whether as wall painting, sticker, vinyl figure, skateboard drawing, or T-shirt design for well-known street fashion labels like Stüssy, Carhartt, Fenchurch, or for his own label ROCKAWAYBEAR.
After his successful involvement as graphic designer and artist for renowned clientele from the urban-cultural sphere as well as numerous international exhibitions and book publications, Flying Förtress is still going strong – conquering and enthralling public and private space.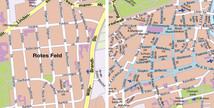 Works of art are created in the city center, the Rotes Feld area and on the university campus Scharnhorststrasse.