Herakut
The German artist duo Herakut, aka Hera and Akut, started their autodidactic artistic careers separately in Frankfurt and somewhere in East Germany, respectively. Both were fascinated by hip-hop culture – and particularly by the brand new idea for individual artistic expression: embarking out into public space, painting, and presenting the results to any and everyone.
In 2004 the artists collaborated for the first time and immediately realized how perfectly they complement each other. For despite all stylistic differences, despite asserting the respective voices of Hera and Akut, they can attain symbiosis as a pair, which makes the Gesamtkunstwerk all the more expressive.
Hera, for her part, creates the backgrounds of their joint works with swiftness and power. Akut, on the other hand, takes his time in composing the photo-realistic figures in the foreground. It is precisely this dichotomy of the two artists that fosters productive contrasts, which render possible different perspectives for viewers of the image.
None of their works to date – applied to wood, canvas, or wall – have been purposefully coordinated. Communication between the artists instead takes place through an organic process in which both the works and the two artists achieve their very own dynamics.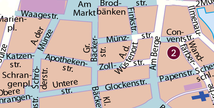 Works of art are created in the city center, the Rotes Feld area and on the university campus Scharnhorststrasse. standorte