Jay One
Jay "One" Ramires is an important representative of the so-called "first graffiti generation." In the 1980s he set out for Paris, where he quickly joined the ranks of aspiring and respected players in the graffiti scene, back then still a young movement. In the 1990s he moved to Berlin for a while, where he influenced the development of the urban art scene in a city that was striving for redefinition after the fall of the Berlin Wall and in which one had the freedom to experiment and to reinvent oneself without disruptions.
Jay One attained international notoriety by participating in numerous important street art exhibitions, but also through his intensive collaboration at Backjumps Magazine, where he was particularly appreciated for his drive for innovation and his ongoing process of artistic development.
What remained constant for Jay One during this artistic development was his characteristic style: his soft, colorful forms. In his works, the Parisian-by-choice sets out to place his art in the context of social life. His aim is to tempt those passersby hurrying past his artwork in public space to pause for a moment and – through his eyes, through his visual transposition of social reality – to see their own lives in a new light.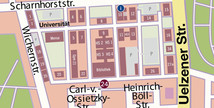 Works of art are created in the city center, the Rotes Feld area and on the university campus Scharnhorststrasse. standorte