Latest Research News
ISC3: "As Chemists, we have a big Responsibility"
2018-09-19 In May 2017, the Federal Ministry for the Environment, Nature Conservation and Nuclear Safety, together with the Federal Environment Agency, launched ISC3. Dr. Klaus Kümmerer, Professor of Sustainable Chemistry and Material Resources, and Leuphana are part of the International Competence Centre, whose aim is to promote sustainable chemistry worldwide. In this interview, the scientist explains why this is becoming increasingly crucial.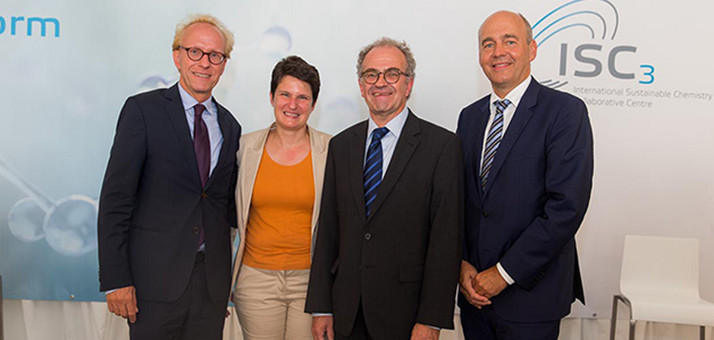 Professor Kümmerer, what does the abbreviation ISC3 stand for?

This term stands for International Sustainable Chemistry Collaborative Centre. It, therefore, extends beyond the confines of Germany, Europe or the Western world, and reaches into developing countries. However, we do not wish to saddle them with anything. On the contrary, we want to cooperate with motivated people – with all stakeholders, NGOs, authorities or politicians – and not just with science and industry. ISC3 participants are keen on being a forum for the advancement of sustainable chemistry worldwide. This is precisely why it was founded by the Federal Environment Ministry. In 1992, at the United Nations Conference on Environment and Development in Rio, environmental pollution through chemicals was already an issue. Ten years later, however, it was observed that the situation had not significantly improved. For this reason, the framework agreement on the global chemicals strategy (SAICM) was adopted in 2006 under the auspices of the United Nations Environment Programme (UNEP). It is intended to promote the sustainable management of chemicals. Until then, companies from industrialised countries used to export chemicals, such as pesticides, to developing countries even when not needed. In these countries, contaminated sites remain a reality to this day. In the future, the aim of chemistry as a science – and of chemical products – will be to avoid that sort of contamination at the outset. It should also, for example, concentrate on the worldwide development and dissemination of knowledge about resource conservation, alternative business models and ethical issues. The ISC3 promotes innovative, sustainable solutions from the field of chemistry, thus contributing to the achievement of Global Sustainability Targets (SDGs).

The ISC3 is located in Bonn, Frankfurt and at the Leuphana. Which part of the contents are you working on?

The ISC3 is an international centre with several hubs. Its main topics and strategic activities are collaboration, innovation, research, education and information. The ISC3 headquarters is located in Bonn, in close vicinity to the international organisations situated there. This is where all activities converge to position the ISC3 as a new international independent institution and to promote sustainable chemistry worldwide. We founded two hubs (satellites) in Germany to integrate the know-how already acquired on sustainable chemistry: an "Innovation Hub" at DECHEMA in Frankfurt and a "Research & Education Hub" at Leuphana University of Lüneburg. Further international hubs are being set up as we speak. The hubs support ISC3's strategic activities with their expertise. DECHEMA in Frankfurt has diverse fields of expertise in chemical engineering and biotechnology. The Research & Education Hub at Leuphana defines a global picture of international research. Among other things, the hub sifts through trends in science in order to identify at a very early stage what would be really sustainable and what merely purports to be. Vehicle mobility, for example, can be achieved chemically by using renewable energies to produce electricity. It is expected that, in 2050, 95 percent of power sources will stem from electricity. That sounds good for now. Nature doesn't charge for renewable energies, but we need receptacles to store them in.

All too often, however, these solar energy collection vessels are made of non-renewable material.

We need solar cells, infrastructure and, among other things, non-renewable rare earth elements. Do we have all the necessary resources at our disposal, especially when we think of the increasing digitalisation and electronification in all areas of life? In addition to electricity, all these technologies also need a material basis. Furthermore, electromobility also requires electricity and resources. This approach does not solve the problem of the glut of cars on the roads. We can synthesise organic compounds at any time, but not metals. Each application irretrievably swallows material parts. The components of catalytic converters for cars are classic examples of devices which contain materials that can be found anywhere, near the road, for example, but in such minute quantities that it makes no sense to harvest them. The same applies to mobile phones when not recovered at the end of their useful lives. Recycling technology is highly sophisticated, but with a collection rate of only 30 percent, the overall share of recycled matter cannot improve. Unless it pays off, old cell phones will not be handed in for recycling, and the metals they contain will be lost. Building smartphones with fewer metal components is not the solution either, as this makes the recycling process more energy-intensive. We are also interested in tweaking the sustainability assessment of a chemical product. There are already many methods, but they are not enough. We want to find out to what extent entropy as a measure of unsustainability can bring new understanding. Energetically and also materially this means: we can do what we want. A certain proportion of the energy and of the material will dissipate. But we can proceed cleverly and greatly reduce the loss. We can lose 0:2, but also 0:12.

Also Leuphana's Summer School on Sustainable Chemistry is now part of ISC3. It will take place for the fourth time in September.

The Summer School is part of our educational mission. Participants come from all continents, many also from developing countries, we are happy to say. Among other things, we will introduce our approach to sustainable chemistry and apply it to case studies. For interested parties, we are currently compiling an online atlas showing and overview of the places where there is research, teaching and activities on sustainable chemistry. There are more than I thought, though it's not systematic. It often depends on people who are committed to integrating individual content into courses. That is why we are currently developing two international courses of study. Both will function as regular master's degrees, but can also be studied module-wise by people staying in their job. The courses of study, designed as joint offers by Leuphana and ISC3, can be used by every institution as a whole or in parts and should be carried independently. One course will be more chemically oriented; the other will deal with the management of sustainable chemistry. It's pointless having sustainable chemists with a broad view in our laboratories. We need them on management floors. Both courses will also be offered at Leuphana and may be introduced at a Tunisian university next year.

Why is cooperation with the Global South so crucial?

From my point of view, and I am not alone, the future of our planet will be decided not only in Asia, but also in Africa. By 2050, Africa is likely to be the most populated continent. Think of all the things that can be set in motion if all these people receive an education! Besides, that continent is blessed with vast material resources. And since all the material world around us is chemistry, we chemists have a great obligation there.
Interview by Marietta Hülsmann. Translation by Beatrice Goutfer.