Alumni portrait: Prof. Dr. Tobias Blask
Alumni portrait: Prof. Dr. Tobias Blask
2020-02-07 Tobias Blask studied at the Faculty of Business and Economics. He did his doctorate at the Institute of Information Systems and founded the AdTech company "Adference" with four colleagues. He eventually accepted a professorship in Southern Germany.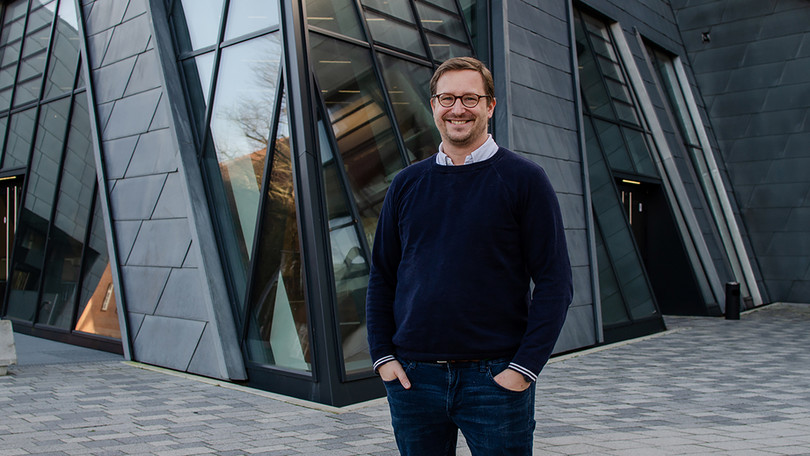 ©ANNA STOJAN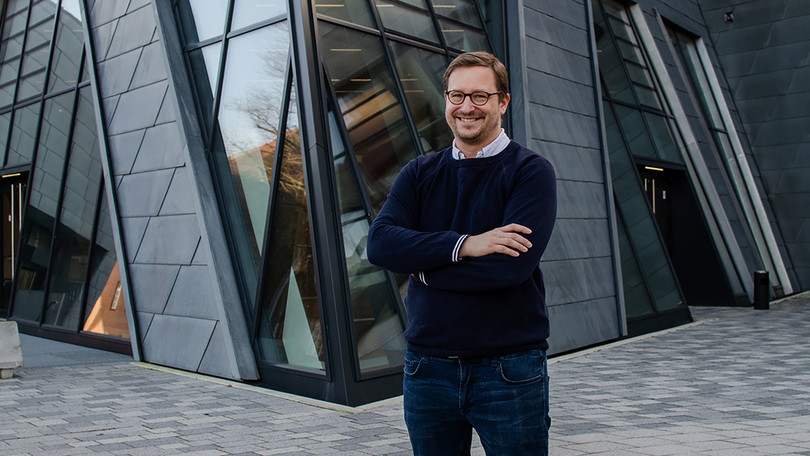 ©Anna Stojan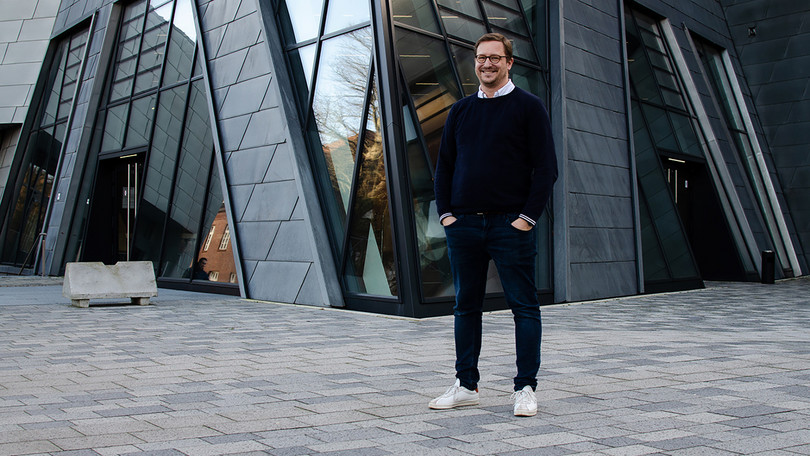 ©ANNA STOJAN
Tobias Blask had always known that he wanted to found a company and become a professor. The fact that both actually worked out is somewhat surprising to him, but in the end it is the result of a lot of hard work, courage and a little luck.
First of all, he completed an apprenticeship as a marketing communication assistant. "But then I realised that something was missing and that I needed to expand my horizons by studying," he says. "I decided to study economics and social sciences." He completed his studies in 2007 and decided to start out as a free lancer. Early on, he discovered his passion for digitalisation, online marketing and quantitative research methods. When a corresponding doctoral position was advertised at Leuphana, he was immediately enthusiastic and applied to the Institute of Information Systems, to Prof. Dr. Burkhardt Funk.
"The objective of our research was the analysis of user behaviour on the Internet. The datasets are very extensive. However, there are usually only very few observations available for individual cases. Given these circumstances, we were looking for means of predicting purchase probabilities with a high degree of certainty at a very early stage." At the same time, the practical relevance has always fascinated him. Companies make decisions based on results. This may occur in the distribution of marketing budgets within the framework of so-called attribution modelling, or as decision intelligence in technologies that perform automated and self-learning optimisation. "Specifically, I did my doctorate on the automation of decision making in digital marketing, mainly using Bayesian statistics". It is a method that very elegantly allows integrating prior knowledge into a decision situation, so that well-founded decisions can be made even on a very small number of cases.
"In research, we started very early to cooperate with different partners from practice. The application-oriented research project was part of the large-scale EU project Innovation Incubator. Our results met with increasing interest from these partners, prompting our team to discuss possible business models for a start-up. In 2013 we decided to implement the project." The new company, Adference, started out with two mainstays: "We offered companies complex individual advertising impact models. Very large advertisers approached us primarily and asked 'how relevant is the contribution of individual advertising measures to the fact that my product was bought? Which is therefore our ideal marketing mix to achieve a specific goal?'" There are statistical means to answer this question with a relatively high degree of certainty. It allows companies to better plan what they spend their budget on. At the same time, the founders developed software that works automatically for advertisers in Google and Amazon. It has been such a success that Adference has now become one of Google's largest partners in Germany.
Asked about lessons learned and possible conclusions in terms of education, Blask answers: "The individual professional background is only partially relevant. Teamwork and agility are much more important. I was not alone at all when the company was founded; we were always a great team, a group of founders working towards a common goal with a lot of effort and friends. In addition, we always had benevolent mentors and companions. By the way, this is something that I have taken with me and want to live at my current position. The colleagues from the start-up consultancy and the cooperation service have been with us and supported us throughout the entire start-up phase. The outstanding personal commitment of Andrea Japsen and Carsten Wille cannot be stressed enough at this point. The importance of community and mutual support is a constant, the importance of which I am aware of, time and again. Even in matters which you think are classic for lone wolves, such as science, you are never alone - you have your doctoral supervisor, your colleagues at the institute, your circle of friends and your family to support you. According to Blask, science start-ups have a good chance of being supported through a variety of funding programmes. "Our company received two helpful grants (EXIST Business Start-up Grant, Leuphana Business Accelerator), among others. This has helped a lot. Last year, we were also awarded the regional start-up prize impulse 2019".
However, his desire to work in science on a long-term basis was still there. Entrepreneurship and research are not that different, after all. "I take great pleasure in questioning topics in my areas of expertise, exploring in depth, building and testing new models - with all their ups and downs." When the founders sold Adference to the fashion giant "About You" after five years, Blask put his second career wish into action: "I accepted the offer of a professorship for digital advertising at the Stuttgart Media University. Now I intend to teach and do research on the topics that move me most. Naturally, you have enormous freedom in the individual design of this great profession. I really enjoy working with students. The energy, the questions, the enthusiasm that students have is great and I am happy to be able to share some of my knowledge. And so much the better, if a spark of my entrepreneurial enthusiasm is transferred in the process!
More investments and a new start-up are in fact planned for the near future: "Once you have found the enthusiasm for entrepreneurship, it never lets go of you. On the one hand, there are great start-up activities in the vicinity of the university in Stuttgart, which I am very happy to get involved in at the moment. However, we are currently also working specifically on a start-up idea at the interface between personalisation and artificial intelligence. It holds a large number of application scenarios of high scientific and economic relevance.