Field Reports: Master Management & Data Science
Narzullo Nasrullozoda took a new academic direction after his studies of Business Economics in Tashkent and London.
Having a chat with Narzullo Nasrullozoda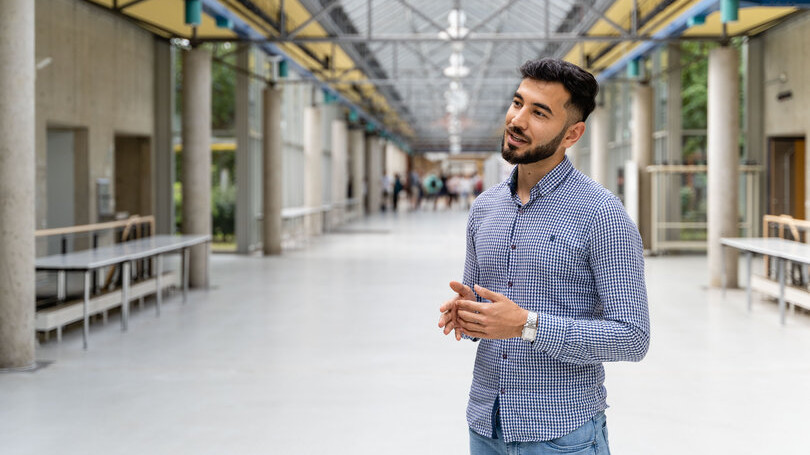 ©Leuphana/Patrizia Jäger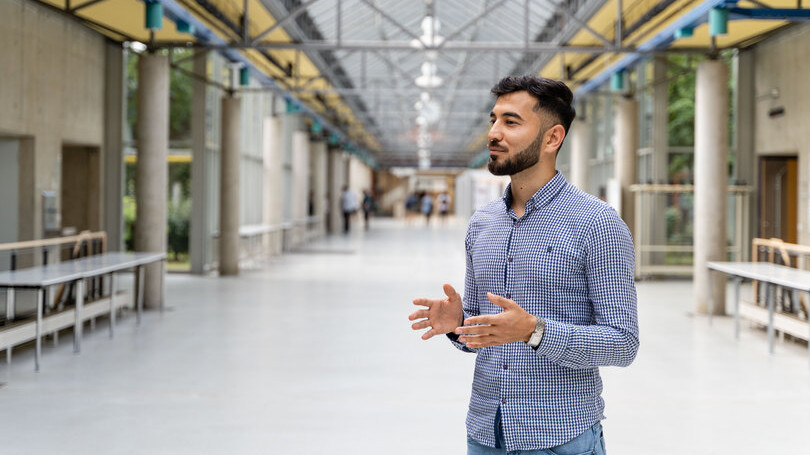 ©Leuphana/Patrizia Jäger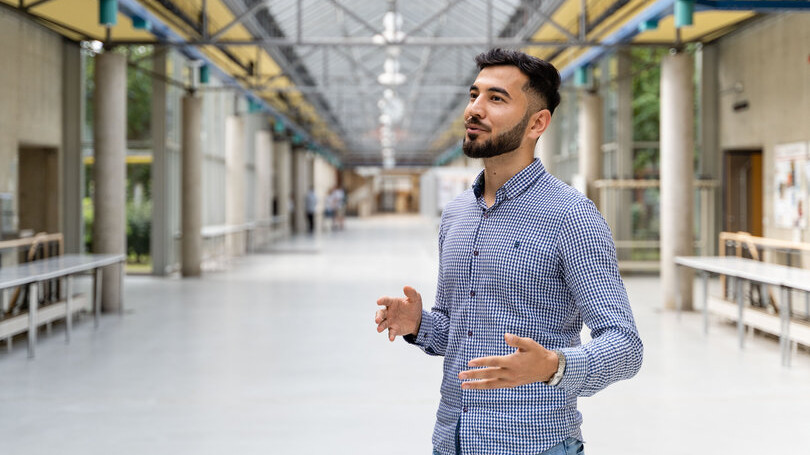 ©Leuphana/Patrizia Jäger
What did you study before you started your masters at Leuphana Graduate School?
Why did you decide to do the Master programme Management & Data Science? Were there any criteria you followed?
After I finished my Bachelor, I read many articles that said that Data Science is the century's science and highly demanded. Since my Bachelor in Business Economics was very theoretical, I wanted to get some practical skills, like programming. With a degree in economics, you are part of a big team in a company. However, as a data scientist, you can work very independently.
What expectations did you have before you started your Masters at Leuphana? Did your expectations been met so far?
I did not have many expectations. Because I come from the background of economics, I only had few previous knowledge about what Data Science is. However, I wanted to get skills that are more practical, for example learning programming. The Masters programme Management and Data Science offers some courses to learn the basics about programming languages like R and Python. The rest is up to the students so students should have the persistence and motivation to self-educate themselves.
How did you cope with the new disciplines of your studies?
In this programme, students should be able to work a lot independently. My impression is that the professor teaches about the overall topic and explains thoroughly how it works. A professor does maybe ten percent of the job for you – the other 90 percent is up to you. I was not used to this kind of system. Especially for me with an economic background, it was a bit challenging. In Data Science, you need mathematics, programming skills and some statistics to start. In the beginning, it was challenging, because I had to work a lot on my own with the computer and studied a lot. On top, I wanted to learn German. It was a kind of learning three languages at the same time. The first year was tough.
Leuphana understands itself as inter- and transdisciplinary university. How did you experience this in your study, for example in your complementary studies? Do you see this interdisciplinary orientation as something positive or negative to you?
Leuphana has a strong research focus in environmental sustainability studies and I had the choice to take some complementary modules concerning environmental issues. For instance, I had a module called "Transdisciplinary approach to soil threat". The background of students in this module was very different. To be more precise, I met some students of the Masters programme Sustainable Science. We went to eat several times in the canteen and it was cool to learn more about environment from them. Thereby, I have become much more concerned about the environment than before. Besides, the interdisciplinary exchange happens in my programme, too, since we are coming from many different backgrounds such as mathematics, computer science, psychology, business, economics, finance and others.
Now let us talk about Leuphana as a place to live as a student. Leuphana offers a lot for students to engage next to their studies, like initiatives or sports. Are you active somewhere?
What I really like about Leuphana is "Hochschulsport"– sports at the university – where you have very good offers. I play Frisbee, which I have been doing for about 1 1/2 years now. With my team, I have just participated in the Hochschulmeisterschaft, the sports championship for universities in Germany. On top, I do swimming and go to the gym. In fact, you find almost every sports discipline at the University.
How do you like the city of Lüneburg as a place to live, and how do you spend your leisure time in Lüneburg? Do you use the semester ticket?
Before I moved to Lüneburg, I lived in big cities like Tashkent, Moscow and London. Lüneburg is a very nice to live as a student and you can have a very balanced life, here. This was important to me, too. There are many things to do in Lüneburg and you can enjoy your time. The city centre of Lüneburg is historical and I like spending time there. On top, you listen to live music, spend time with friends in parks or go swimming in the local river in summer. For two years, I think Lüneburg is big enough. After two years, maybe the city might be too small. For these cases, Hamburg is close and you can go there by train with the semester ticket.
What are your plans after finishing your Masters programme?
This is a good question and I am not sure about it, yet. I would like to work some hours with a computer and some hours actively with people. One of the paths after finishing this programme could be developing a business model and I could imagine founding my own company. Right now, it is just an idea at the back of my head but my area of interest is connecting people with each other. To be more precise, we all have some kind of experiences and skills. I would really like to simplify sharing experiences and skills in our society. However, I could imagine working in a company as a data analyst or data scientist, too.
To whom would you recommend Management & Data Science?
I think it could be a very good programme for students who want to do a doctorate because the professors support you to publish good papers. For students who come from another academic background than programming or mathematics without previous knowledge it might be a bit challenging. Then, you have to study a lot on your own. Overall, if you really want to do it you can definitely manage it. If you already have solid programming or mathematical skills, it is a great programme because you already have the background in one of the major fields of Data Science.