Summer School 2023: Feature your Future
The three-day digital, international Summer School is a learning, reflecting and networking event for advanced master's students and doctoral candidates from three higher education institutions: University of Glasgow, KU Leuven and Leuphana University Lüneburg. The Summer School is dedicated to the topic of academic career development, with a focus on futures thinking. We aim to enable the participants to develop interdisciplinary competences in addition to specialist ones—regardless of whether you intend to work in the academic or non-academic world.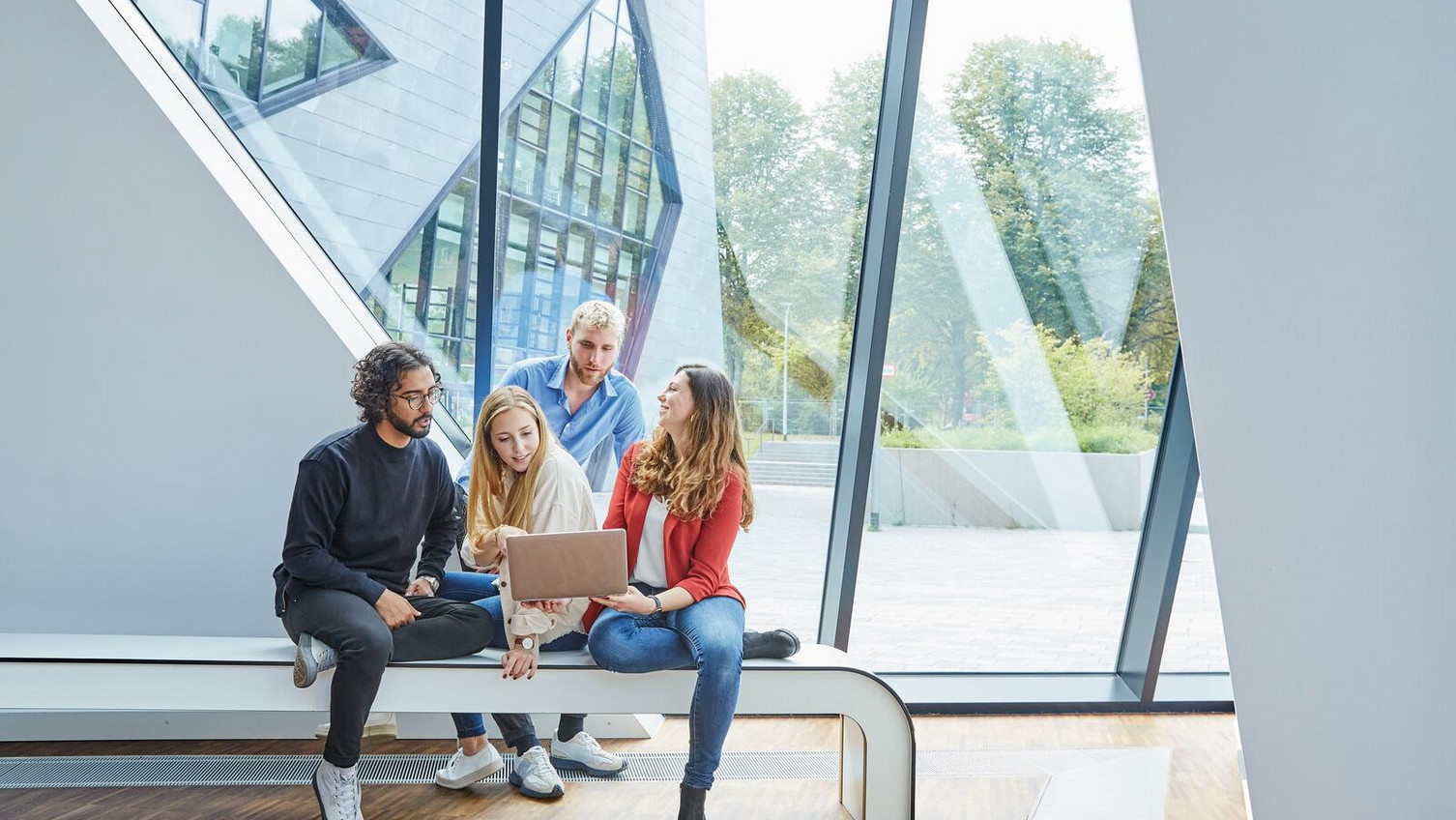 Host
Leuphana University Lüneburg
Location
Online (Zoom Webinar)
Field
Academic career development, Futures Thinking; Applied Strategic Foresight
Dates

24 May 2023 (ice-breaking event) and

12 July 2023 – 14 July 2023 (main event)

Duration
3 days
Language
English
Participants
Advanced master's students and doctoral candidates
Fee
15 Euros
Workload
5 CP (150 hours workload)
Contact
featureyourfuture@leuphana.de
Application
starting on 1 March 2023, 10 am CET | 9 am GMT
Application deadline
31 March 2023, 11.59 pm CEST | 10.59 pm BST
Assignment submission deadlines
15 September 2023; 30 November 2023
What is the Summer School about?
Future thinking competence, or why we all need to think like entrepreneurs in the future.
The socio-ecological challenges of the 21st century, such as climate change, make socio-economic change indispensable. We are all facing a future where uncertainties, ambiguity, complexity, and constant change will shape our everyday work. Thus, an effective academic career (inside or outside academia) does not only require expertise in a research field any more but also other transversal key competences that support us in coping with resulting trends such as digitalisation, new work or security issues. Therefore, it is important that (future) professionals, like you, can identify and reflect on these trends, understand future uncertainties, and can create future scenarios. We want to empower you, as graduates, to connect applied strategic foresight to your academic and professional career perspectives to engage in societal transformations.
In this digital, international Graduate Summer School, we will give you the chance to work on your future thinking competences by reflecting across disciplines, educational levels, and institutions on your career perspectives. Together, we will illustrate current trends in international academic career paths, explore your qualifications, learn about the informal challenges of international academic careers and future academic workplaces, expand transversal competencies and close with noting down concrete individual action plans.
The three-day programme includes keynotes by experts from researcher development and graduate education, interactive workshops on futures thinking and other transversal competences, ignite talks by participants as well as social events for networking and leisure time.
The Feature Your Future Summer School programme will support you to develop:
Knowledge of megatrends and challenges
Ability to applied strategic foresight and futures thinking
Awareness of and strategies to deal with informal challenges of international academic careers
An updated academic career idea for applications, grants, and fellowships
Professional confidence
A network of lecturers, master's students and doctoral candidates at partner institutions
Interculturally sensitive digital collaboration skills
Ice-Breaking Event (24 May 2023)
To get to know each other, you and the other participants will meet digitally in advance, on Wednesday, 24 May 2023, for a mandatory ice-breaking event. The event lasts four hours in the afternoon (tbd: from 3 to 7 pm CEST/ 2 to 6 pm BST) and will take place online.
Summer School (12 July – 14 July 2023)
The Summer School itself will take place from Wednesday, 12 July to Friday, 14 July 2023.
The Summer School programme consists of keynotes, workshops, ignite talks, reflection sessions and social events all dedicated to academic career development and futures thinking. The extended programme gives you an overview of content, lecturers and learning outcomes. The highlight of this year's Summer School is an eight-hour workshop by the Copenhagen Institute for Futures Studies on applied strategic foresight in the context of the future of universities.
Credit points and workload
The Summer School is credited with 5 CP (CP = credit points; 150 hours of workload). You are expected to engage actively in all planned activities and help make the Summer School a non-judging, welcoming and great experience for everyone.
Workload per activity
| Activities | Workload (hours)1,2,3 |
| --- | --- |
| Ice-Breaking Event | 4 |
| Summer School Programme | 24 |
| Preparation | 22 |
| Report | 100 |
| Total | 150 |
1Students from partner KU Leuven or University of Glasgow: Your achievements will be recognised in consultation with your home institutions. Grading of the assignment and the final examination will be specified individually by the partner institutions (see table assignments). 2Leuphana master's students: The 5 CP can be credited for the module of the complementary studies "Connecting Science, Responsibility and Society". 3Leuphana doctoral candidates: The 5 CP can be credited for the module "Scientific Practice/Ethics".
Your performance will be assessed according to learning objectives of the Summer School. The performance examination consists of three assignments. All information regarding format and examination period will be given and explained to the participants at the ice-breaking event.
Overview of the assignments
CP
Assignment
Glasgow1
LEUVEN2
LEUPHANA3

5 CP

Ignite talk
pass / fail
pass / fail
pass / fail
Essay (5 pages, including references)
-
pass / fail
graded
Reflection report (1-2 pages)
pass / fail
pass / fail
pass / fail
1 Master's students and doctoral candidates of the University of Glasgow are exempt from writing the essay. 2 Master's students and doctoral candidates of the KU Leuven will not be graded on any of the assignments. 3 Leuphana master's students: The essay-part of the report will be graded. If you want the Summer School to be credited, the report has to be graded. 3 Leuphana doctoral candidates: You are exempt from grading, but must submit the essay and report.
Assessment criteria
Criteria

Aspects

Content adequacy (50%)

Clear problem definition and questions
Originality of ideas and arguments
Relevance for the topics and learning outcomes of the Summer School

Scientific rigor (30%)

Well-founded priority setting
Coherent reasoning
Evidence-based reasoning
Comprehensibility
Convincing structure
Scientific, objective style

Formal quality (20%)

Consistent use of terms
Uniform matter of quoting
Readability
Formal correctness
The deadline for submitting the final report at Leuphana is 15 September 2023 not later than 11.59 pm CEST | 10.59 pm BST. The second submission date is 30 November 2023 not later than 11.59 pm CET | 10.59 pm GMT. Submission dates for partner institutions will be announced in the ice breaking event.
"A student is working in a wooden chair on campus."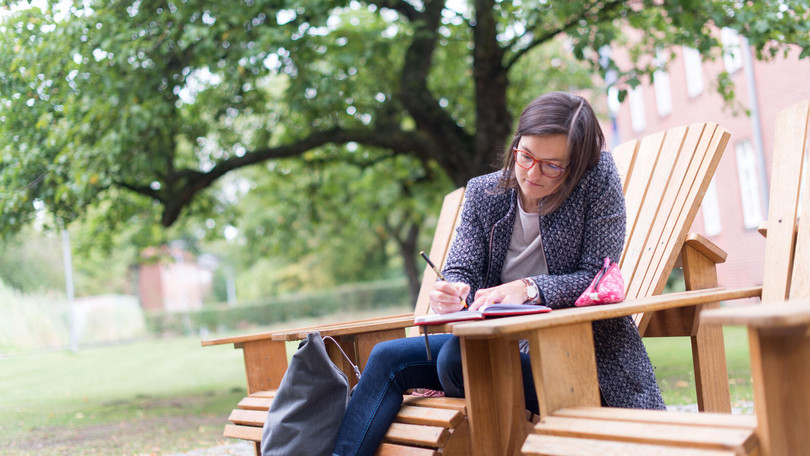 ©Leuphana Universität/Jannis Muser
"Students working as a group in a seminar room."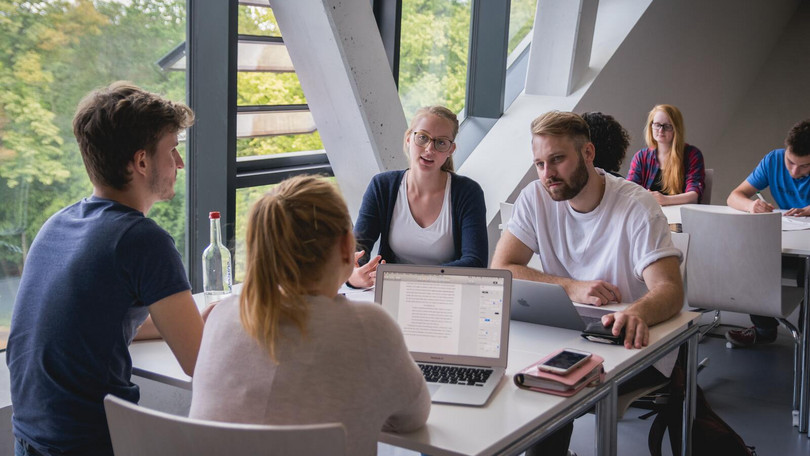 ©Leuphana/Kersten Benecke
"A student is sitting in the cafeteria with her laptop."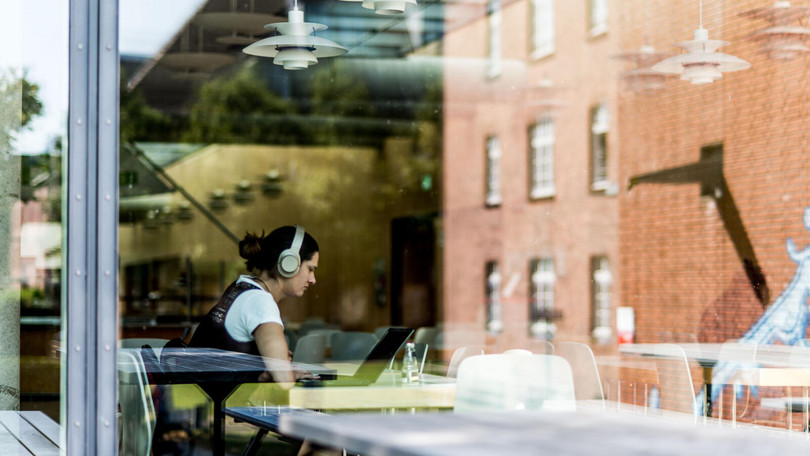 ©Leuphana Universität/Jannis Muser
Application and Selection
The application process starts 1 March 2023 at 10:00 am CET / 09:00 am GMT.
More information will be published soon.
The Summer School aims at advanced master's students and doctoral candidates from three higher education institutions: University of Glasgow, KU Leuven, and Leuphana University Lüneburg. The enrolment is limited to 50 students.
Participation requirements
You need to be enrolled in study programmes at one of the participating institutions. Further requirements are the preparation of a 5 minute ignite talk consisting of 20 slides (each presented for 15 seconds) that will be presented at one of the ignite talk sessions. The ignite talks should cover your career narrative (What did you study, where did you work? What are your primary interests), and if applicable your visions for the future (e.g., in a form of a mood board). Think of the talk as telling a story to your peers about what you have achieved and of what you want to explore. All questions regarding the ignite talks will be explained in a FAQ session during the ice breaking event. Participation at all events of the Summer School is required. The conference language is English. You must be able to present the ignite talk in English, actively participate in the workshops, and write your final report in English. In addition, you are expected to be able to be present at the ice breaking event as well as throughout the Summer School period.
A full application includes the following documents:
Application form: Completed digital application form.
Letter of admission: Your student status can be proven by a letter of admission from the respective university or, where this is not possible, by a letter from the supervising professor.
Letter of motivation: You need to apply with a letter of motivation (max. 1000 words) that explains your motivation for participating in the Summer School and your academic career ideas. The selection to the Summer School depends on an excellent motivation letter. You should answer the following questions: Who are you? Why do you want to engage in the Summer School? What are you expecting to learn? Why is the Summer School helpful for your career development and education? What qualities do you bring to the Summer School?
CV: The CV should tell us the highlights of your education (1 page). The highlights should be connected with the motivation letter and the Summer School. Please consider using the English CV format, do not add a picture of yourself, and keep the personal information to a minimum. You can best focus on these sections: Contact Information, Work Experience, Education, and competences.
Language skills: You must confirm that you are fluent in the English language to follow and actively participate in the Summer School activities.
The application process starts 1 March 2023 at 10 am CET | 9 am GMT.
The application deadline is 31 March 2023 not later than 11.59 pm CEST | 10.59 pm BST.
The selection committee is formed by one member from each of the participating institutions and is organised by Leuphana University. Applications and documents are received and managed centrally at Leuphana University Lüneburg. Not later than two weeks after the application deadline, the acceptances and further information will be sent out. Your participation will be confirmed via an E-Mail letter of acceptance, when you have paid a contribution towards costs for materials and the digital conference environment of 15 Euros. Information on the payment of fees can be found in the letter of acceptance.
Summer School Coordinator
| | |
| --- | --- |
| Anna Sundermann | |
| Manager for Digital Internationalisation | featureyourfuture@leuphana.de |
| Leuphana Graduate School | Phone +49 4131 677-2404 |
| Project Digital Transformation Lab (DigiTaL) | |
| Universitätsallee 1, C14.129 | |
| 21335 Lüneburg | |