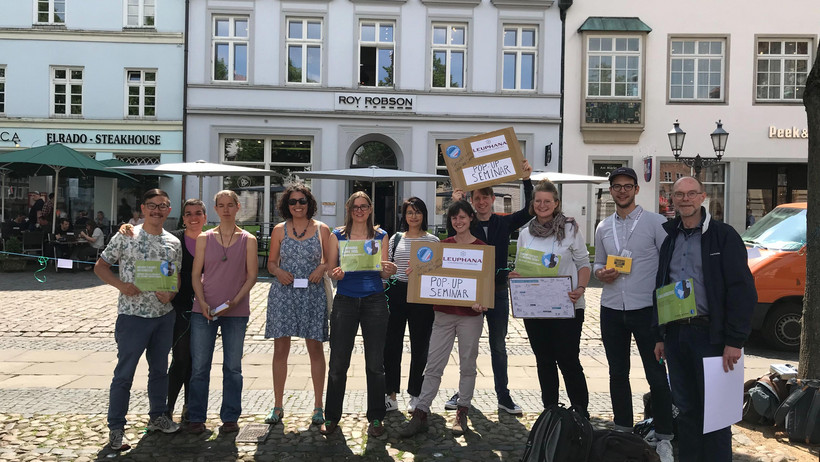 The contact address for all, external and internal, who want to get in touch with Scientists 4 Future group Lüneburg:
Who we are, what we do and why we do it.
Who we are, what we do and why we do it.
The S4F regional group in Lüneburg was formed at Leuphana University in March 2019, and incorporates scientists from a range of scientific institutions in the area. We are a group of sustainability, social and natural scientists who are organizing to stand with the school students in the Fridays for Future movement. We have signed the Scientists for Future declaration that publically declares our support for the climate strikes and the scientific claims they make (see further information in scientific article and fact sheet). Further, we take action to support our local school students in their efforts to secure a sustainable future in Lüneburg and beyond (see voices of students and their scientific base).
Leuphana University places sustainability at the centre of its teaching and research. Within this, some of us are specialists in transdisciplinary research, while others research the natural science basis of our changing environment or the educational approaches needed to develop competences to shape sustainable development. Together, we work to integrate scientific and practical knowledge, and engage with decision-makers and action-takers to co-create solutions to sustainability problems, such as climate change. We cannot provide all the answers, but we can create bridges between different skills and knowledge in order to find them.
We act as a hub to stimulate evidence-based action to ensure that Lüneburg and surrounds are doing their part to preventing climate breakdown.
Our activities will evolve over time within this remit. Currently we are focusing on equipping people with the skills necessary to understand the threat of climate breakdown, and understand the types of actions that can be taken in the region. With this focus, we offered a Climate literacy workshop in September 2019 to tie into the international week of climate action.
Climate literacy workshop. Aimed at parents, teachers, interested public. Evening of Wednesday 25thSeptember at Leuphana University. We receive many requests to provide facts, or verify information about climate change. To help people feel more confident in locating, understanding and using information about climate change we created this workshop. We focused on the basic science of climate change, how to access information, how to feel confident in the validity of information, and understanding how such information is generated (and the key organisations to be aware of).
As a group of scientists, the Fridays for Future movement and the school strikes have given us hope. Scientists have been saying for decades that we are heading for a climate catastrophe. We have been developing ideas for alternatives to our current destructive system, and have tools and techniques for exploring sustainable futures or implementing sustainability in the education system. But it has often felt like no one was listening. The climate strikes have fundamentally changed the conversation, and have people listening and motivated to act to prevent climate breakdown. We want to come together with the school students to participate in this conversation, and to bring forward the skills that we have, and the knowledge that sustainability science has created. We want the school students to know that they are not shouldering this responsibility alone – we stand with them, and together we can create change.
A Friday for local climate // 07.02.20
Workshop of the regional group Scientists for Future Lüneburg
On 07.02.2020, more than 30 pupils and students took part in the workshop 'A Friday for the local climate' at Leuphana University. Together with Prof. Dr. Markus Quante, Prof. Dr. Thomas Schomerus and Philip Gallmeister from the Klimaschutzleitstelle, the participants had the opportunity to exchange views on current climate change developments worldwide and in Lüneburg as well as on corresponding legislation in Germany. In addition to the two keynote speeches by Prof. Dr. Markus Quante, who described climate change and its effects on a global and regional level, but also suggested possible solutions, and Prof. Dr. Thomas Schomerus, who addressed the current legal situation against the background of the energy situation in Germany, exciting World Café discussions were held on various questions: 'What is already happening in Lüneburg?', 'Where can the Fridays for Future movement start?', 'In which areas is too little happening in Lüneburg? The result was exciting solutions and ideas that already exist or can be developed further, such as 'Lebendiges Lüneburg', the possibilities of participation in the city and district councils or the possibility of expanding the city school students' council in Lüneburg.
Organised by the regional group Scientists for Future Lüneburg with Maike Buhr, Harald Hantke, Dr. Lydia Kater-Wettstädt, Prof. Dr. Julia Leventon, Steffen Pabst, Hanna Weber and Dr. Annika Weiser, the workshop was aimed at all interested pupils and students who would like to get more involved in climate protection in Lüneburg or simply want to learn more about it.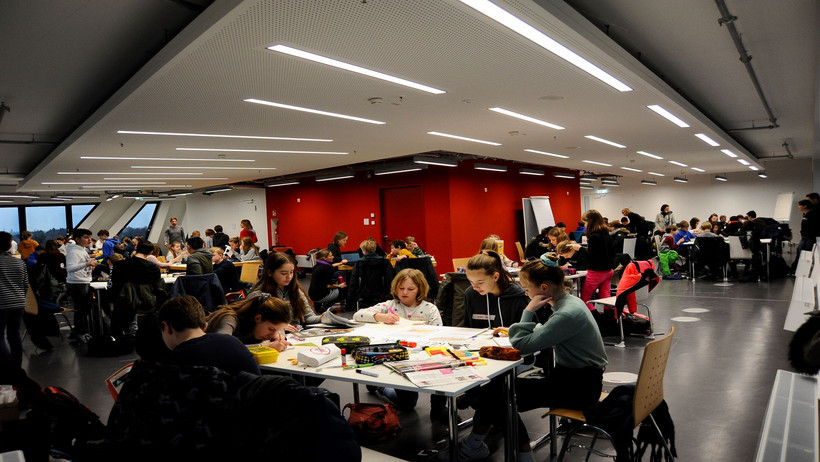 100 pupils think about another world // 30.01.20
A cooperation of the S4F of Leuphana and the Wilhelm-Raabe-Schule Lüneburg
On Thursday, 30.01.2020, about 100 pupils in grades 5, 6, 9 and 11 of the Wilhelm-Raabe-Schule Lüneburg visited Leuphana University in order to perhaps get answers to their question about the development of climate change and global events. The students had previously applied in classes to participate in the workshop on "Climate Change and Sustainable Development", for which they made a film, built a big house of dilemmas or developed an app for future. The concept of the competition in the school as well as the workshop at Leuphana itself was developed by Steffen Pabst (Leuphana, Institute for Ethics and Transdisciplinary Sustainability Research, committed to S4F), Silke Menzel-Bizi (teacher at the Wilhelm Raabe Schule and committed to Parents For Future) and Dr. Lydia Kater-Wettstädt (Leuphana, Institute for Integrative Studies, engaged with S4F) together: the students should have the opportunity to question the self-evident and to develop their own answers to their questions in the discussion of different sustainability initiatives. They were also supported by their respective class teachers: Helena Pleß, Irene Grossmann and Philipp Lang. The UNESCO coordinator of the school, Matthias Hörig, as well as the headmaster Thomas Wetzel did not miss the opportunity to come. Scenarios like "What would a world look like without governments" or "without cars" or "without internet" should help the students to take a new perspective on challenges and their solutions. In a creative debate, the cross-class groups created collages that took up numerous ideas such as underwater trains, direct democracy or a culture of giving.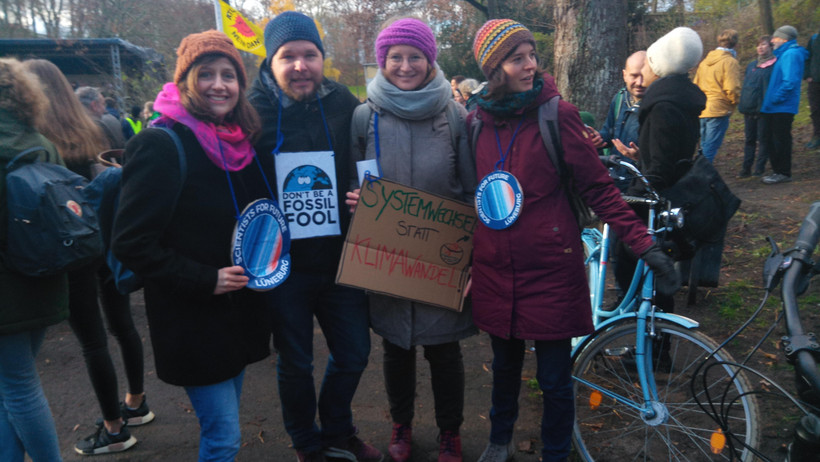 Global Climate Strike in Lüneburg // 29.11.19
At 29.11.19 we took part at the global Climate Strike in Lüneburg, to publicly support our local students and their political demands.
Climate Literacy Workshop // 29.09.19
On 29th September 2019, Scientists 4 Furture Lueneburg hosted a climate literacy workshop. The workshop was aimed at parents, teachers and interested adults, to help them support the school strikers and understand the science that is behind the Fridays 4 Future movement. When Greta Thunberg implores us to 'listen to the scientists', who are the scientists, and what are they saying? To answer these questions, we provided three short presentations, with time for questions and discussion. Our presentations were:
Climate change: Science and impact - Dr. Holger Brix, Institute for coastal rsearch, Helmholtz-Zentrum Geesthacht
From science to politics: The IPCC – Prof. Dr. Julia Leventon, und Herr Steffen Pabst, Faculty of sustainability, Leuphana University Lüneburg.
Local actions for sustainability - Lüneburg 2030+ - Dr. Annika Weiser, Faculty of sustainability, Leuphana University Lüneburg.
The workshop was attended by approx. 20 people, and was a productive evening of discussion. If you would be interested to attend a repeat of this event, please let us know by email.
Pop-up Seminar // 24.05.19
At the global climate strike on 24th May 2019, we hosted short pop-up seminars on the Market Square in Lüneburg. Our scientists joined the demonstrators, and then hosted short discussions on a range of topics related to the Fridays for Future demands. Each discussion was hosted by an expert in that topic, and related to research being done at Leuphana. These included:
- The city as experiment: Zukunftsstadt Lüneburg 2030+ (future city Lüneburg 2030+)
- Regional climate models, the climate in Lüneburg in 2050
- Contributing to the future: why local projects can influence the future
- Biodiversity and climate change
- Energy transitions