Demographic change in the world of work
Demographic change in the world of work
Not only in European countries but also in the United States and Asian countries the population is significantly aging. While only 20.6% of the global population were aged 50 and above in 2010, the share of this age group is projected to increase to 32.7% in 2050 (United Nations, 2019). Consequently, within the next decades, the demographic change will have a severe impact on the global workforce.
The increasing number of older workers is caused by a variety of reasons including the aging baby boomer generation, higher statutory retirement ages as well as the growing proportion of working pensioners. Growing health and fitness levels of older people as well as the increasing life expectancy enhance the motivation to continue to pursue meaningful and fulfilling employment in old age (OECD, 2011; United Nations, 2019).
The European Commission (2017) projects an increase in the employment rate for older workers in Europe from 55.3% in 2016 to 67.9% in 2070. Moreover, the share of older workers in the European workforce will rise from 16.8% in 2016 to 21% in 2030. The rise in employment rates for older workers aged 55 to 64 is especially high in countries like Greece with a rise of 30.2%, Spain with 22.6%, and Italy with 19.7%.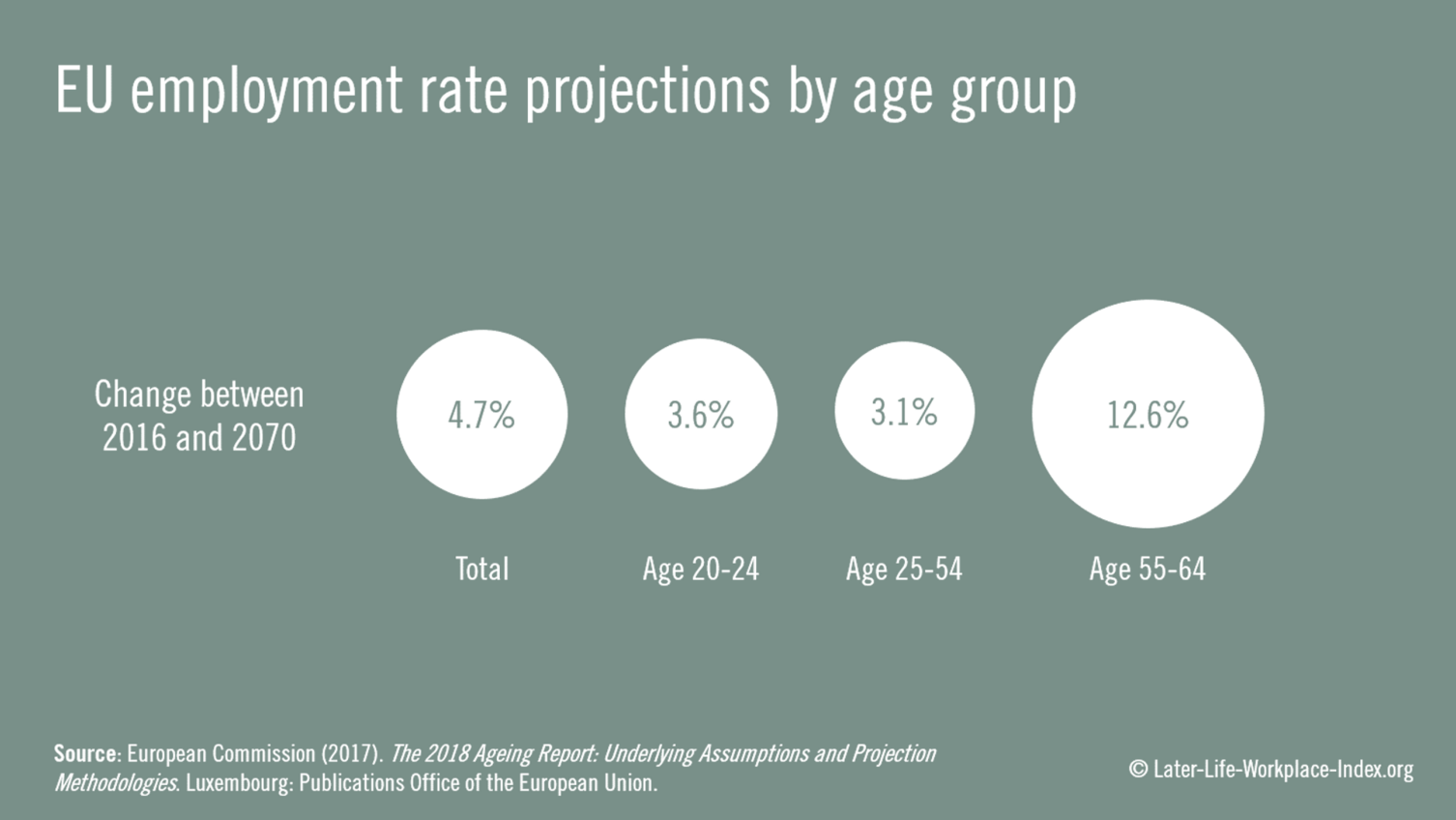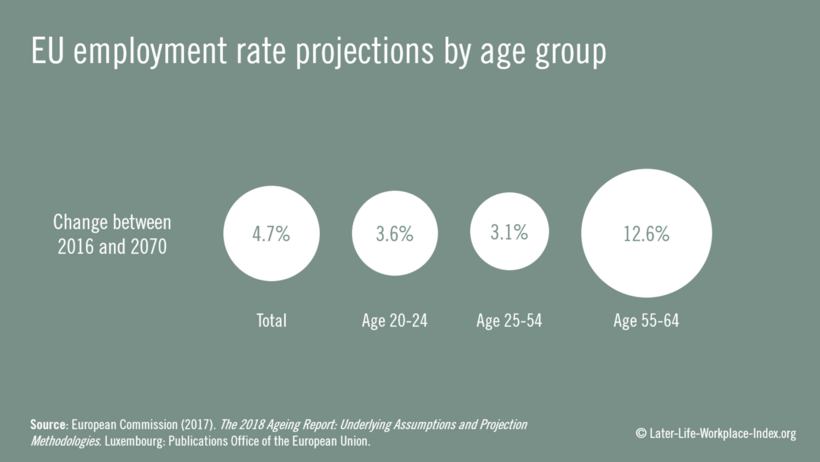 According to recent data and projections, the U.S. society will also experience a significant shift to an older workforce. Data from the U.S. Bureau of Labor Statistics (2019) shows that the share of workers aged 55 and above is expected to increase by 2.1% from 2018 to 2028. In 2028 these workers will represent 25.2% of the U.S. workforce.
Among Asian countries, Japan and China will be particularly affected by the demographic change and are projected to face a large increase in the share of those aged 65 and above compared to those between 15 to 64 years (old-age dependency ratio). By 2070 the old-age dependency ratios of China and Japan are expected to reach 53.3% and 69.6% (European Commission, 2017).
Aging populations and workforces lead to a variety of consequences for society and the economy. Some countries already responded to this development with pensions reforms to relieve governmental pension systems. Organizations are facing a shortage of skilled workers, the loss of knowledge due to retiring employees, or an increased potential for conflicts between younger and older colleagues.
Consequently, organizations will have to make changes to successfully employ an aging workforce. The need for an organizational climate and leadership that fosters working in age-diverse teams will grow. Moreover, there will be higher demands for other human resource practices such as timely succession planning, purposeful knowledge transfer, the adaption of working conditions, and training for older workers.