Start of studies: Covid-19
Start of studies in times of Covid-19
You are interested in a professional studies at the Leuphana Professional School, but are now uncertain whether the times of Covid-19 with their noticeable restrictions in public life might be the wrong time to start your studies? On this page we would like to inform you about what the current situation means for a study start at the Professional School: from changes to new opportunities that result from the conversion to digital teaching.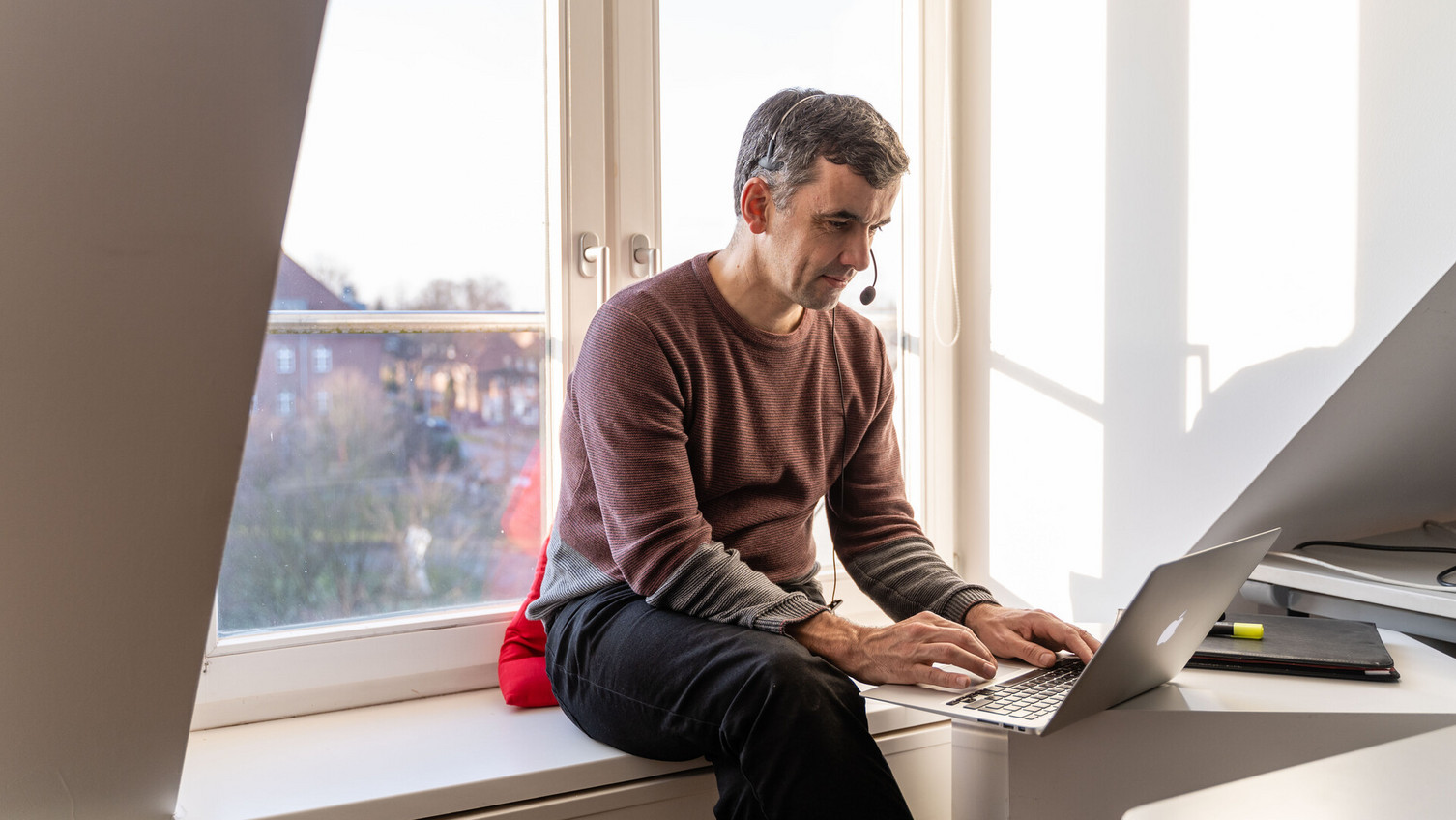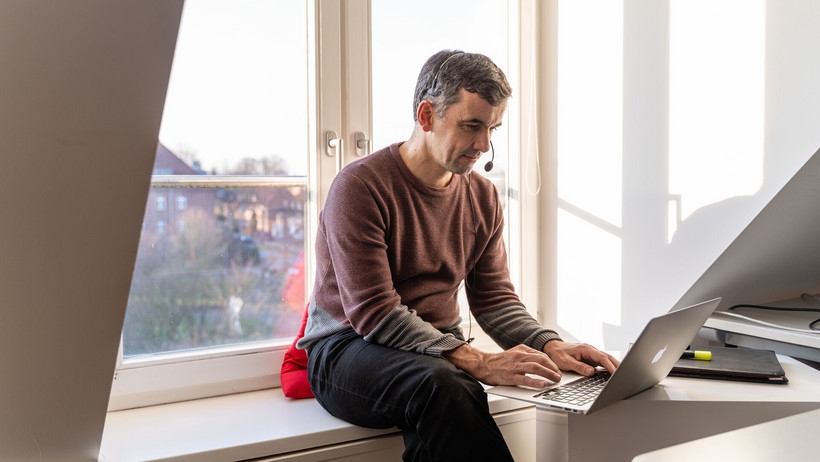 Due to Covid-19, public life is currently largely restricted. Sports, leisure, cultural and educational opportunities are no longer available, and restrictions on contacts mean that substantially more time is spent in the home. However, this situation also offers opportunities: it is possible that the restrictions in other areas of life mean that your individual time capacities are currently more suited to dealing with the topic of further education or to actively approach further education directly. If the topic is on your agenda, the Professional School offers you various digital possibilities. You will benefit from our broad experience in online-based teaching: online study programmes, lectures, seminars and continuing education have been part of our portfolio for many years.
Digital information services for all aspects of part-time study
Visiting the campus, having personal counselling interviews on site or taking a look at courses in Lüneburg - of course we cannot offer you these possibilities as usual at the moment. Instead, you can take advantage of the following digital information and advice services:
Personal (video) counselling
Our course co-ordinators are still available for personal counselling interviews. Depending on your preference, you can have these by phone or video meeting.
Taster studies digital
Events of our study programmes currently run exclusively digital. However, this also offers new digital taster opportunities. Many of our study programmes have opened up events for you as an interested party, so that you can both get a professional impression of the respective study programme and get to know the digital learning formats better.
Virtual office hours
Many of our degree programmes offer open virtual office hour
information day
The next info day Part-time study will take place in 26 June 2021. If you want to register, please send an email to: psevents@leuphana.de. Please look here for more information.
Digital continuing education opportunities
Virtual auditorium: Due to the current situation, do you want to make good use of free time capacities and start studying as soon as possible? As a digital guest student you can now join our current digital degree programmes and already have a degree. You can then apply and enrol for the next start of your studies and have your achievements and guest auditor fees credited. The corresponding study programme coordination team will be happy to advise you on the individual entry options.
Participation in digital continuing education programmes: With our live-online-seminar series or our online modules on the digital change, there were, in addition to some (mainly) online courses of study at the Professional School, purely online offers even before the pandemic. These are of course still available to you for further education to the usual extent.
Diversity in digital teaching
What exactly does digital teaching mean anyway? The possibilities here - also for interactive formats - are far more diverse than one might initially imagine. Of course, lectures transmitted to the digital Live-Online-Seminar room are an important part of digital teaching, but not the only one. At the Professional School, we have been successfully using a wide variety of digital learning formats in our study and continuing education programmes for many years and have a proven portfolio of possible digital courses.
For lectures, seminars and group work, the video meeting and Live-Online-Seminars tools we use offer a wide range of possibilities for implementation. For example, you can first follow the video lecture and the presentation of a lecturer, then switch from the plenary to work in small groups in separate digital meeting rooms and work there on joint documents or presentations, which you then - again in the large plenary - present and discuss. Live teaching formats with exchange possibilities are supplemented by video and other learning material that can be accessed at any time, collaboration and exchange outside of fixed appointments is supported by discussion forums and other tools such as the Academic Cloud.
Tutorials and digital consultation hours ensure continuous support, not only from you as a student, but also from our teachers in the implementation of digital teaching.
Frequently asked questions about starting your studies in times of Covid-19
Frequently asked questions about starting your studies in times of Covid-19
Will my studies begin as planned?
The cancellation of physical presence events in Lüneburg itself does not mean that your planned start of studies will be postponed. Instead, the corresponding events will take place in a digital setting. You will continue to benefit from the advantages of a classroom-based study programme: Lectures and seminars are usually held live and you will have the opportunity to interact and discuss with your lecturers and fellow students.
Teaching formats that explicitly cannot take place digitally and only work in classroom form will be made up for at a later date without extending the duration of your studies.
What are my advantages if I start my studies now?
In addition to the chance to profitably invest any time slots that may have become available in further education, there are no travel and accommodation costs associated with a part-time course of study, as the courses are not currently held in class. Quite incidentally, you will get to know various digital tools that are used worldwide by renowned universities and companies, in addition to the technical content, and thus expand your digital competence. And if you are not completely satisfied with the digital transfer of the courses into online teaching, you are welcome to attend the corresponding seminars again without additional costs after returning to classroom teaching and take the examinations in classroom form.
Is there any difference at all to purely online courses of study offered by other providers?
In contrast to many online courses of study, which mainly rely on the upload of material (study letters, literature, recorded e-lectures), in our courses of study presence is retained (in those English programmes that contain presence phases) - only for the duration of the Covid-19 restrictions, this takes place in the digital space. Online meeting rooms, virtual office hours, live-online-seminars and other interactive formats ensure that you will continue to be in one - digital - place with lecturers and fellow students at the same time, thus ensuring that the central element of personal exchange, which is central to our courses of study with presence, is not neglected. The contact persons from your degree programme remain available to you despite the fact that the majority of our students are currently based in their home offices.
As soon as you are allowed to return to the presence, the events in our attendance study programmes will take place in the usual form on site in Lüneburg.
Can study and examination work be done at all during the Covid 19 period?
Digital alternatives are also offered for examinations. You can find out exactly what they look like in your chosen degree programme by contacting the respective programme coordinator. Alternatively, it is also possible to postpone examinations if you prefer to take them in person.
How is data protection handled with the online tools used?
In order to implement the currently recommended measures to contain the spread of SARS-CoV-2 as quickly as possible and to protect students and teachers from possible infection, we had to completely change our teaching activities. Unfortunately, the services with which German universities are regularly "virtually on the road" cannot provide the necessary performance under the current circumstances, so that we as a university have switched to alternative providers at short notice.
With ZOOM, the requirements of our students and lecturers for good online teaching can be implemented in the best possible way. To ensure that your personal data is as well protected as possible when using ZOOM, our media and information service has configured ZOOM in all functional areas so that only a minimum of data is transferred and stored. All presettings have been selected to give users* the best possible control over the disclosure of data. An overview of the configurations of ZOOM at Leuphana for data economy as well as information on the use of ZOOM can be found here.