26th of May: Diversity-Day 2020
26th of May: Diversity-Day 2020
Opportunities and risks of a digitalised society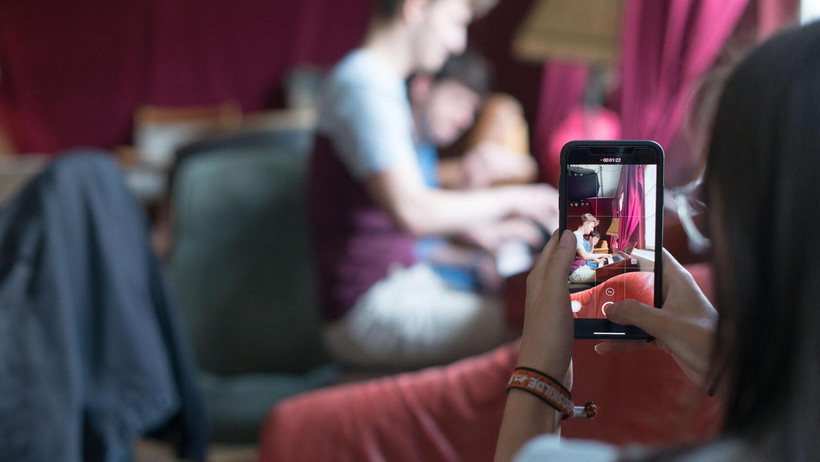 For the fourth time we join the nationwide "Diversity Day" initiated by the "Charta der Viefalt" on 26 May 2020 and ask at the Leuphana: "Digitalisation versus Diversity? - Opportunities and risks of a digitalized society". Processes of digitization often move in a field of tension between emancipatory potential, commercial interests and discriminatory practices. Digitisation can make participation possible, but also make it more difficult. The digital sphere as socially generated reflects existing social conditions - for better or worse. The corona pandemic has massively accelerated the process of digitisation and with it the opportunities and risks that go with it.
This year there are "Corona-related" two digital offers for Diversity Day, to which all interested parties are cordially invited:
26.05.20: Leuphana's homepage special for Diversity Day
For the fourth time, the Leuphana homepage is again under the sign of the nationwide Diversity Day. On May 26, three different perspectives on the relationship between digitalization and diversity will be explored at www.leuphana.de. The contributions will focus on research results on the "digitisation participation process", digitised teaching formats that focus on diversity aspects and exemplary virtual counselling services such as the portal on sexualised discrimination and violence. In an interview on the Leuphana homepage, Kathrin van Riesen, Equal Opportunities Officer, explains the background to the development of the portal.
26.05.20-30.06.20: Your ideas, comments and experiences on the topic are in demand!
If you would like to share ideas, comments, experiences with us and other people, or if you have questions on the topic of "Digitization versus Diversity? - chances and risks of a digitalised society", you can easily and anonymously post them in this "online notepad" (called Etherpad). The contributions of the individual participants* are marked with different colours. The link to the notepad will be active for four weeks and will be deleted afterwards. Please do not publish any sensitive data on the pad, as it can be accessed by any person. Discriminating contents will not be tolerated.
30.06.20: Webinar from 10:00 to 12:00
For the first time this year there will be a virtual-interactive format for the Diversity Day at Leuphana. Results from the seminar "Diversity & Alterity" by Dr.in Lisa Gaupp will be presented and discussed in the blog "dive into the otherness". In addition, live contributions will deal with questions of digitisation and diversity. Further information on how to participate will follow.
Possible perspectives of diversity-sensitive digitisation
How do digitisation and diversity interact? To what extent can diversity aspects be taken into account in digitisation processes? Which exclusion and discrimination tendencies can be identified? And how can they be countered? In view of the current social challenges, the following section examines the possible opportunities and risks of a digitised society in relation to four "diversity perspectives".
Digital technologies are by no means as "neutral" or "objective" as they may appear. The concern for diversity is not only in direct contradiction to the principle of "homophilia" (tendency to come into contact due to similarities) on which numerous algorithms are based. In fact, digital technologies can increase discrimination against, for example, people living in poverty or affected by racism, and other marginalised groups.
Discrimination against socially marginalised groups by data-based systems has already been demonstrated in areas such as facial recognition, predictive policing, job application procedures and the practices of risk-based sentencing or predatory lending. A distinction must also be made between this direct discrimination by data-based systems and data-based technologies that are not necessarily discriminatory per se, but which are nevertheless applied incorrectly, unreliably or with above-average frequency to marginalised groups, including, for example, the use of dialect recognition software in asylum procedures or systems for calculating entitlement to social benefits.
The fact that algorithms operate with discriminatory presumptions is not least due to the fact that the database on which the algorithms are based can be just as biased as the society from which they originate. The developers of these technological tools often do not sufficiently include system-related discriminatory relationships in their calculations. According to the scientist Nelly Y. Pinkrah, this leads to a kind of "programmed inequality": the social power relations shaped by racism, sexism and classism find their counterpart in biased technology, which produces and reinforces exclusions. This is particularly at the expense of those people who are disproportionately disadvantaged in society anyway: poor, sick, migrant and non-white people. Click here for the article by Nelly Y. Pinkrah.
In large parts of the digital sphere, a binary, rigid understanding of gender is also reproduced, in which trans, inter and non-binary people, for example, can hardly be found. A further flip side of digitisation is data misuse and platforming; not least of all the influencing and manipulation of democratic decision-making processes on the commercial platforms of "social media", for example through misinformation and hate speech. All these points can have a direct or indirect detrimental effect on social diversity and equal opportunities.
Diversity in digitised teaching
The conversion of the entire teaching at Leuphana to digital formats at very short notice due to the corona pandemic poses great challenges for all those involved and leads to the question of whether diversity aspects are also being taken into account. Making teaching diversity oriented and inclusive is also a challenge in classroom teaching and requires both teachers and students to reflect on didactics, communication, content and behaviour.
With the objective of implementing digitised teaching in a non-discriminatory manner, it is necessary on the one hand to know the heterogeneity of the group in order to take into account possible differences and special needs. On the other hand, knowledge of the possibilities and limits of digital learning formats is important in order to have an idea of who or which group, with what and how can or cannot be reached. It cannot be assumed that all students have the same "optimal" basic equipment. Digitisation does not only produce winners but also losers who must not be lost sight of.
Furthermore, stereotypes should not be reproduced, but the digitalised form of learning and exchange should invite a space for openness and reflection, in which barriers perceived by individuals can be addressed and avoided or changed and dismantled in a joint learning process. A variety of methods and materials are regarded as essential prerequisites and digital media and technologies are seen as important support for the realisation of internally differentiated forms of teaching and learning. Thus, activating methods can enable students to determine their own learning paths and learning pace according to their individual needs and prerequisites, so that they can independently identify and close professional and methodological gaps.
A glance at the course catalogue at Leuphana University shows that questions of diversity on the content level can be found in current teaching across all subjects. According to Dr.in Lisa Gaupp, diversity and alterity and such concepts and theoretical lines associated with this complex of topics as inequality, difference, hybridity, transculturality or intersectionality are among the basic concepts of cultural studies analyses. She explains her research and teaching approach in an interview that will be published on the Leuphana homepage on the occasion of the nationwide Diversity Day on 26 May.
In one of its ongoing seminars on "Diversity and Otherness" various aspects will be examined with regard to the question of whether the current digitalisation surge caused by the Covid 19 pandemic will exacerbate existing social inequalities and thus reduce diversity and/or whether new hybrid interstices and diverse solidarity practices will increasingly appear in the digital space. The results of these student projects will be published in various online formats on https://diveintotheotherness.wordpress.com by 30 June 2020 and discussed in a video conference on 30 June 2020 (see programme).

The following overview presents examples of events that link issues of digitisation and diversity and thus provide important impulses for the discussion on content.
Datafied Humanity (Cheryce von Xylander)
Understanding Socio-Technical Transitions: Contemporary Perspectives on the Politics of the Internet and the Digital Economie (Thomas Gegenhuber)
The Society of Algorithms. An exercise in the sociology of algorithms (Jan Tobias Fuhrmann) (Text in german)
COVID-19 and the Crisis: Tools for Critique (Götz Bachmann, Robert Rapoport)
Online Ethnography: Researching Popular Music in times of a Pandemic (Monika Schoop)
The Centre for Digital Cultures CDC has been working for 10 years on the cultural studies of the digital age and regularly organises an exchange forum on various aspects of digitisation. Matching the Diversity Day, the topic on 25.05.20 will be "Online, blended, massive open learning? Chances, limits and barriers through digital teaching-learning infrastructures".
In addition, the Leuphana teaching service offers support in the implementation of diversity-oriented teaching with digital learning scenarios, e.g. by offering diversity-oriented teaching with digital learning scenarios.
Social-economic diversity
The current rapid digitalization of society poses great challenges for all of us, as it brings structural, organizational and cultural changes. The term "digital divide" describes the fact that both access to digital technologies and the skills to use them are unequally distributed and depend on social and socio-economic factors. Without these accesses and skills, digital participation is not possible or only possible to a limited extent.
It is not inconsiderable who is involved in the development and emergence of digitisation. After all, the question of influence, power and economic advantages - or disadvantages - is also related to this. The socio-economic diversity perspective directs the attention in the digitisation process in particular to marginalised groups in order to overcome existing disadvantages and to reduce discriminatory structures.
At a symposium on digitisation in 2019, the "German Association of Blind and Visually Impaired Students and Professionals" called for (DVBS) demanded: "It must be possible that in a digital working world the focus is not on technology but on people. For example, a barrier-free digital working world is technically feasible, but not a foregone conclusion. The participation of different groups in the development of the digitisation process is of particular importance.

Leuphana Professor Thomas Gegenhuber, as one of the experts* on the expert commission for the 3rd Federal Equality Report, has been commissioned to examine the participation of different groups of women in the digital economy. He explains the current findings in a start page interview for the Diversity Day on 26 May.
Diversity and digital participation
People with disabilities and chronic illnesses in particular can encounter major hurdles when using digital offerings, including, for example, missing subtitles or alternative texts, illegible PDFs, unstructured web pages, complex language or high information density. However, digitisation can also offer opportunities in addition to the challenges, if, for example, the services and accesses are designed to be target group-oriented, inclusive and low-threshold.
Insbesondere Menschen mit Behinderungen und chronischen Erkrankungen können bei der Nutzung digitaler Angebote auf große Hürden stoßen, darunter beispielsweise fehlende Untertitel oder Alternativtexte, nicht lesbare PDFs, unstrukturierte Webseiten, komplexe Sprache oder hohe Informationsdichte. Digitalisierung kann neben den Herausforderungen aber auch Chancen bieten, wenn z. B. die Angebote und die Zugänge zielgruppengerecht, inklusiv und niedrigschwellig gestaltet werden.
For example, livestreams allow people to take part in events from home or digital aids such as a screen reader allow access to information. People who are unable to travel due to a disability or chronic illness or time commitments have the opportunity to participate as speakers or participants through digital formats. Digital offerings can help people to network, learn and cooperate with each other. Digital platforms in particular offer an opportunity to obtain information quickly and without much effort, to clarify initial questions and, if necessary, to find the right offer for you, for example on the subject of "studying with a health impairment" or "sexual harassment". Information and exchange platforms that can be reached independently of time and place can offer advantages to people with health impairments and with family or care responsibilities, but can also be overburdening.
For current and future digital participation to be possible, an awareness of these diverse accesses and hurdles and the training of corresponding skills is needed.
The handouts and websites listed here offer a selection of information and advice on how to ensure good teaching and learning conditions for all in general and in the current exceptional situation.
The nationwide 8th German Diversity Day on 26 May 20 is also marked by Covid-19. The initiating Charter of Diversity has called upon all members to fly the flag for diversity digitally and virtually and to participate in order to make visible cohesion and commitment to diversity even under these special circumstances. Click here for the action map of all Diversity Day events.

Since the signing of the Charter of Diversity in 2014, Leuphana has been committed to structural participation and access regardless of gender, ethnic origin, nationality, religion or belief, disability and chronic illness, age, sexual orientation, social background or residence status. Discriminatory behaviour is not tolerated at Leuphana. With the development of its own codex "Diversity as Opportunity", Leuphana has been demonstrating its commitment to anti-discrimination, inclusion, appreciation, self-reflection and diversity since 2016.