Support programme for young female scientists
Support programme for young female scientists
The Office of Equal Opportunities at Leuphana University offers a mentoring an coaching project to support young female scientists on their way to professorship or to leadership positions outside of academia. This offer includes a wide range of support programmes and specific educational trainings.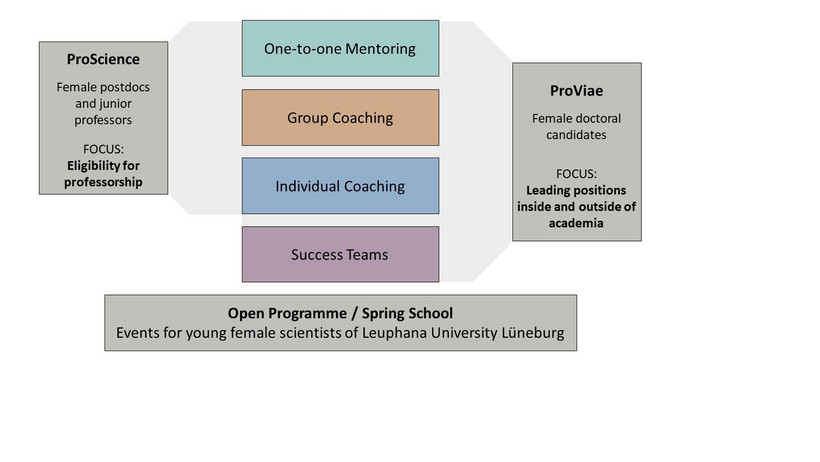 MENTORING PROGRAMMES PROSCIENCE & PROVIAE
The mentoring programmes ProScience & ProViae both accompany and support well-advanced female doctoral candidates, postdocs, and junior professors in orientation and decision-making processes as well as in their their competence development over a period of 18 months, enabling them to set the course for their own career path individually and competently. The current programme cycle has started in November 2019. A new cycle will begin in April 2021. Further information and the possibility to apply will be available here by the end of January 2021.
Above that, the university offers an open programmeof demand-oriented workshops (e.g. on negotiation processes, networking, scientific publishing, balance) as well as parlour conversations, lectures, and symposia to all young female scientists.
Competence Days/ Summer School
The offer is complemented by the annual competence days for young female scientists (Summer School), a project in cooperation of the mentoring programmes ProScience and ProViae and Leuphana Graduate School. In addition to workshops and lectures, the Summer School also provides a platform for discussing gender codes in science and the resulting conditions for women's different career paths. Please find further information and registration here.
Competence Days / Spring School
The offer is complemented by the annual competence days for young female scientists (Spring School), a project in cooperation of the mentoring programmes ProScience and ProViae and Leuphana Graduate School. In addition to workshops and lectures, the Spring School also provides a platform for discussing gender codes in science and the resulting conditions for women's different career paths. Please find further information and registration at
+++ Due to Coronavirus the most reliable way to reach the colleagues from mentoring is currently via e-mail. We appreciate your understanding. +++
Sarah Carbow
Universitätsallee 1, C40.157
21335 Lüneburg
proscience@leuphana.de
proviae@leuphana.de