Stanford–Leuphana "Winter" Academy 2021 (Online)
Technologies of Bureaucracy: Before and After the Digital Turn
Stanford–Leuphana "Winter" Academy 2021 (online)
Media invariably have organizational effects: They shape the ordering of the social. Yet to become operative as media, they need to become part of institutional, organizational, managerial, or entrepreneurial contexts. While a very old story, this intimate relation between media and organization has been updated and exacerbated by the so-called »digital turn«. In organizations and in the socio-technical organization of economic, social, political and cultural life, what counts can increasingly (and literally) be digitally stored, distributed, replayed, augmented, and switched.
Contemporary debates around »social media« and the »digital economy«, »digital labor«, »platform capitalism«, »surveillance capitalism«, or »algorithmic governance« therefore tend to present a new organizational landscape that is conditioned by digital technologies. Similarly, popular debates on technology and organization are largely framed in terms of ahistorical and presentist notions of »innovation«, »disruption«, »flexibility«, and »post-bureaucracy«.
The second Stanford – Leuphana Summer Academy on Humanities and Media poses the question of how media technologies do the work of organization. In doing so, however, the Summer Academy seeks to take a step back from familiar terms and images of epochal change and radical newness. For instance, in addition to its supposedly novel powers of sociotechnical disruption, the computer can be understood in much more traditional terms: it can be seen as a fundamentally bureau­cratic medium, its logics as primarily administrative ones. In Cornelia Vismann's words, »the computer implements the basic law of bureaucracy according to which administrative techniques are transferred from the state to the individual«.
To understand how »technologies of bureaucracy« have shaped organization before and after the digital turn, the Summer Academy specifically invites historical studies of the relation between media and organization, technology and bureaucracy. How do genealogies of media and organization allow us to understand the digital turn, its pasts, presents, and potential futures? What were the main institutional contexts, figures of thought, and thinkers that came to shape the organizational prehistory of »digital cultures«? What might inquiries into pre-modern or early modern entanglements of media technologies and social ordering teach us about the present condition? Are there other historical and non-western cultures of organizational technologies that allow us to understand the present, such as the long tradition of Chinese bureaucracy (and the way it might shape contemporary »social credit systems«), medieval and ecclesiastic European bureaucracies formed by specific material technologies of the codex or cartularies, or the administration of colonial empires and the vagaries of translation? How can we then decenter and rethink presentist and often hyperbolic notions of »social media«? Moreover, the Summer Academy invites »grounded« investigations of the very materialities and immaterialities that shape technological ordering before and after the normalization of digital technologies. What were, have been and are the specific, and specifically mediating, objects that determine the practices and effects of organization?
New date: December 13–18, 2021
Stanford H.G. Will Center, Berlin, »Haus Cramer«, Pacelliallee 18, 14195 Berlin
Timon Beyes (Sociology of Organisation and Culture, Leuphana)
Wendy Chun (New Media, Vancouver)
Shane Denson (Film and Media Studies, Stanford)
Marisa Galvez (French, Italian, and German Studies, Stanford)
Robin Holt (Organization Studies, Copenhagen)
Karla Oeler (Film and Media Studies, Stanford)
Claus Pias (History and Epistemology of Media, Leuphana)
Hito Steyerl (Experimental Film and Video, Berlin)
Fred Turner (Communication, Stanford)
Daniel Akselrad (Stanford University): Euphemism and the Language of Atrocity
Harleen Bagga (Stanford University): Avvisi as technology of Venetian bureaucracy (preliminary title)
Eduardo Romero Dianderas (Columbia University): Polygons: ruling mathematical abstractions in contemporary Peruvian Amazonia
Diego Gómez-Venegas (Humboldt-Universität zu Berlin): Tele[economy]cations: A media-archaeo/genealogical inquiry on project Cybersyn's (quasi) non-bureaucratic techno-economy
Max Grünberg (Karlsruhe University of Arts and Design [HfG]): Does the Economy fit into a Matrix?
Ryan Healey (NYU): A shallow eighteenth-century history of deep states and deep learning
Irina Kalinka (Brown University): The Political Imaginary of User Democracy / The Paradox of Digital Publics
Ritika Kaushik (University of Chicago): Files Beget Films: Sarkari Film during the Indian Emergency
Frank Mondelli (Stanford University): Beautiful Sounds, Beautiful Life: Hearing Aids and Music in 1950s Japan
Shikha Nehra (Stanford University): Digitalization of Bureaucratic Practices in India
Nelly Pinkrah (Leuphana University Lüneburg): Abyss, Creolization and relation: Glissant and cybernetics (provisional title)
Rebecca Uliasz (Duke University): The 'DARPA Model': innovation, risk, and the emergence of 'anti-bureaucratic' governance
Clara Wieghorst (Leuphana University Lüneburg): Tales from technology: beyond 'old' and 'new' media
Undergraduates (Stanford)
Claudia Khania: Blockchain and the Disruption of the International Oil Bureaucracy: How New Technology May Affect the Dreaded 'Resource Curse'
Tina Zhang: Redefining Bureaucracy Through the Lens of Medieval Courtly Poetry
Dante Zhu: Videogames and the Bureaucracy of Capitalism
Event 'Discriminating Data'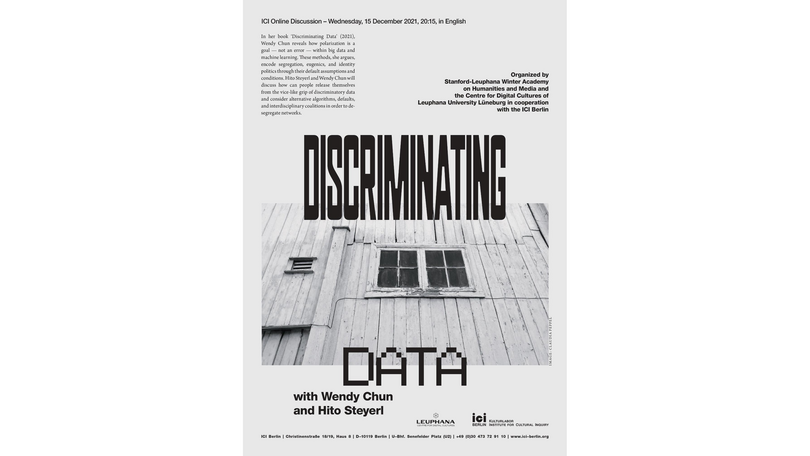 ©Leuphana / CDC / ICI
Discriminating Data
with Wendy Chun and Hito Steyerl
ICI Online Discussion – Wednesday, 15 December 2021, 20:15, in English
Organized by Stanford–Leuphana Winter Acdemy on Humanities and Media and the Centre for Digital Cultures of Leuphana University Lüneburg in cooperation with the ICI Berlin
In her book 'Discriminating Data' (2021), Wendy Chun reveals how polarization is a goal — not an error — within big data and machine learning. These methods, she argues, encode segregation, eugenics, and identity politics through their default assumptions and conditions. Hito Steyerl and Wendy Chun will discuss how can people release themselves from the vice-like grip of discriminatory data and consider alternative algorithms, defaults, and interdisciplinary coalitions in order to desegregate networks.