ESD Evaluation Course
Re-generative ESD and Evaluation for the future we want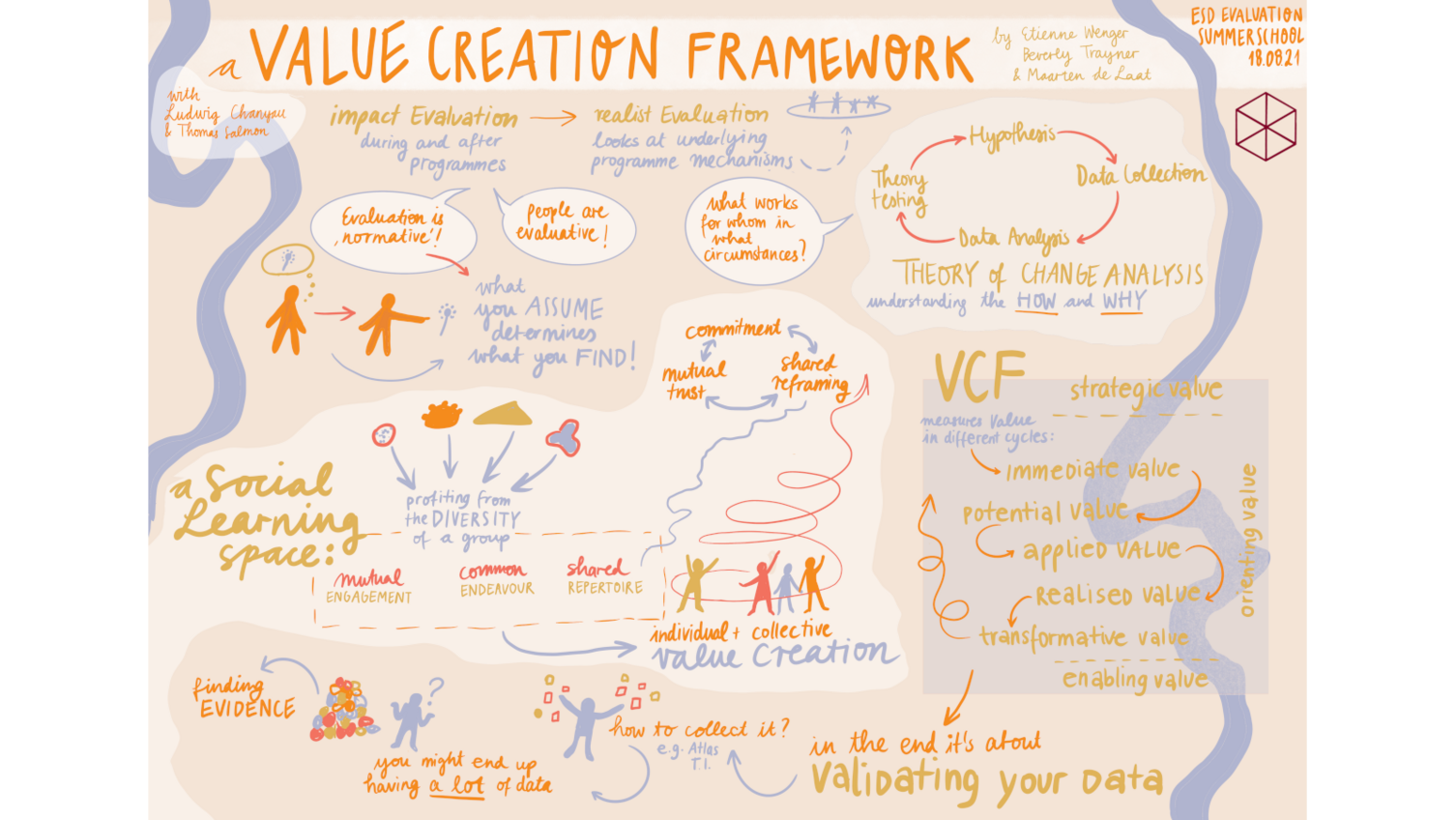 ISDL presented its first ever summer school this August from 16 to 20 August 2021 which was preceded by an intense online course on ESD Evaluation. The engaging five-day summer school on "Re-generative ESD and Evaluation for the Future We Want" brought ESD and Evaluation practitioners together, who are keen to understand the emerging role of evaluation within the landscape of sustainability learning.
The online course and summer school were offered by leading universities and professors of sustainability learning including Leuphana University Lüneburg and Eberswalde University in Germany, Rhodes University in South Africa and Universidad Veracruzana in Mexico. Engagement Global supported the concept as part of ESD Expert Net, a network of policy makers, universities, organizations from India, Germany, Mexico and South Africa.
Building capacities of ESD and evaluation professionals and building up this network comprises important part of work at ISDL which is working to foster three levels of sustainability learning- individual, group and societal. The network and course activated learning is ISDL's contribution to SDG 4.7 and the recently launched ESD for 2030 framework and roadmap.
The ESD Evaluation course addressed the content of ESD, so that a sustainability intervention fosters evaluative learning about the challenges and how to work towards a just and sustainable society. The course reassessed formal evaluation methods and outcomes aimed at building capacities of learners who are critical thinkers, evaluative and can work individually or together to address sustainability challenges at the local and global level.
The course developed the knowledge, skills and competencies to enable ESD and evaluation practitioners to embed evaluation as part of an ESD offering.
These modules are interconnected and are designed to be used in conjunction with each other and hence should not be read independently of each other. Many of the terms and concepts used in the modules assume knowledge that comes from sections of the ESD Evaluation manual. Each of the four modules comprise the main content, suggested literature and a list of assignments. To access the documents, please click on the numbers of the respective modules.
For any query regarding the modules, please write to esd_evaluation@leuphana.de
Enjoy reading and happy learning on ESD Evaluation!
The ESD Evaluation manual comprises four sub-modules:
Module 1 is titled "ESD and Evaluation" and has been developed by Matthias Barth. The first module explores the key developments in the field of Education for Sustainable Development refreshing the knowledge of the reader on important phases in the field of ESD aligned to major events, publications and movements in the field of sustainability. This module also highlights the pedagogical shifts in ESD from teaching to learning and emergence of three forms of learning- single loop(individual), double loop (mutual learning processes) and triple loop(learning at societal level). In the same module, Matthias Barth and Rob O'Donoghue enter into a dialogue to clarify the emergence and connection of evaluation and ESD. This module has three sections with separate reading list and assignments and recorded presentations. Each of the presentation has been transcribed to support the learning material.
Module 2 was developed by Rob O'Donoghue and provides the connection between the concept of evaluation to the core purpose of ESD. The author highlights question-led approach to clarify an ESD and evaluation process together and proceeds to elaborate on the underlying theories connecting education, leaning to evaluation. In further section of the first part, the author explains the repositioning of purpose of evaluation as integral to ESD. In the second part, Heila Lotz-Sisitka through a lecture connects evaluation to regenerative learning for sustainable development. All the video recorded presentations are transcribed and the key note on regenerative learning has been summarized.
Module 3 on Formal Methods for ESD Evaluation by Eureta Rosenberg and Ludwig Chanyau which looks at concepts, approaches and methods for ESD Evaluation. This module covers Empiricist, Constructivist, Theory driven, Participatory and Complexity-sensitive approaches to ESD Evaluation. Each of the approaches are explained with its application in ESD context, literature, terminologies and connection with the preceding and succeeding modules. The Value Creation Framework of Wenger-Trayner is the main theoretical framework highlighted in this module. The section on Quality for ESD Evaluation developed by Juan Carlos A. Sandovol Rivera introduces the reader to quality and validity to be considered for ESD Evaluation. Further aspects of quality and validity in ESD Evaluation are elaborated in a dialogue conversation between Eureta Rosenberg, Matthias Barth and Rob O'Donoghue.
Module 4 on Communicating ESD Evaluation has been developed by Nadine Shovakar and Lena Hoffmann which looks at strategies, tools and purpose of communicating ESD Evaluation. This module also provides orientation towards formats for writing evaluation reports and development of infographs or design features to support the communication of evaluation findings. In the end, this module also lists down ethical framework to be followed in communicating and writing evaluation reports and the challenges in communicating the evaluation. Each section of the module is connected to the previous three modules and makes an important case of do's and don'ts in ESD evaluation communication.
Summary of the keynote by Prof. Heila Lotz-Sisitka
Prof. Heila Lotz-Sisitka became the first key note speaker of the inaugural summer school of ISDL on ESD Evaluation organized from 21 July to 20 August 2021. She spoke on evaluative being and becoming and highlighted that evaluative thinking is innate to us and we have the capacity to understand the things which are important to us and hence we are constantly evaluating. From the perspective of climate change and other global crises, we need to bring reason and values together to generate solutions which help us in regenerating our relationship with planet Earth.
Please watch the whole video here and read the summary of the lecture here.