Leuphana Transformational Entrepreneurship Days (online)
Facing the grand challenges of the 21st century, society needs to change quickly to secure our future. While this requires collective and political action, actors such as entrepreneurs can also play a key role in addressing these grand challenges. With the rise of environmental, social and sustainable entrepreneurship, it becomes clear that many entrepreneurs nowadays aim to make a positive impact on society. As researchers, educators and supporters of practice, we strive to help them to achieve exactly this: a societal impact which contributes to solving the grand challenges of our time. If creating societal impact is part of our aspiration for entrepreneurship, while also fostering innovative ideas, we are basically talking about an impact-driven version of entrepreneurship, as "Transformational entrepreneurship is to promote enterprise and entrepreneurship through a systemic approach, bringing about transformation in socio-economic development." (Maas & Jones, 2019, p. 4).
Please find our introduction to the topic of transformational entrepreneurship here.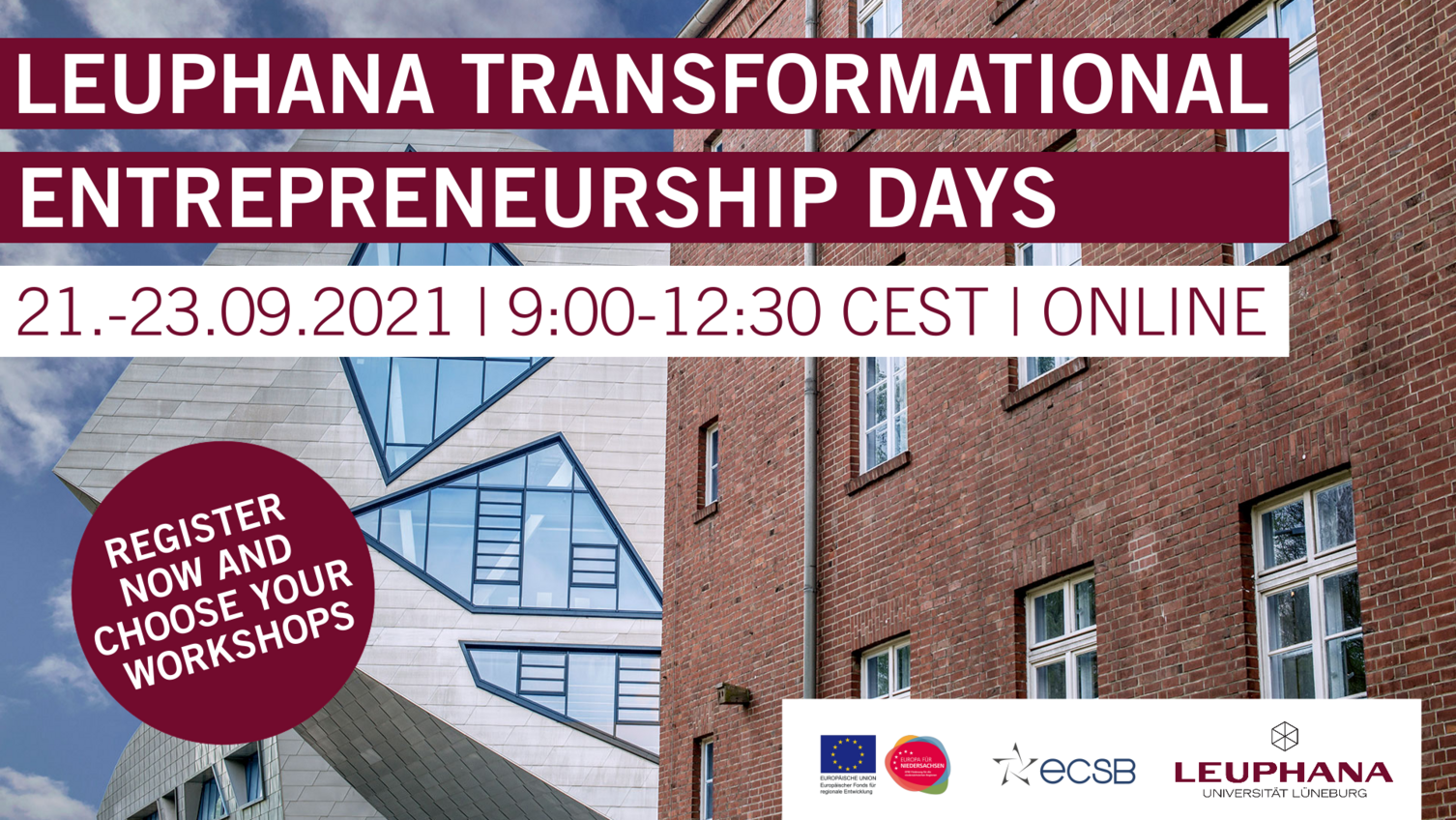 This is a three-day event with a different topic headlining each (half) day. Participants can then choose between several parallelly running workshops each treating the subject from a different angle. According to each day's headlining topic, workshop facilitators offer impulses for fostering societal impact of entrepreneurship research (day 1), entrepreneurship education (day 2), and entrepreneurship practice/transfer (day 3), working together with the participants, on further creating impact. Hence, this is not a typical conference format with paper presentations and keynotes, but an interactive event that, hopefully, supports our participants in actively making a difference with their work. A framework program, encouraging thematic exchange and networking among participants, complements the workshop program. This event wants to be a starting point for further discussing the role of impact-orientation in entrepreneurship research, education and practice. To this end, we will create a working paper based on these discussions – and hope to build a research community in entrepreneurship, which shares a passion for the transformation of society.
Please find the detailed programme and information on the registration here.
Creating societal impact through entrepreneurship research, education and practice
Creating positive impact is a challenging endeavour. Impact is difficult to fully understand, to examine in-depth and to measure (Gupta et al., 2020) – and even harder to create. Nevertheless, entrepreneurial efforts are often fuelled by this 'paradox': "entrepreneurs lack the knowledge, skills, authority, and resources necessary to resolve grand challenges – in fact, these deficiencies, plus the absence of enforcing governance despite the scale of the challenges, should suppress their motivation to engage – and yet these challenges entice collective action from diverse actors" (Markmann, 2019, p. 372). With the Leuphana Transformational Entrepreneurship Days, we aim to shed light on this paradox and support entrepreneurs and facilitators by creating knowledge via research, by introducing these concepts into educational formats, and by promoting academia-practitioner collaborations. Thus, through empowering researchers and students as well as societal stakeholders we aim to foster impact, supporting an actual transformation of society in a three-day event:
21.-23.9.2021 – each day 9.00-12.30, CEST/MESZ - ONLINE
With this online event, hosted by the Leuphana University of Lüneburg (Germany) and co-branded by the European Council for Small Business and Entrepreneurship (ECSB), we support the transformation of society through entrepreneurship. These dates present the kick-off to establishing the Entrepreneurship Days as an annual event – bringing together the diversity of entrepreneurship researchers and facilitators from all over Europe in a virtual environment. We can currently offer this event free of charge, hence there are no fees for facilitators or participants as this event is supported by the project "Multilateral Scouting Processes for Innovation and Career", funded by the European Fund for Regional Development (EFRE) and the federal state of Lower Saxony and situated at the Leuphana University's Cooperation Service with Prof. Markus Reihlen as the scientific project leader.
Closed: Submission of Impact Development Workshops
To foster transformational entrepreneurship creating positive societal impact, we called for Impact Development Workshops (IDWs). IDWs are workshops to collaboratively work together and share ideas about creating impact. IDWs need to have a strong orientation on impact and a good understanding of the target group. Participants in these workshops should not be passive recipients, but should take an active part in order to ensure an insightful learning process. Accordingly, these workshops are not supposed to be presentations of papers. Of course, the IDWs provide chances for building a network and community of impact-driven entrepreneurship scholars. Please find our Call for Workshops here:
The submission for the IDWs has been closed since the 3rd of August and the workshops have been selected. No further submission is possible. Still, if you are interested in facilitating a workshop at a later time, feel free to let us know and have a look at our call.