Programme
The Leuphana Transformational Entrepreneurship Days are a three-day online event with a different topic headlining each (half) day. Participants can then choose between several parallelly running workshops each treating the subject from a different angle. According to each day's headlining topic, workshop facilitators offer impulses for fostering societal impact of entrepreneurship research (day 1), entrepreneurship education (day 2), and entrepreneurship practice/transfer (day 3), working together with the participants, on further creating impact. Hence, this is not a typical conference format with paper presentations and keynotes, but an interactive event that, hopefully, supports our participants in actively making a difference with their work. A framework program, encouraging thematic exchange and networking among participants, complements the workshop program.
21.-23.9.2021 – each day 9.00-12.30, CEST/MESZ - ONLINE
Thus, we will start with a brief introduction and welcome on each day. After this, participants are attending the workshop they have selected with the registration (we have 3-4 parallel workshops to choose from each day). Then, all participants come together for an interactive format to facilitate networking and discussion as this event wants to be a starting point for further discussing the role of impact-orientation in entrepreneurship research, education and practice. The whole event will be online via Zoom. Please note that a registration is required to participate in this event. When registering, you will be asked on how many days you would like to attend and asked to select a workshop. In the following, please find an overview of the program and afterwards the detailed workshop descriptions.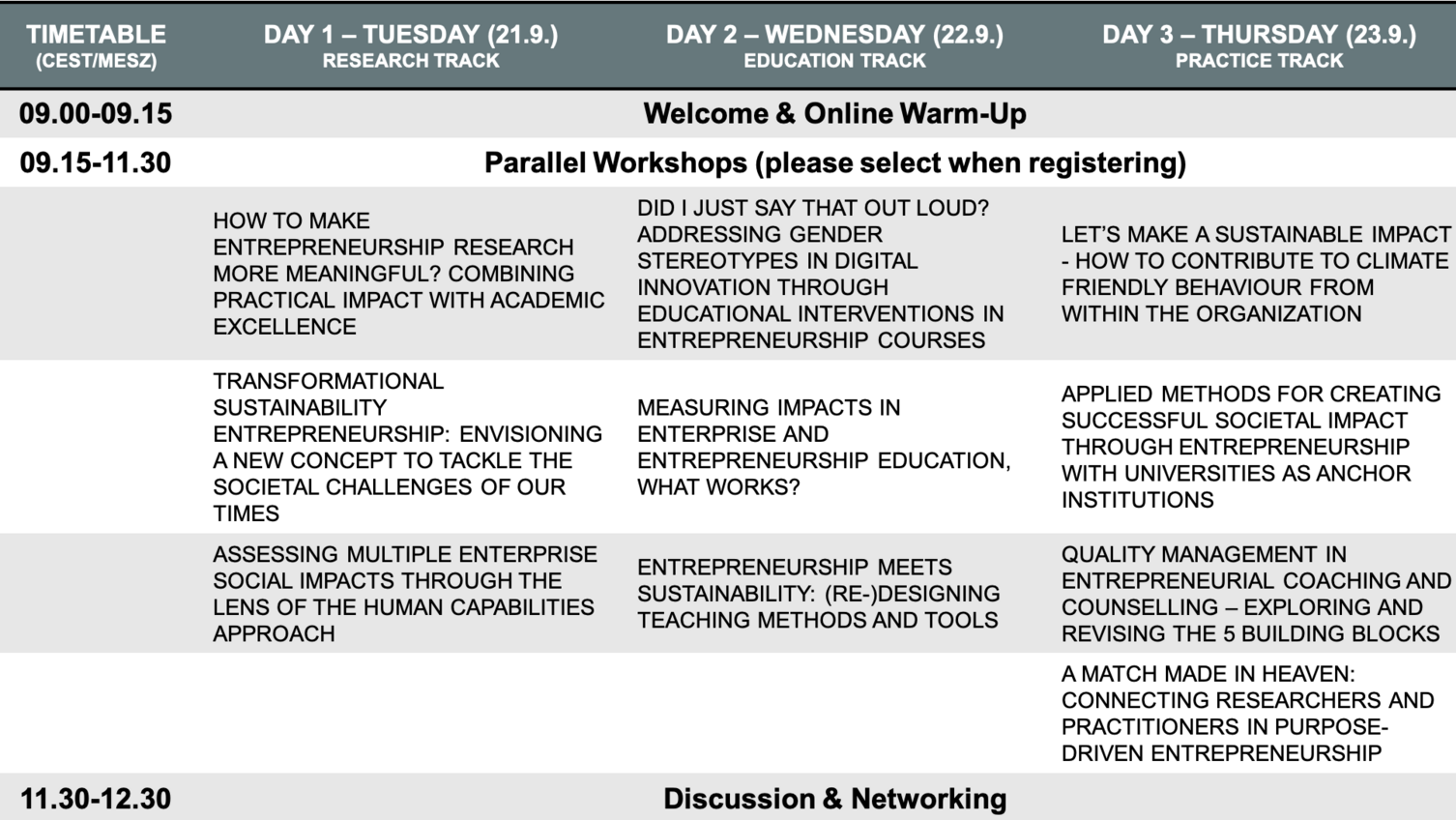 How to make entrepreneurship research more meaningful? Combining practical impact with academic excellence (FULLY BOOKED)
Steffen Farny (Leuphana University of Lüneburg)
Most research projects either set out to advance the academic discourse or to translate recent findings into practice. Why not try to combine both at the same time? In this workshop we will interrogate critical points of interventions in your own research projects in order to develop a strategy to make your research more practically useful, theoretically relevant and approachable. As a reference point, we will revisit critical moments of a 5-year ethnographic study that was published in the Academy of Management Journal and later appeared at the Financial Times List of Top Business School Research with Social Impact.
Click on the arrow below for more information.
Early-stage PhD students and scholars interested in qualitative research.
Steffen Farny is Assistant Professor for International Social and Sustainable Entrepreneurship at the Leuphana University of Lüneburg. In his research, he focuses in sustainability and entrepreneurship phenomena, the role of emotions in organizational processes and entrepreneuring in extreme contexts. He predominantly applies qualitative research methods to study practices, affect and institutional processes.
Transformational Sustainability Entrepreneurship: envisioning a new concept to tackle the societal challenges of our times (FULLY BOOKED)
Jana-Michaela Timm (University of Hamburg), Antonieta Alcorta de Bronstein (University of Vechta), Jantje Halberstadt (University of Vechta)
There is a diversity of entrepreneurship concepts in the literature with different goals. However, considering the societal challenges we are facing there is a need for a concept that embraces both the value of sustainability and the innovative character of transformation. In this workshop, we envision a new understanding of entrepreneurship. One that will be of value as orientation for tackling the grand societal challenges: transformational sustainability entrepreneurship, which will be the centre of the conversation. In an interactive workshop using visualisation, foresight thinking tools as well as the snowball discussion method we will discuss with the participants their views and perspectives on the role of entrepreneurship as driver for transforming and bringing solutions to the challenges.
Click on the arrow below for more information.
We want to address researchers as well as educators, from all fields and backgrounds with an interest in entrepreneurship and entrepreneurial thinking.
Jana-Michaela Timm is assistant professor in "Sustainable Investment and Management" at the School of Business, Economics and Social Science at the University of Hamburg (Germany). Her research focus is on transformational sustainability entrepreneurship, sustainable business models and finance. Her academic work has been published among others within the Journal of Knowledge Management and Journal of Cleaner Production. She has a number of cooperation with innovative entrepreneurs with whom she is pursuing transdisciplinary research and education in innovative forms of financing and enterprise creation.
Antonieta Alcorta de Bronstein is a researcher at the Chair of Economics and Sustainability, in the Faculty of Education and Social Sciences in the University of Vechta. Her main research interests are transformational sustainability entrepreneurship, entrepreneurial education, resilience entrepreneurship, innovative business models, and entrepreneurship and religion. Mrs. Alcorta de Bronstein has worked in projects with partners in Latin America and Africa. Mrs. Alcorta de Bronstein has lectured in many different universities and currently works in several interdisciplinary projects in Germany and abroad.
Jantje Halberstadt is a professor of Economics and Sustainability at the University of Vechta, Germany, where she is also Dean of Studies at the Faculty of Education and Social Sciences. Her main research interests are in the area of entrepreneurship and management related to various fields, such as ICT, agriculture and food, mobility, and gender studies. She is board member of FGF e.V., Germany`s leading scientific association for entrepreneurship, innovation, and SMEs, as well as member of the advisory board of the Yunus Centre for Social Business and Values.
Assessing multiple enterprise social impacts through the lens of the Human Capabilities Approach
Raphael Ng (HHL Leipzig Graduate School of Management), Travis Chamberlain (UC San Diego, Rady School of Management)
In this workshop, we will investigate how we can better understand and assess impact, and explore the Human Capabilities Approach (HCA) as an alternative framework of assessment. By role-playing various stakeholder groups, confronting multiple and conflicting agendas in a coalitional-bargaining exercise, and assessing these through a HCA framework, this workshop attempts to refocus beyond singular isolated impacts towards a set of multi-faceted (social-sustainable) impacts of an enterprise. The HCA as a development economics framework has been successfully and widely implemented in policy making, international development, and research, to redefine and assess the progress of societal well-being (e.g. UNDP's Human Development Index). It has prominently shifted assessing social arrangements towards a multi-dimensional focus on the opportunities people have to achieve what they value and have reason to value. Yet, despite today's increasing attention to impact measurements and investment in businesses, HCA has yet to transfer over to address the social impacts of businesses. Through a variety of exercises, we explore how HCA allows entrepreneurs to better see who the stakeholders are, what they value, and engage in partnerships with stakeholders to promote responsible, positive social innovation. The HCA framework is especially relevant to entrepreneurship concerning public value and social impacts, those taking multiple stakeholder voices into account, and those seeking to generate a multi-dimensional enterprise social/sustainable mission.
Click on the arrow below for more information.
This workshop aims to appeal to entrepreneurship and intrapreneurship engaged scholars and practitioners, particularly those interested in developing their own enterprise-specific social impact perspective and assessment to tackle grand challenges in start-up social enterprises, or in corporate social initiatives/projects within existing corporations. The HCA framework may also be of interest to social innovation and impact assessment researchers and practitioners concerned with board level performance and strategic assessments, for impact investors, and for civil society monitoring or government policy-makers working on multi-stakeholder initiatives.
Raphael Ng (HHL Leipzig Graduate School of Management, Germany) has a research interest in economic and business ethics, which is centered on social impact, business and human rights, environmental social and governance (ESG) issues, and stakeholder theory. His present doctoral work explores the conceptual boundaries of applying the Capabilities Approach onto profit-oriented corporations, particularly in shifting beyond the singular focus on profits towards a set of social and sustainable impacts. This research is conducted at the HHL Leipzig Graduate School of Management and is part of a partnership between two ethics centers: the Wittenberg Center for Global Ethics (WCGE) that focuses on responsible corporate leadership and the Weltethos Institut at the University of Tübingen (WEIT) that works on humanistic management.
Travis Chamberlain (UC San Diego, Rady School of Management, USA) successfully defended his PhD at the University of California San Diego (UCSD) in Philosophy of Science, with a focus on economics. His thesis topic pertains to the intersection of conceptual characterization and practical application of measurement in the social sciences, specifically well-being measurement through the Capabilities Approach developed by Martha Nussbaum and Amartya Sen. He is now a lecturer at the UCSD Rady School of Management, and instructs a course on 'Managing Diverse Teams'.
Did I just say that out loud? Addressing gender stereotypes in digital innovation through educational interventions in entrepreneurship courses
Janina Sundermeier (FU Berlin), Franziska Schmitt (FU Berlin), Conny Steenblock (FU Berlin)
The workshop aims to stimulate discussions and derive testable hypotheses on the opportunities and boundaries of entrepreneurship education to effectively address and combat gender stereotypes related to women's exploration and exploitation of digital innovation potentials. Research findings suggest that stereotypical thinking is one of the main reasons why women shy away from becoming digital entrepreneurs and/or face significant barriers to successfully exploiting innovation potential once identified. At the beginning of the workshop, we present the prevailing stereotypes and invite participants to discuss to what extent and how entrepreneurship education is an appropriate means to address them.
Click on the arrow below for more information.
The primary target group for the workshop are entrepreneurship educators - individuals who teach entrepreneurship courses, workshops, or other similar events - with background knowledge of what it takes to explore and leverage digital innovation opportunities. Participants who belong to this target group have preferably already taught at least two entrepreneurship education formats in order to actively reflect on what has worked well and what challenges remain. In addition, we also invite students, scientists, and (aspiring) entrepreneurs to add to the entrepreneurship educator's perspective by inviting a) those who have participated in entrepreneurial activities and b) those who have not (yet) taken relevant courses to show what has been missing and what could be useful in future educational interventions.
Janina Sundermeier is Assistant Professor of Digital Entrepreneurship and Diversity at the department of Information Systems at the Freie Universität Berlin. She developed various entrepreneurship education formats and received a scholarship for innovation in higher education institutions from the Stifterverband for her modul 'WoMenventures'. Her research on entrepreneurial personality traits, diversity and AI-enabled ventures is closely intertwined with her teaching. She also founded the Digital Entrepreneurship Hub and the Hello Diversity! Studio with a podcast and various activities to promote diversity in (digital) entrepreneurship.
Franziska Schmitt is PhD Candidate in Digital Entrepreneurship and Diversity at the Department of Information Systems at the Freie Universität Berlin. She is a research assistant at Europa-Universität Flensburg, where she teaches Entrepreneurship Education. Franziska focuses in her research on the hurdles that female founders face as well as the impact of digital technologies for female founders during their process of venture creation.
Conny Steenblock achieved her Master's degree (M.Sc.) in Management & Marketing at Freie Universität Berlin and University of St. Gallen. In her final thesis, she examined the distinct role of women-only initiatives in addressing gender-specific challenges and fostering female founders in entrepreneurial ecosystems. Currently working at the Leadership Academy of Deutsche Bahn AG, Conny has gained practical experience in implementing inclusive educational programs.
Measuring Impacts in Enterprise and Entrepreneurship Education, what works? (FULLY BOOKED)
Matthew C. Rogers-Draycott (Royal Agricultural University)
The purpose of this workshop will be to explore how, and through what tools, the impacts of enterprise and entrepreneurship education can be measured. The workshop will open with a review of an EEUK EERPF project which explored this topic with a UK lens, this will frame key ideas for the workshop and will be followed by a short interactive poll of participants. We will then break participants up into groups of and ask them to explore one of the freely available tools that we reviewed in the EEUK EERPF project. We will request that they complete the tool, and note their results along with any thoughts on the experience. Once everyone has completed that exercise we will ask them to come together in their groups and discuss their experience focusing on pros/cons and potential applications of the tools. We will seek to collect the groups notes on something like a Padlet. Finally, we will bring the groups back together to discuss their experiences and share what they have learnt. The facilitators hope that the end result of this process will be new insights into the topic and how this challenge could be addressed across Europe along with ECSB members.
Click on the arrow below for more information.
We would like to target educators and researchers who are interested in impact measures. We would also be happy to hear from policymakers and individuals representing multi-national groups who might want to explore impact measurements in the context of economic development.
Matthew C. Rogers-Draycott is a lecturer in Entrepreneurship at the Royal Agricultural University (UK). Over the last 16 years he has worked internationally as an entrepreneurship educator and course leader in a wide variety of institutions. Through this work he has focused his practice on the delivery of immersive learning experiences focused on the creation and growth of ventures. In addition to this he has started and grown my own companies, mentored numerous businesses and develop programmes to support both social and educational mobility through entrepreneurial practice. His research interests lie in two distinct areas: the role of the family and their influence on the practice of entrepreneurship and the design, delivery and impact of entrepreneurial education programmes, particularly those that focus on the creation of new ventures.
The workshop will additionally be supported by David Bozward (Royal Agricultural University), Nigel Adams (University of Buckingham), Mokuba Mave (Coventry University), and Kelly Smith (University of Birmingham) as moderators.
Entrepreneurship meets sustainability: (Re-)designing teaching methods and tools (FULLY BOOKED)
Kjersti Blauenfeldt Næss (Norwegian University of Science and Technology), Fufen Jin (Norwegian University of Science and Technology), Alexa Boeckel (Leuphana), Maren Fokuhl (Leuphana), and Frederic Penz (Leuphana)
Education for sustainable entrepreneurship is on the agenda of many HEI's (Lans et al., 2014; Lourenço, et al., 2013), as entrepreneurship is regarded as a means for the transition towards sustainability (Dean & McMullen, 2007; Shepherd & Patzelt, 2011). However, it is still debated how students learn the entrepreneurial skills and mindset to become change agents for sustainability through pedagogical interventions (Hermann & Bossle, 2020). Education for sustainable entrepreneurship includes elements of entrepreneurship and sustainability education, both of which have a portfolio of teaching methods and tools. In this IDW, we elaborate on how to (re)design methods and tools aimed to increase students' skills, mindset and a set of values to act entrepreneurially to actively contribute to the transformation towards sustainability. We focus on 1) sustainability as the context to apply entrepreneurship methods and tools, 2) redesigning existing entrepreneurship or sustainability teaching methods by incorporating and adding elements from the adjacent field, and 3) developing novel teaching methods and tools for sustainable entrepreneurship.
Click on the arrow below for more information.
This workshop targets all educators, researchers and practitioners who are interested in developing education at higher education institutions.
Kjersti Blauenfeldt Næss is a research assistant at Engage—Centre for Engaged Education through Entrepreneurship, hosted by Norwegian University of Science and Technology (NTNU). She coordinates and works with research and projects within entrepreneurship education, sustainability and sustainable entrepreneurship education (SEE).
Fufen Jin is a researcher at Engage—Centre for Engaged Education through Entrepreneurship, hosted by Norwegian University of Science and Technology (NTNU). She is interested in assessment of entrepreneurship education, and teaching methods and tools for sustainable entrepreneurship education.
Alexa Böckel works as a researcher and lecturer at the Social Change Hub (SCHub) of the Leuphana University of Lüneburg. She develops concepts for sustainable entrepreneurship education and investigates circular entrepreneurship for a circular society within her PhD.
Maren Fokuhl started her position as a reserach assistant at the chair of Prof. Dr. Jacob Hörisch in March 2021. She is a teammember of the Leuphana Yunus Centre for Social Business and Values (YCSB) und des Centre for Sustainability Management at Leuphana University.
Frederic Penz studied business and psychology in Lüneburg, St. Gallen and Mexico City. Since May 2020 he has been coordinating the Leuphana Yunus Centre for Social Business and Values (YCSB) and is doing his PhD on Entrepreneurship for Sustainable Development and Sustainability Transitions at the Junior Professorship of Sustainability Management and Economics.
Let's make a sustainable impact - how to contribute to climate friendly behaviour from within the organization
Jill Küberling-Jost (Antheas)
The world has agreed what has to be done to tackle the grand challenges. Now it is time for implementation. But how can we turn words into action? Different actors offer already food for thoughts on how to turn words into action. However, organizations still lack knowledge and skills on how to turn, particularly, climate strategies into action. Especially employees are often left out in these processes and/or left alone with the implementation. Within this IDW we will develop concepts on how to transform organizations towards climate friendly behaviour engaging employees and discuss implementation approaches. This IDW will be in a workshop format in respect to the design thinking method to inter-actively develop concepts on how to transform organizations towards climate friendly behaviour. We will have a focused look into concepts starting from science to tackle the intention-behaviour in organizations gap.
Click on the arrow below for more information.
This IDW targets participants, who want to learn about methods on how to develop concepts and business ideas in a short amount of time, how to evaluate their own ideas as well as those from other participants. Overall, this IDW targets participants, who want to learn more about practical approaches that help to further improve professional and personal competences. The participants will receive a general understanding of the current situation of organizations with the coherent approach of social justice, economic performance and ecological compatibility to make a positive impact.
Jill Küberling-Jost received her PhD at the Leuphana, was most recently a postdoc at TUHH's Institute for Strategic and International Management, and founded Antheas. With Antheas, she advises companies on strategic sustainability and is building a data-driven virtual learning environment for climate-friendly action in organizations. She teaches strategy and business ethics at various universities and colleges, researches and publishes on corporate irresponsibility, corporate sustainability and circular economy. She also has several years of professional experience in IT & strategy consulting as well as in national and international project management.
Applied methods for creating successful societal impact through entrepreneurship with universities as anchor institutions
Mark Mann (Oxford University Innovation Ltd.), Christoph Köller (Görgen & Köller GmbH)
You are associated with a university or equivalent institution and you want to grow your support for creating societal impact in entrepreneurship. This is a session which will take you through the practical steps of beginning that journey and how a strategy for growing that support is developed ALONGSIDE that provision rather than BEFORE you begin. The work will firstly allow you to map what support you currently have and where a focus on impact may require you to provide additional support. We will then experiment and look outside the institutions to see where partnerships can occur. We will then wrap up with measurement. How do you know you have been successful, and how do you need to adjust your strategy as you move forward. Participants will be given real-world examples of projects to interact with and will be introduced to the concept of the "anchor institution" and the important role that it plays in becoming the custodian of positive societal change.
Click on the arrow below for more information.
Whilst the workshop is targeted at supporters of practice, we hope that all audiences will gain something from this as there will be elements relevant to educators and researchers as well.
Mark Mann, Social Venture Lead, Oxford University Innovation Limited, became responsible for commercialisation of ideas from the Humanities and Social Sciences Divisions of the University of Oxford in 2016. After two years and realising that half of the pipeline in those divisions required social ventures, Mark also became lead for social enterprises as well. With substantial growth in demand for social enterprises in the Medical and Sciences Divisions as well, Mark developed Oxford's social venture service and has started a social investment fund in collaboration with 11 other universities so that the ventures have the opportunity to get the financed they need.
Christoph Köller, Co-founder and Managing Partner, Görgen & Köller GmbH, has been the lead for the ASTP Special Interest Group in Humanities, Social Sciences and the Arts (SSHA). In that role he has a broad overview of commercialisation activity in SSHA and the successful initiatives across Europe. He has recently focussed on impact and transformation strategy projects.
Quality Management in Entrepreneurial Coaching and Counselling – exploring and revising the 5 building blocks
Anja Hagedorn, Rita Klapper (Manchester Metropolitan University)
In this workshop, we aim to further develop the conceptual model for quality management in entrepreneurial coaching and consulting. Also, we aim to strengthen the theoretical understanding of how founder coaching contributes to the development of entrepreneurial competencies. The goal of the workshop is to further refine theoretical output but also provide insights in the good coaching practice for actual coaches.
Click on the arrow below for more information.
Supporters of practice – not necessarily affiliated to a university, but all affiliations are welcome.
Dr. Anja Hagedorn has been working since 2011 in the field of Entrepreneurship Research and Practice. She did research in entrepreneurial coaching and crowdfunding and developed and implemented projects to foster entrepreneurial behaviour funded by public authorities, such as GISBERT or EXIST - Die Gründerhochschule. She also founded the social business Reef Guardian e.V. and is founding angel at Jobs4Students, an AI-based HR startup.
Dr. Rita G. Klapper has almost 20 years of experience of working in international Higher Education Institutions. Her research and teaching is situated at the interface between entrepreneurship and sustainability. She has extensive experience in innovative approaches to learning using creative arts (music, theatre, mediation) in her courses to stimulate out of the box thinking. She has coached and mentored colleagues and many undergraduate and postgraduate students in their career orientation and decisions. She is qualified as Executive Coach and Mentor with the UK Institute of Leadership and Management (ILM), coaches and mentors at her present employer, Manchester Metropolitan University (UK) and acts as Coach for the Association of Business in Society (ABIS) from autumn 2021 onwards.
A match made in heaven: connecting researchers and practitioners in purpose-driven entrepreneurship
Alexa Böckel (Leuphana University of Lüneburg), Lena Kostuj (Leuphana University of Lüneburg), Marielle Mangold (Leuphana University of Lüneburg)
This workshop is designed for entrepreneurs and practitioners on the one side and students and researchers on the other side to kick-off further collaboration. In this matchmaking event, practitioners are encouraged to bring their interests and unanswered questions forward, such as: How do I communicate my impact as a social startup to my network and customers? At the start of the workshop, participants summarise their fields of expertise or interest and are connected to the respective practitioner. During the session, each match will work on their questions in break-out sessions and will be motivated to discuss further steps. Let's ignite the fire of sustainable entrepreneurship together!
Please note that you will be asked some questions about your motivation and background during the registration process to facilitate the matching. If you have further questions or comments about this process, please contact the facilitators (schub@leuphana.de).
Click on the arrow below for more information.
1) Scholars and students who are interested in and looking for research opportunities as well as intellectual exchange with practitioners active in their field. These can be Bachelor or Master students from Leuphana University or other universities focusing on business administration, entrepreneurship, sustainability, or environmental sciences who want to address practically relevant questions in their thesis. Further, junior and senior researchers from the fields of entrepreneurship, innovation and sustainability research looking for new research projects or paper opportunities are invited.
2) Practitioners and entrepreneurs who can provide research opportunities and/or are looking for an exchange with (up-and-coming) scholars. They can be in the process of starting a venture, transforming a venture, or struggling with questions concerning running a venture. These ventures can be social, sustainable or ecologically-oriented or conventional ventures that would like to integrate more sustainable practices (sustainable intrapreneurship).
Alexa Böckel works as a researcher and lecturer at the Social Change Hub (SCHub) of the Leuphana University of Lüneburg. She develops concepts for sustainable entrepreneurship education and investigates circular entrepreneurship for a circular society within her PhD.
Lena Kostuj is currently a graduate student in Cultural Studies at Leuphana University. As a student assistant at the SCHub, she focuses on knowledge transfer and event planning.
Marielle Mangold works as a student assistant at SCHub and is in charge of event organization, external communication and public relations. She studies Cultural Studies in her Master's at Leuphana University.
Please note that it is necessary to get registered for this event. As workshop capacities are limited, we recommend to get registered soon. If capacities are still available, the registration will be possible until the end of the event. In the registration form, you will be asked to:
indicate how many days you plan to participate (you are invited to attend all three days, but are also welcome to just attend the track that fits your interests best)
select a workshop for each day that you like to attend
agree to our conditions of participation and our privacy notice
You can access the registration form via the following link:
https://survey.leuphana.de/index.php/852233?lang=en
For data security reasons, you will, first, be asked to enter just your name and email address. Second, please check your inbox (including your spam file) for an email by Limesurvey which sends you a link to the registration. If you click on this link, you will be able to access the actual registration form. After that, just follow the registration process!
For any questions or remarks, please contact us via entrepreneurshipdays@leuphana.de
With this online event, hosted by the Leuphana University of Lüneburg (Germany) and co-branded by the European Council for Small Business and Entrepreneurship (ECSB), we support the transformation of society through entrepreneurship. These dates present the kick-off to establishing the Entrepreneurship Days as an annual event – bringing together the diversity of entrepreneurship researchers and facilitators from all over Europe in a virtual environment. We can currently offer this event free of charge, hence there are no fees for facilitators or participants as this event is supported by the project "Multilateral Scouting Processes for Innovation and Career", funded by the European Fund for Regional Development (EFRE) and the federal state of Lower Saxony and situated at the Leuphana University's Cooperation Service with Prof. Markus Reihlen as the scientific project leader.