Rebecca Lang: "Women have the right to be there"
Rebecca Lang: "Women have the right to be there"
University music director conducted two international operas with great success
2022-12-05 Men still dominate conducting. As a committed feminist and musician, Rebecca Lang wants to promote women in music through various activities at Leuphana. She also places a high value on consciously drawing attention to the works of underrepresented groups, such as LGBTQIA+ composers.
"Rebecca Lang and the entire cast at the opera Tosca in Perth, Western Australia"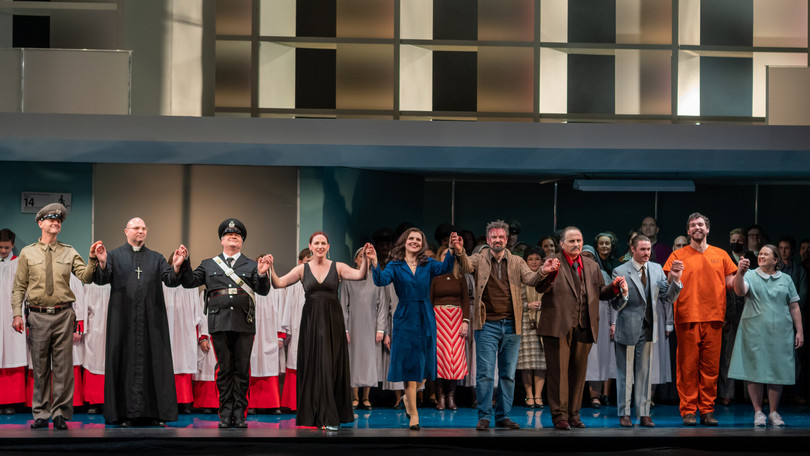 ©WA Opera und Clinton Bradbury
"University Music Director and International Conductor Rebecca Lang"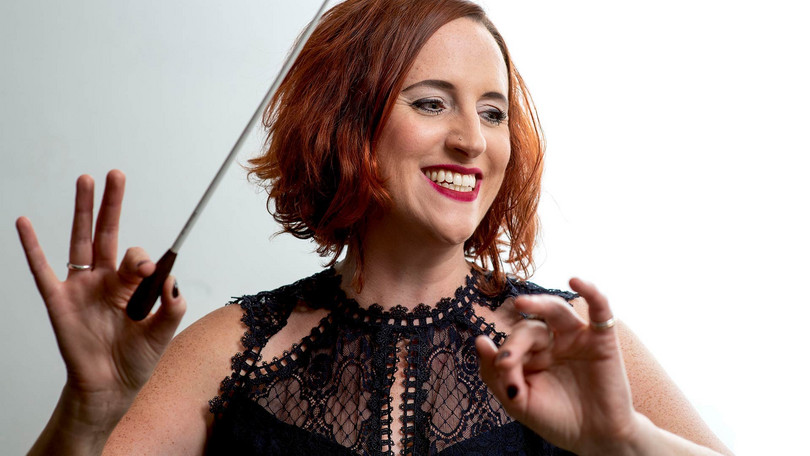 ©Detlef Eden
"Rebecca Lang takes a bow after a successful opera on stage in Belfast, Northern Ireland"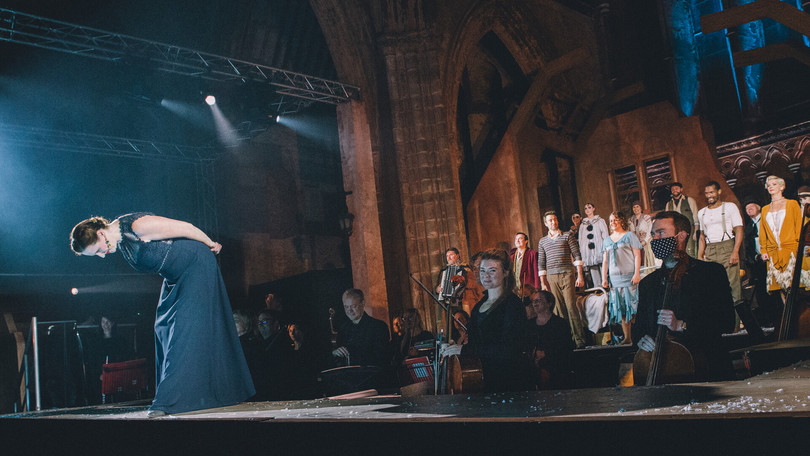 ©NI Opera und James Ward Photography
"Women have the right to be there," stresses university music director and conductor Rebecca Lang when confronted with the still lacking acceptance of female conductors. As conducting was one of the last areas in the music industry where women could assert themselves, it is still dominated by men today. Rebecca Lang speaks for many women when she says she still feels that "if you're a woman up there, you almost have to be better than your male colleagues to get the opportunity". In the meantime, however, she says she is at a stage in her life where she is established as a conductor and no longer has to fight for recognition. Just this year, she conducted two international operas with great success. In July she staged Tosca in Perth, Western Australia and in September she conducted La Traviata in Belfast, Northern Ireland. With the knowledge and the experience she has gained as a highly successful conductor so far, she now sees it as her responsibility to consciously promote young women in music.
As a conductor, it is important to be able to stand confidently in front of a large group and make clear announcements. "You have to take up space," the music director advises her students again and again. "Men can do it quite well," she says, but women still need to practice. "I would also have liked in my studies or when I was young in the profession to have opportunities to try things out or ask questions." For this reason, on the one hand, she enables a team of student assistants at Leuphana in the context of cultural management and teaching to try out professional practice in a safe environment and make mistakes. On the other hand, Rebecca Lang uses every opportunity to promote women in conducting. She has already given some conducting lessons to students in the hope of being able to conduct such lessons more frequently in the future. She also invited a participant of the "Women On The Podium" initiative, who approached the conductor on her own initiative and with great interest, to be present at the rehearsals for the opera "Tosca" in Australia and learn from her. "She showed exactly the attitude and motivation I want to encourage".
When choosing music, the internationally successful conductor focuses on underrepresented groups, such as contemporary composers, in the music industry. "At Leuphana as music director, I find myself in a position where I take responsibility for programming concerts." She places great emphasis on bringing balance to the programme in the area of composition, thus making the audience aware that there are other important works as well. "Our students find it valuable not just to play compositions by old white men". Rebecca Lang's first point of contact with the topic of gender and music at Leuphana was about two years ago with the Clara Schumann Festival. The life and works of Clara Schumann were used as a starting point to address the topic. Now there are plans to offer a seminar every semester that combines music and feminism. In the current semester, as part of the seminar "PHENOMENAL WOMEN - An Analysis of Significant Female Jazz Musicians from the 1920s to the 1960s", there will be an exhibition that is a creative realisation of the essays written by the participants about certain "Phenomenal Women". The exhibition will take place on 11.01.2023 in the Forum and will be framed by the accompanying seminar closing concert with musical star Zodwa Selele (vocals) and Rebecca Lang (on the piano).
There will be further events with the Leuphana ensembles led by Rebecca Lang this semester. On 12, 13 and 14 December this year, the so-called "Winter Picnic Series" will take place in the Forum. All Leuphana ensembles will perform in different combinations on three evenings. The idea is to create a relaxed atmosphere to enjoy a picnic with live music together with friends and family. If you are more interested in a traditional concert, the established "final concert" with all ensembles is a good choice. It will take place on 01 February 2023 in the Audimax. The musical results of the entire semester will be presented.