Student counselling - Master
Student counselling for the Masters programmes
Clarify your open questions
The Student Counselling Service of the Graduate School is your place to go for study-related topics. Whether you are looking for the right course of study, planning your studies or reorientation: We offer you professional support in all phases before and during your Master's studies. To get in touch with us, you can choose from different consulting options. Our Services are always independent, confidential and free of charge.
We offer students and prospective students two different forms of counselling. The Scheduled Counselling allows you to make a fixed appointment. You can also visit us during the Open Counselling without an appointment if you have spontaneous concerns. The procedure differs depending on the type of counselling:
Open Counselling: Thursdays, 2:00 - 3:00 pm (cancelled on 5th October)
How?
Just visit us on campus during the designated time. You won't need an appointment. Please bring some patience with you.
Where?
On Campus, in room 14.024.
When?
Thursdays between 2 and 3 pm.
Scheduled Counselling: Individual pre-arranged time
How?
Make an appointment via our appointment booking tool Calenso. Please note that appointments can only be booked within the next 2 weeks. If no appointments are available, please simply visit the tool again at a later time. If you have more urgent concerns, please feel free to come to our Open Counselling. After your booking you will receive a confirmation E-mail with the meeting information.
Where?
In person (room 14.024), by phone, or video counselling (Zoom).
When?
At the pre-arranged time you have individually scheduled with our tool. Appointments are usually scheduled in the following time slots:

Wednesdays between 2 and 4 p.m.
Thursdays between 4 and 6 p.m.
Please also read our data protection regulations.
Offers for prospective students
Counselling
We offer prospective students differentiated information which are tailored to your personal situation. In addition, we support you in your choice of studies and discuss with you the admission requirements and selection procedures for the Master's programmes. The following additional questions can be an orientation:
Should I enter the Masters programme directly after my Bachelor's degree or only after a period of employment?
Does this fit in with my Bachelor's degree and my ideas about my further education?
What are the admission and selection procedures for the Masters at the Leuphana Graduate School?
How are the prerequisites for the Masters programmes determined?
Which content orientation can I expect in my desired masters degree?

Flying visit
Experience the everyday life of the Master's at Leuphana University. In the programme of the Flying Visit, we put together events for you to give you a good insight into the study programme.

Digital Masters Information Day
At our annual Digital Masters Information Day you can inform yourself about the current range of courses and get in contact with students.
Counselling
The Student Counselling Service of the Graduate School advises you as a Master student (except for the teaching programmes) on study-related problems. This includes questions about planning the course of studies, dealing with learning and work problems and support in case of doubts during your studies. Questions about the content and organization of studies can also be part of the counselling. The following additional questions show further possible matters:
How can I optimally organize my Masters studies?
How do I deal constructively with learning and work problems?
What can I do if I have doubts concerning my studies?
What is the Doctoral Track and under what conditions can I apply for it?
How do I plan my prospects after completing the Masters degree?
Are doctoral studies a perspective?
What are the admission requirements for a doctorate?
Currently: How do I deal with the challenges of the digital semester?
Coaching during the Master Thesis
The master thesis accompanies you for several months. During these months, the writing process may stall for various reasons. We offer individual coaching during the entire time of your master's thesis in the Student Counselling Service. The following topics can be dealt with:
Stress during the master thesis
Motivation problems
Doubts
Structuring the day and self-organization
Crises
Workshops: GradSkills
The GradSkills programme supports you in acquiring skills that can be helpful for self-organization during the semester. Every semester, the Student Counselling Service and other Leuphana institutions offer workshops and information events for our master students.
Events Career Service
The Career Service's program of events offers Leuphana students a variety of opportunities each semester to orient themselves professionally, to build up interdisciplinary skills, or to make contact with employers while they are still studying. You will find events on various topics, such as the job market, key qualifications and career planning. The Career Service team is looking forward to your participation!
To the Career Service events (German only)
How to get to the university
You would like to attend the Open Counselling or have made an appointment, but do not know how to find your way to Leuphana or to Building 14?
Below you will find the address of our central campus as well as a map of it, which is also available for download.
Address and map of the central campus
Leuphana University of Lüneburg
Universitätsallee 1
21335 Lüneburg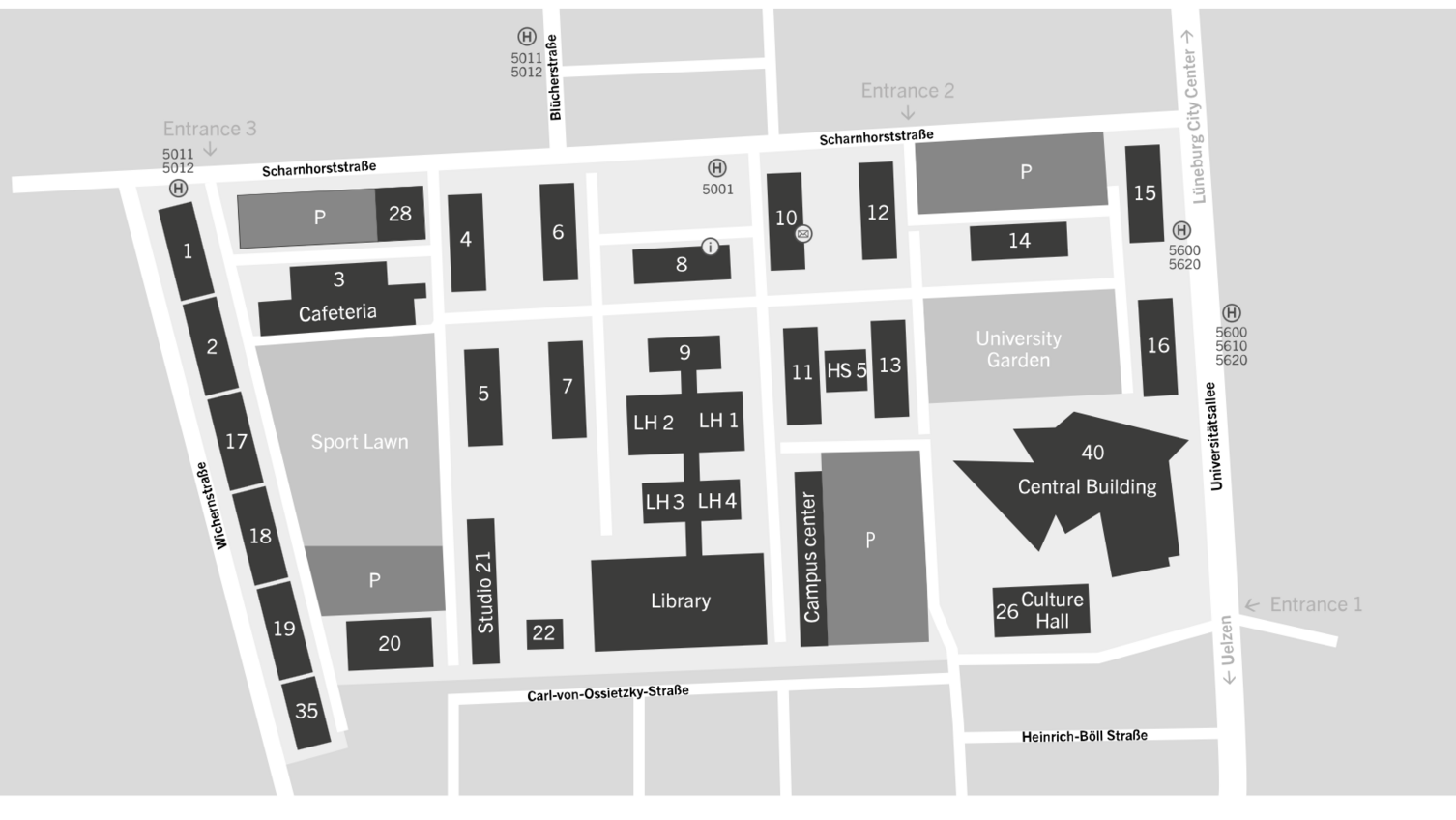 Tom Kleist M.Sc.
Building 14, Room 024
Universitätsallee 1
21335 Lüneburg
masterinfo@leuphana.de
Info Portal
Building 8, Ground Floor
Universitätsallee 1
21335 Lüneburg
studierendenservice@leuphana.de
Fon +49.4131.677-2277
Fax +49.4131.677-1430
Mondays - Thursdays:
9:00 am - 4:00 pm

Fridays:
9:00 am - 12:00 pm