Getting started with your Masters
Graduate School Opening Days
Welcome to Leuphana Graduate School! Your Masters studies at Leuphana Graduate School begin with the Opening Days in the first week of October each academic year. As new Masters students, you can use the Opening Days as a forum to get to know each other, reflect and network, as an orientation anchor and as a first practical workshop of academic discourse. To this end, we offer you numerous information events, short lectures, workshops and, as a content highlight, the so-called academic discourse with the entire cohort of new Masters students, doctoral candidates and selected academics from our programmes and partner universities.
On this page, we have compiled some further, organisational information to help you get off to a good start in your Masters studies. Please feel free to contact us if you still have questions.
We look forward to welcoming you to Leuphana Graduate School soon.
Graduate School Opening Days
Start your Master's studies together during the Opening Days! In a diverse program from September 29 to October 5, you will get a first insight into the study program, explore the culture of study and get to know fellow students and teachers. Workshops, lectures and social gatherings will answer all your questions and give you an insight into university life. An annually changing interdisciplinary topic from the impulse series "Research & ..." is prepared in small groups and discussed together with the new graduate community and international guests. This way, you will experience thinking and working as well as "arguing" in a cross-disciplinary community from the very beginning.
Lux - Search engine for literature
LUX offers you a startingpoint to your literature reasearch throught acquired and licensed literature by MIZ. You will find books, magazines and other media from the holdings of the MIZ. In addition you have access to articles from journals and bibliographic references of further literature.
The databases contain comprehensive literature on specific topics and have very differentiated search options. They are especially suitable for in-depth literature research.
The research database FOX provides access for the general public to the public content of the internal research information system, Pure. As an online archive, FOX is an autonomous service offered in addition to the University pages.
The Leuphana Writing Center helps students to develop their individual writing skills and provides advice on writing academic papers and exam preparation support.
Central Campus – site plan
English Language Proof: TOEIC Test
If you have not yet submitted the proof of English for a German programme with your application, you can submit it until 31st March of the following year of your application. Test dates for the TOEIC test are offered at Leuphana. This test is not accepted as proof of English for all programmes. Please note the exceptions on our application website.
More information about the TOIEC test and the registration can be found by clicking here.
In order to support you during your studies, Leuphana offers you many free IT services. The main applications are described briefly below.
To receive a complete insight into all the services offered by the Media and Information Center (MIZ), visit "IT for the start of your studies".
Students receive their Leuphana-account with their enrolment. The account is valid at least until de-registration.
It allows the use of the E-Mail & Groupware, the WiFi, the Eduroam and the VPN. Furthermore, the Leuphana-account is required for printing and gives access to memory space on network drives, as well as the campus management system myCampus. Likewise, it provides the access to Rocket.Chat, Limesurvey (online survey application for collecting and analyzing data) and Wekan (web based project management software using the Kanban method).
Change of Password
For security reasons, the password should be changed regularly. Within the university network you can change your password with the following link:
Outside the university network, the link is only accessible if a VPN connection is available.
The dining hall "Mensa" offers daily changing dishes, which you can check on the page of the Studierendenwerk. Students need a Leuphana Card to pay for their meals, which also functions as a library ID and can be used to pay for print-outs and copies.
myCampus - the management system for studies and exams
myCampus is the new campus management system at Leuphana. It combines all stages of the student life cycle from application to exmatriculation and serves in the digital handling of all administrative processes within the study:
Overview of the status of your own studies
Exam registration and deregistration
My degree programme
Study certificates and transcripts
Student dossier
Semester fee status
Thesis submissions
Recognition
Change address
You can reach the system at the web address mycampus.leuphana.de
An overview with instructions of the individual functions for students can be found here.
Please also note the checklist for the beginning of the semester and the separate information on the introduction of myCampus!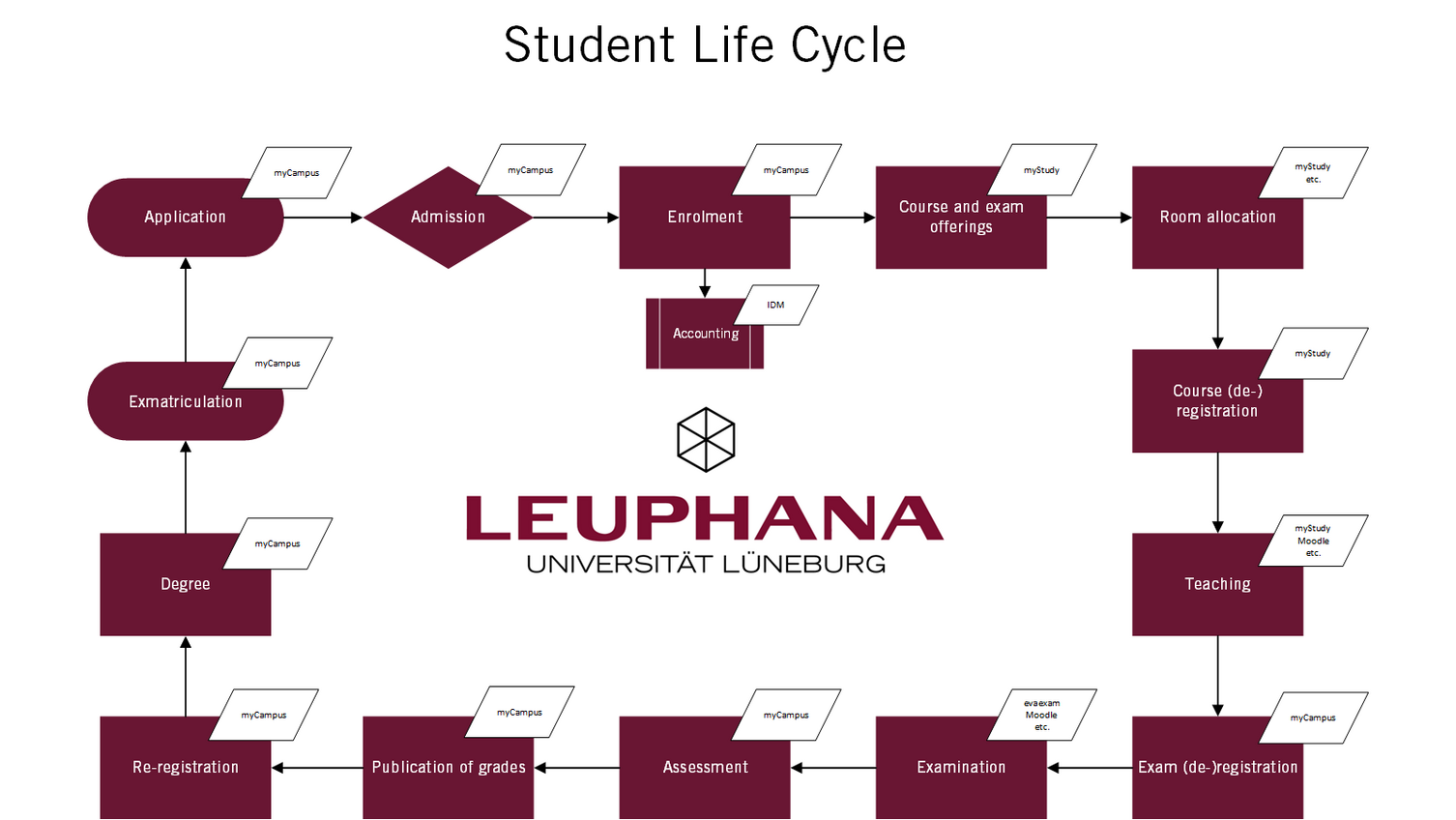 myStudy is the web-based platform of the Leuphana University of Lüneburg to support the organization of your courses: Here you can view the course directory, choose your courses and compile your timetable. In addition, you can book work rooms, contact lecturers and upload or download materials via mystudy.
Registration & lottery procedure
Registration for the compulsory courses is usually assigned via a list procedure without participant limitation. For elective and compulsory events with a limited number of places, there is a lottery procedure. In the two lotteries you have the opportunity to apply for a place in these courses. During the two lottery phases, you will have the opportunity to apply for a place in these courses. If after the first lottery you have not been awarded a place in the chosen course, you have the opportunity to apply for another elective course during the second lottery. When both lotteries are finished, all available places will be released for immediate registration. Furthermore, there is the possibility to be automatically accepted into a course via waiting list.
Please note that you are not automatically registered for the exams with the event registrations! The registration for exams takes place via myCampus. You can find more information about this on our info page "Examinations".
Dates of the central registration procedure - WiSe 23/24
| | |
| --- | --- |
| Start | 06.10.2023 at 8 am |
| 1st lottery | 09.10.2023 at 11 pm |
| 2nd lottery | 13.10.2023 at 12 pm |
| End of registration | 20.10.2023 at 12 am |
Access and further information
Prep courses - information and registration
The faculties offer preparatory courses for some study programmes, some of which start before the Graduate School Opening Days and the lecture period.

In order to inform yourself about a course and register for it, log in to myStudy and select " Course Catalog" in the navigation bar on the left. Click on "additional offers (without CPs)" under " program of study". Click on "Graduate School/Master's/PhD" and then click on your program of study.
Please note: Management degree programs are grouped under "Masterprogramm Management. "
Services of the International Office
New international students can receive individual support by fellow students upon request.
Please sign up at buddy@leuphana.de
Student Counselling Service
The Student Counselling Service of Leuphana Graduate School is your first point of contact when it comes to study-related questions. It accompanies you in all phases before and during your masters studies. If you have any open questions, the Student Counselling Service will be happy to assist you with your concerns. For more information about the counselling and the services offered, please click here.
At Leuphana University, students have the opportunity to help shape the teaching and learning process and the work of the university as a whole, as well as to get involved in innovation and development. Through the student body - a legally binding federal entity - students can influence the university's managerial tasks and through numerous independent initiatives they contribute to the vibrancy of life on and around the campus and to the academic work.