Psychology & Sustainability
Psychology & Sustainability
Masters Programme with a double Degree
The study programme is realised as a Double Degree Master in Sustainability AND Environmental Psychology in cooperation with the University of Groningen in the Netherlands. Accordingly, the programme covers both human perception and behaviour related to sustainable development on the one hand and the interplay between humans and their natural and built environments on the other hand. These distinct perspectives complement one another so that the Double Degree programme provides unique insights into psychological processes that are involved in the broad transformation towards intersectional and intergenerational justice. In general, the Master programme addresses social, economic, and environmental issues in the transition towards sustainability and takes a psychological perspective on human perception and behaviour in this transition. The programme focuses on psychological processes such as problem-solving, decision-making, self-regulation, social identification, attitude change, or conflict resolution and their impacts on present and future generations' quality of life.
Psychology & Sustainability - The Programme
Psychology & Sustainability - The Programme
Sustainability science is an interdisciplinary field of research. The majority of disciplines in this field of research approach the topic of sustainability from a natural, social, or cultural science perspective with a focus on social-ecological systems. Psychology, as the scientific discipline of human perception and behaviour investigates psychological processes on the level of individuals that are part of these social-ecological systems. Thus, sustainability psychology deals with cognitive (e.g. problem-solving), motivational (e.g. self-regulation), and emotional (e.g. fear) processes, the interplay of these processes, and how these psychological processes translate into behavioural drivers or barriers towards sustainable development.
The programme follows four guiding principles to establish psychology's interdisciplinary exchange with sustainability science: The programme adopts a multi-level perspective, uses an interdisciplinary approach, adopts a focus on problems and solutions, and adds a bottom-up (individual-to-system) approach to the well-established top-down (system-to-individual) perspective commonly pursued in the field of sustainability science. By establishing this integrative approach towards sustainability and environmental psychology, Leuphana University and the University of Groningen offer an exceptional Double Degree Master programme in Europe and beyond.
Even though the global challenges of sustainability are particularly discussed from a psychological standpoint, psychological drivers and barriers to sustainable development are considered at different levels such as the intrapersonal (e.g. self-regulation), interpersonal (e.g. persuasion), intragroup (e.g. intragroup decision-making), or intergroup (e.g. intergroup negotiations) level. To approach the topic of sustainable development from a transdisciplinary perspective, the Institute of Psychology at the Faculty of Education closely collaborates with scientists from the Faculty of Sustainability. Accordingly, members of both faculties are among the teaching staff and strongly cooperate with each other in inter- and transdisciplinary research projects. Students of the Master programme will be involved in empirical studies and may thus acquire hands-on knowledge on how to address challenges of sustainable development from a psychological perspective within the broader scope of transdisciplinary research projects. To this end, students will not only gain knowledge on the topic of sustainability psychology but will also acquire methodological skills on how to plan, conduct, analyse, and interpret empirical research on one of the most pressing challenges of our times.
Here you can find further information on the course content of the Masters programme Psychology & Sustainability.
The Master 'Psychology & Sustainability' at Leuphana University is conceptualised as a Double Degree programme in cooperation with the University of Groningen. Students complete an international, joint programme at a German and a non-German university in English thus being well qualified not only for national but also for the European job market. Students obtain two Master degrees – one degree in 'Psychology & Sustainability' as well as another one in 'Environmental Psychology'.
As part of this Double Degree programme, students spend their first year at one of the most renown universities in the field of sustainability science (Leuphana University), and their second year at one of the most prestigious universities in the field of environmental psychology (University of Groningen). The first semester at Leuphana University focuses on key principles of sustainability psychology at the individual, the group, and the societal level. By introducing core theories and models, the programme links topics from the field of psychology to the field of sustainability science. Students attend the following modules: Introduction to Psychology and Sustainability, Psychology and the Individual: Self-Regulation and Sustainability, Psychology and the Community: Diagnosis of Time and Sustainability, Psychology and the Society: Political Negotiations and Sustainability, and the module Research Methods: Multivariate Approaches. In the second semester students complete the modules Sustainability Psychology: Research and Application, Selected Topics in Psychology, Transdisciplinary Research Project and Research Methods II: Interdisciplinary Approaches. Accordingly, inter- and transdisciplinary work with a focus on theoretical propositions, methodological tools, and practical implications will characterise the programme in the second semester. Students will be provided with the opportunity to choose an elective course in one of the related psychology programmes at the Graduate School (Selected Topics in Psychology, e.g. International Human Resource Management). Thereby, the second semester aims at broadening students' psychological perspective on the inter- and transdisciplinary characteristics of sustainability science.
Upon the third semester, students will transfer from Leuphana University to the University of Groningen. At the University of Groningen, students will expand their methodological knowledge in the module Advanced Research Methods in Social and Organizational Psychology. In addition, more disciplinary expertise is acquired in the modules Environmental Psychology, Advanced Topics in Environmental Psychology, Designing Interventions and Working in Interdisciplinary Teams.
To gain further insights on the specific course contents at the University of Groningen please follow the link to the Enviromental Psychology Programme.
The Master Thesis will be written in the fourth semester in consultation with a supervisor from each cooperating university, Leuphana University and the University of Groningen.
Study Regulations and Subject-Specific Schedule
Teaching Personnel
Programme Directors
Prof. Dr. Roman Trötschel
Prof. Dr. Alexander Freund

Prof. Dr. Dirk Lehr

Prof. Dr. Maria von Salisch

Prof. Dr. Roman Trötschel

Prof. Dr. Sebastian Wallot

Prof. Dr. Henrik von Wehrden

Prof. Dr. Birte Siem

Prof. Dr. Astrid Kause
Leuphana University of Lüneburg
Leuphana University originated in 2006 from the unique opportunity to rethink the concept of a university. It is a foundation under public law and regarded to be a place fostering the desire to know, ingenuity, individual growth, and public engagement. With over 9,500 students, Leuphana is a medium-sized German university with about 180 professors and about 400 research assistants. The three guiding principles of Humanism, Sustainability and Application-Orientation shape its academic mission. Studying at Leuphana is organised in different schools, which is still exceptional in Germany. The College, the Graduate School and the Professional School provide the opportunity for individual and autonomous learning in an inspiring academic community. All Masters programmes at Leuphana Graduate School pursue the overarching goal of connecting interdisciplinary education with professional depth, research activities and practical orientation. This connection enables students to combine interdisciplinary knowledge with personal interests targeted at their future careers. Leuphana's climate-neutral campus is a vibrant place for academic life. A milestone in the dynamic campus development is the new Central Building, inaugurated in 2017, which was mutually designed by Daniel Libeskind and Leuphana students.
The University of Groningen is an internationally-oriented university with a rich academic tradition. Since its establishment in 1614, the university has brought forward striving academics, like the first female student, the first Dutch astronaut and various Nobel Prize winners. In 1877 the University became State University (Rijksuniversiteit) and thereby continued its educational activities, but also took on research responsibilities resulting in big expansions. By now, there are 32,700 students of more than 120 nationalities enrolled at Groningen University. Approximately 479 professors and 5,000 employees work at the university. Overall, the University of Groningen is the third-biggest university in the Netherlands. The University of Groningen currently offers 125 Masters programmes, from which 18 are rated as "Top Rated Program" and 45 Bachelors degree programmes. In addition, the University of Groningen is proud to number among the world's top universities, especially for the subject of psychology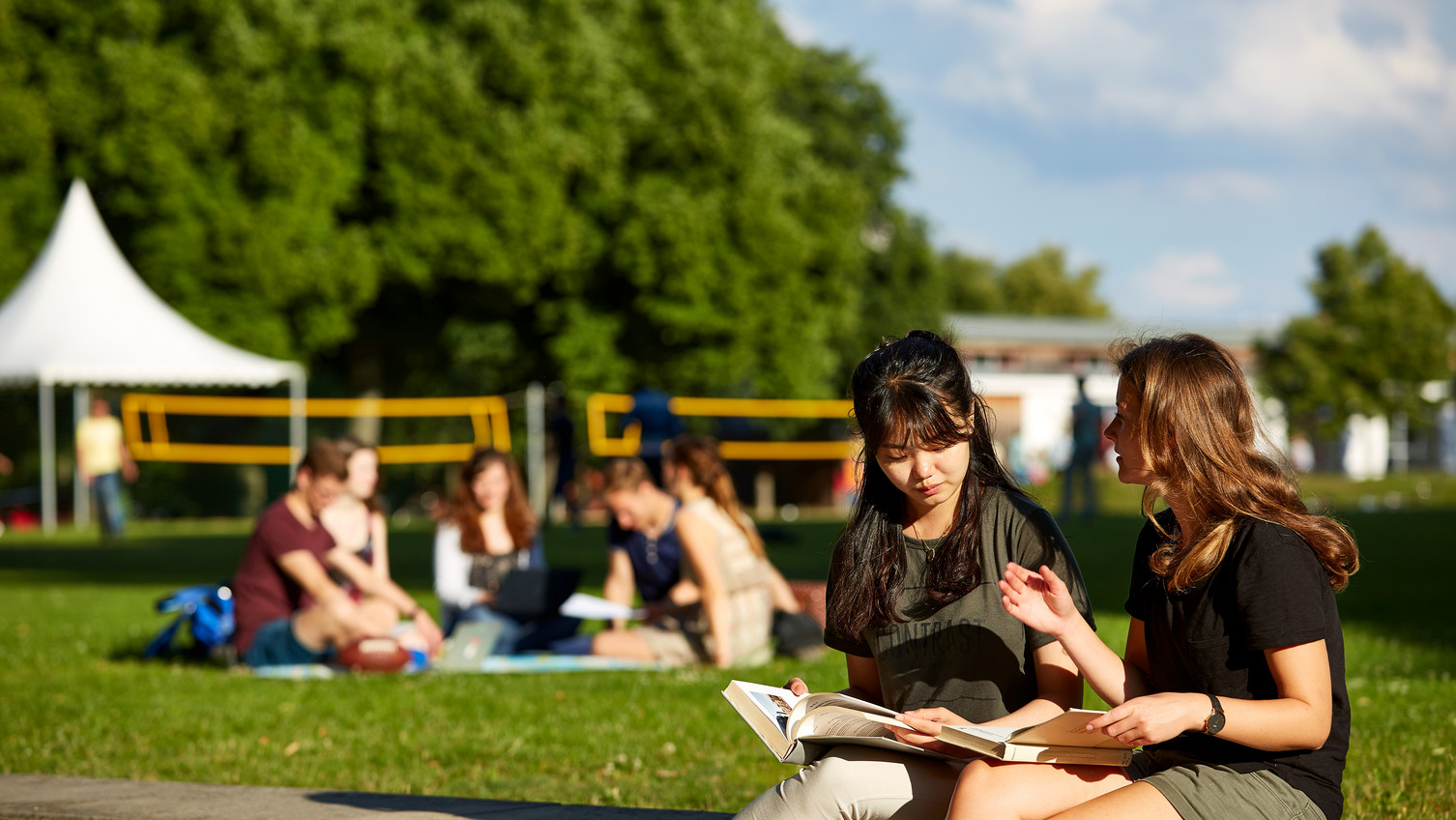 The Masters programme trains graduates to apply their psychological knowledge and skills to the field of sustainable development. Knowledge and skills on how to foster sustainable development has become one of the most relevant competencies in various fields of practice. Facing tremendous transformation challenges on the societal, economic, or ecological level such as climate change, digitalisation, globalisation, or social mobilisation not only national governments, but also business companies, political organisations, public services, or educational institutions progressively deal with leverage points to foster sustainable development in their respective field of practice. Although sustainability traditionally has been addressed from a top-down perspective such as the development of measures on the level of political, economic, or technical systems (system-to-individual perspective), the implementation of measures towards sustainable development inevitably needs to take the individual stakeholders and actors within these systems into consideration (individual-to-system perspective). With its specific focus on the psychological processes of the individual, the Master programme provides students with sound theoretical knowledge, embracive methodological skills, and impactful practical tools on how to analyse, describe, change, and predict sustainability-related cognitions, emotions, and motivations. Thus, graduates of the Master programme are highly trained in dealing with one of the most fundamental leverage points of sustainable development: the individual person as an active constituent in the process of transformation towards sustainability.
Students with an academic background in the field of sustainability science (e.g. political, natural, social science) will complement their disciplinary education with a new perspective on the topic of sustainability with a focus on the individual actors thus adding a psychological bottom-up perspective to their systemic perspective. Students with an academic background in the field of psychology (e.g. work and organisational, educational, or clinical psychology) will shift their focus away from the traditional intrapersonal perspective of psychology (e.g. biological, neuro-psychological, cognitive processes) and will acquire a new perspective on psychological processes as they occur in certain ecological, economic, social, or cultural environments.
Due to the international orientation of the programme, students not only acquire specialist knowledge in the field of sustainability psychology and transdisciplinary research, but will also develop their intercultural, social, and language skills.
The different foci and diverse combinations with electives enable access to various professional fields and areas of specialisation for students such as:
Executive in CSR and sustainability departments in companies, institutions and authorities
Scientific consultancy for environmental or sustainability policies
Scientific positions in research and education in sustainability sciences and/or psychology
Advertisement agencies, market research, media, press and public work
Environmental communication and education, adult and youth educational services, educational consultancy
Consultancy and administration in international organisations and nongovernmental organisations or institutions
Behavioural expert in environmental and energy organisations (such as grid operators, energy providers and water companies)
Policy Advisor
Impressions of the Programme
Admission Requirements and Application
The Leuphana University Lüneburg and the University of Groningen define the admission requirements for their Double Degree programme as following:
Applicants must have obtained a Bachelors degree (or a degree at least equivalent) with 60 Credit Points in Psychology, Social Sciences, Behavioral Sciences, Sustainability Sciences or Environmental Sciences, of which at least 30 Credit Points must have been in Psychology courses. Furthermore you must have earned:
10 ECTS Statistics
5 ECTS Psychological Research Methods
5 ECTS Scientific Theory/ Philosophy of Science
Please include a separate, informal list of all consecutive modules with your application. The Credit Points can be proven by means of a certified transcript of records and, if applicable, explanatory module descriptions either at a German higher education institution or at an institution of higher education belonging to one of the Bologna signatory states or have acquired a degree equivalent to a Bachelors degree according to the Anabin database at another foreign university.
Note: To be able to start the second year at Groningen University, all ECTS of the first year at Leuphana University have to be completed.
For applicants whose first language is not English, the awarding Universities set a minimum English Language proficiency level. The English tests listed below are acceptable for admission for both EU and international students:
IELTS Academic 6.5 test with no section below 6.0
Internet-based TOEFL test (iBT) with at least 90 points and no section below 19 points, in the writing section not below 21 points
Paper-based TOEFL test (PBT) with at least 575 points and no section below 45 points, in the speaking section not below 55 points
Cambridge English: Advanced (CAE) with Grade C or better
Cambridge English: Proficiency (CPE) with Grade C or better
University of Groningen Language Center Test B2 - speaking, B2 - writing
No certification should be older than two years. Proof of English proficiency should be submitted with the application documents. No comparisons with other certification should be made.
Application in the case of ongoing Bachelor studies is permitted if the candidate has earned at least 81 % of the required credits and will have achieved the remaining results by the end of March at the latest. The specific admission criteria must already be fulfilled based on the exam results available at the time of application.
If more applicants meet the admission requirements, places will be allocated on the basis of the selection procedure regulated in the Admission Regulations. Certain selection criteria are taken into account, which are converted into points. A final ranking list is created based on the points achieved. The following criteria are considered for the selection procedure:
Final Grade of Bachelors degree (or an equivalent degree)
International Experience
Voluntary Work
Scholarships
Ranking among the top students
As students can only complete the programme at two universities (so-called incomplete Double Degree programme), but not only at one university, admission is only granted if the applicants are admitted by the selection committees of both.
If you have made your choice, apply now!
The study programme matches your interests? Then you will find further information for prospective international students on residence and social matters, such as visa, residence permit, health insurance or finding accommodation, on the following pages. Please note that the information for incoming exchange students and international degree-seeking students differs slightly.
Information for incoming exchange students
Degrees awarded: Master of Science (M.Sc.) degree from Leuphana University of Lüneburg and University of Groningen
Application deadline: EU degrees: 1 June / Non-EU degrees: 1 May
Type of programme: consecutive, academic prerequisites
Start date: Every winter term, October
Study places: 10
Extent: 120 CP according to ECTS
Duration: 4 semesters
Language: English
Location: Lüneburg and Groningen
Contribution: ca. 320 EUR per semester at Leuphana University of Lüneburg
Fees: see University of Groningen