Public Affairs and Economics
Public Affairs and Economics (M. Sc.)
The Masters programme in Public Affairs and Economics offers a state-of-the-art curriculum in modern empirical economics with an interdisciplinary profile. It deals with the major transformations of contemporary times and focuses on evidence-based economic decision-making (of individuals, companies, institutions, governments, etc.). Particular emphasis should be given to the interdisciplinary focus that students can choose for themselves by selecting one of three Profile Areas: Finance Studies, Political Studies, and Sustainability Studies.
Graduates will learn to scientifically analyze central economic questions in a theoretically sound manner and on the basis of modern empirical methods. The focus on data-driven economics and policy evaluation methods will provide graduates with the skills to improve economic decision-making in the private and public sectors. The program has an international focus and enables students to work confidently in an international professional environment.
Public Affairs and Economics is one of five Masters programmes offered by the School of Public Affairs and represents economics at the Masters level. Leuphana University ranks high in the THE world university rankings for business and economics. In the 2023 rankings that include the disciplines business and management, accounting and finance, and economics and econometrics, Leuphana is grouped in positions 176-200 worldwide. This is equivalent to the 9th place among the German universities and the 1st place in Lower Saxony.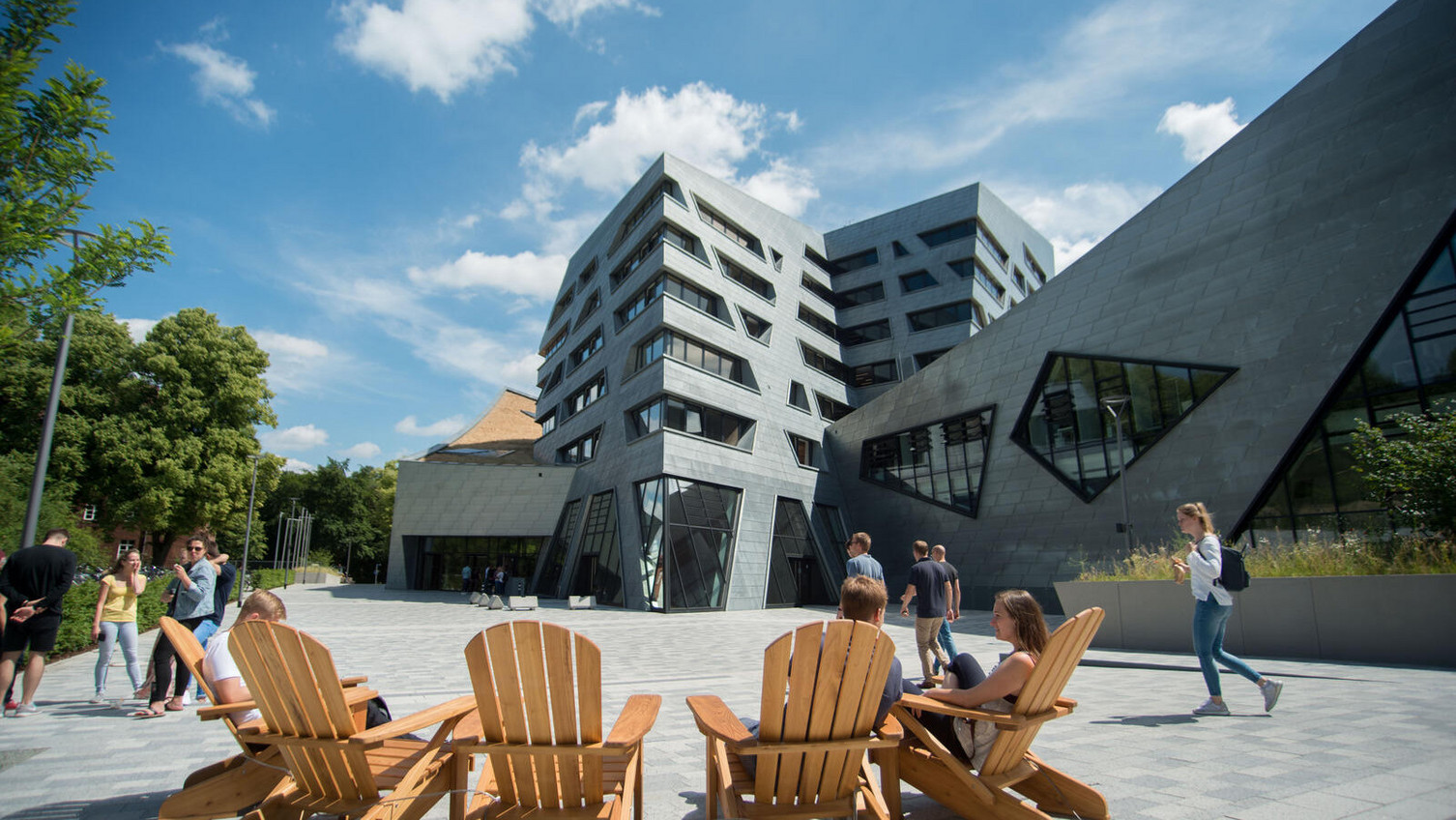 Public Affairs and Economics – The Programme
Public Affairs and Economics – The Programme
The main theme of the Masters programme Public Affairs and Economics is evidence-based decision-making. Students learn to answer important contemporary questions in a data-driven way. Evidence-based economics and policy evaluation are key to understanding complex global economic problems and analyzing policy options in a broad spectrum of topics from combatting climate change to dealing with technological and societal transformation processes to international interdependencies and globalization. The programme's main topics reflect the research areas of Leuphana's Institute of Economics (Future of Work, Behavioral Economics and Societal Transformation, Macroeconomics and Applied Economic Policy). Our staff's research topics and our clear empirical approach in research are core to the Masters programme.
The Masters programme consists of five main pillars: (i) the core area "Economics", (ii) the integration area "Methods of Public Affairs" which it shares with the Masters programme "Public Affairs and Democracy", (iii) the profile area, (iv) the electives area, and (v) the cross-disciplinary Complementary Studies area.
Core Area "Economics" (25 CP): Following an introduction into Advanced Economic Theory in the first semester, students get in contact with the three main research topics of Leuphana's Institute of Economics in the third semester (modules Empirical Labour and Personnel Economics, International Economic Policy, and Behavioral Public Economics). The core area provides the fundament for further specialization and offers insights into the research foci of the Institute of Economics. This opens up opportunities for the master's thesis and the Ph.D. track.
Integration Area "Methods of Public Affairs" (20 CP): In the first semester, students get in contact with state-of-the-art quantitative methods. In the second semester, two additional modules complement the empirical focus (Experimental Methods and Qualitative Methods). All modules in the integration area are jointly offered with the Masters programme "Public Affairs and Democracy", the political science Masters programme of Leuphana's School of Public Affairs. In the integration area, we provide students with the methodological skills they need to understand the most recent empirical literature and succeed in their master's theses.
Profile Area (15 CP): Students choose a profile area that offers them interdisciplinary perspectives on topics covered in the economics core area. Possible profiles are Finance Studies, Political Studies, and Sustainability Studies. With these profiles, students can benefit from Leuphana's interdisciplinary approach and the good connections between the schools.
Electives (15 CP): Students can choose among a large set of electives, both disciplinary and interdisciplinary. For example, electives in economics include the modules Environmental Economics, Public Finance and Public Policy, and Replication Studies.
Complementary Studies (15 CP): In this inter- and transdisciplinary area, students can choose among a large variety of modules aimed at facilitating reflection on general questions related to knowledge, science, and societal responsibility.
Here you can find further information on the course content of the Masters programme Public Affairs and Economics soon.
Study Regulations and Subject-Specific Schedule
Prof. Dr. Boris Hirsch

Prof. Dr. Luise Görges

Prof. Dr. Mario Mechtel

Prof. Dr. Christian Pfeifer

Prof. Dr. Thomas Wein
Students of this Masters programme have the opportunity to spend a semester of their studies abroad. For that, we recommend the third semester. For any questions or to apply, please contact the International Office. The International Office will provide all further information on Erasmus+ funding, and on preparing for and organising your semester abroad.
The growing availability of data in all areas has made it easier to base decisions on evidence. There is a strong and growing demand for decision makers who work in a data-driven manner based on sound theoretical knowledge and scientific methods. The demand for graduates who can collect data, analyze it, and present the results is increasing. So is the demand for people who can contextualize and evaluate these results.
The advanced methods training in the Masters programme meets this need. It enables future decision-makers in politics and administration, business and science to base the formulation of policy measures and decisions on evidence supported by state-of-the-art methods from the social sciences. With its innovative profile areas, it also widens the view beyond its own disciplinary perspective.
Graduates can choose to pursue a variety of career paths. Careers in academia, government, administration, international organizations, as well as in business and industry can be considered. The following employers may be taken into consideration as examples:
Ministries and parliaments at various levels
Political foundations
International institutions such as the European Union and United Nations
Policy and management consultancies
Private and public banks, including central banks
Private firms
Research institutes
Admission Requirements and Application
You can find all information about the admission requirements, the application and the selection procedure on our "Apply" page.
Admission to the programme is restricted. There are two basic pre-requisites: good English language skills and a minimum of 60 CP in economics or related disciplines during undergraduate studies.
The study programme matches your interests? Then you will find further information for prospective international students on residence and social matters, such as visa, residence permit, health insurance or finding accommodation, on the following pages. Please note that the information for incoming exchange students and international degree-seeking students differs slightly.
Information for incoming exchange students
Degree awarded: Master of Science (M.Sc.)
Application deadline: EU degrees: 1 June / Non-EU degrees: 1 May
Type of programme: consecutive, restricted admission
Study places: 25
Start date: October 1
Extent: 120 CP according to ECTS
Duration: 4 semesters
Language: English
Semester contribution: ca. 320 EUR