Student and Alumni experiences
Student and Alumni experiences - Media and Digital Studies
On this page you find experiences of current and former students about the Masters Media and Digital Studies at Leu­pha­na Graduate School.
17.08.2022 Paula Muche has followed her cousin to Leuphana and is now approaching the end of her Masters in Media and Digital Studies. She has already immersed herself in journalistic and editorial work at various points during her studies and plans to build on her experience in this field after graduation.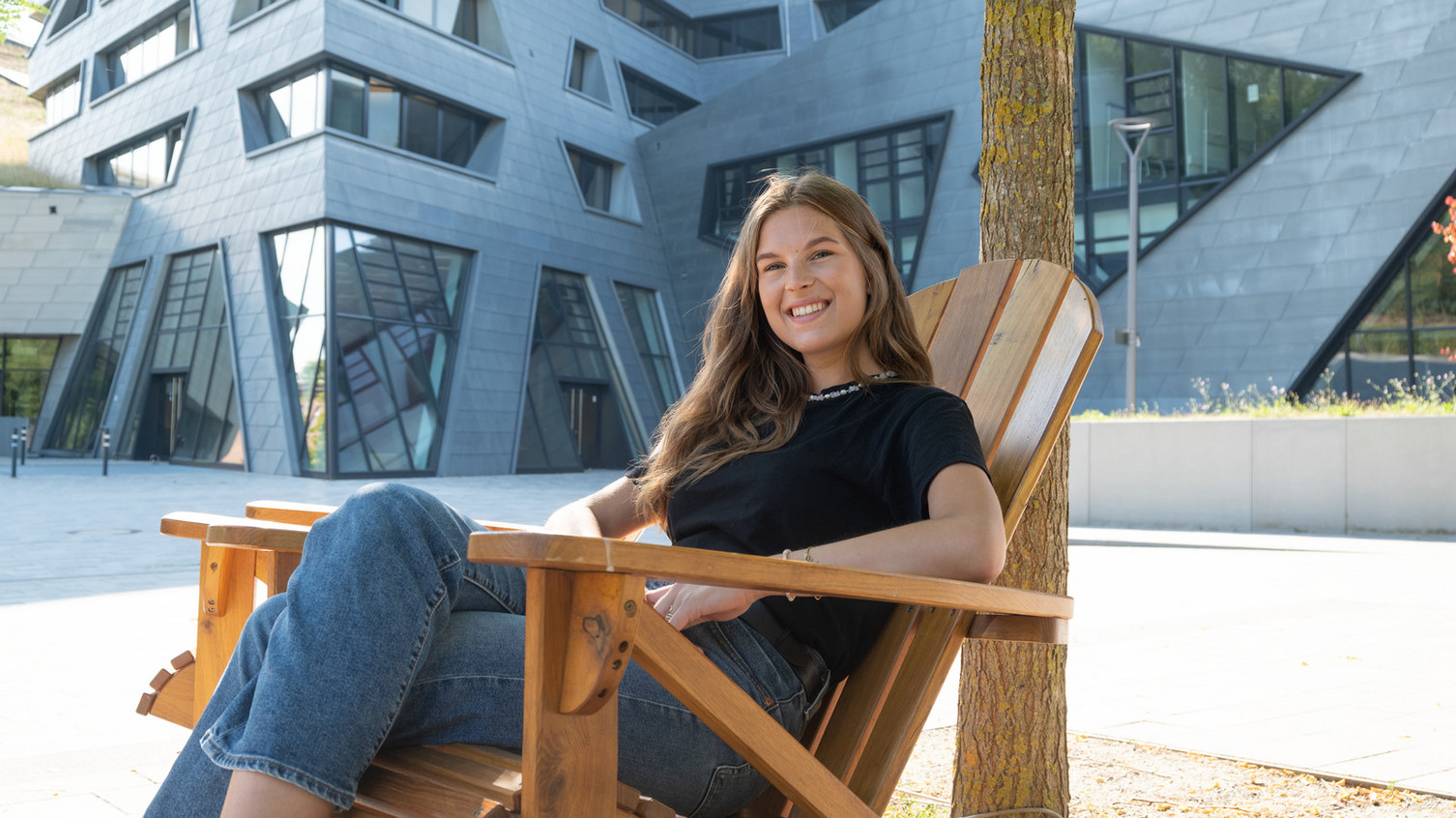 Why did you choose the study programme Media and Digital Studies at Leuphana Graduate School?
I first heard about Leuphana University through my cousin, who started her studies in Lüneburg in 2018. The university's sustainable and innovative concept piqued my interest, and the city of Lüneburg also appealed to me as a place to study. When I then saw that with the Cultural Studies Masters programme Media and Digital Studies there was a study programme that combined my focus from the Bachelor programme and where I could dedicate myself to questions of media change and the accompanying social changes from a Cultural Studies perspective, I applied within a short time. Indeed, the degree programme offers me the opportunity to look at different aspects of digitalisation using interdisciplinary methods and approaches.
What did you study before starting your Masters degree at the Leuphana Graduate School?
From 2017 to 2020, I did a double Bachelor degree in Communication and Media Studies and Cultural Studies at the University of Bremen. During this time, I mainly studied the concept of "Deep Mediatization", which examines the interaction of media and social change. In the Masters programme at Leuphana, I saw an opportunity for me to combine both fields - Media Studies and Cultural Studies - and thus to look at the phenomenon from a Cultural Studies perspective.
During your studies, you have the opportunity to choose between different modules and set your own focus. Which modules did you choose? What do you mean by these?
Two seminars from the elective area have remained particularly positive in my memory. Firstly, in the module "Organization: Structure, Power, Economies", I attended a seminar entitled "Emotional Technologies". In the seminar, we critically examined the current development of Emotional Artificial Intelligence, i.e. technologies that aim to analyse and, in some cases, even influence the feelings of their users. We read various philosophical and historical texts and discussed them using different, concrete examples.
Another elective seminar I took in the module "Crises and Ruptures in a Global Context" was about the so-called platform economy. We looked, mostly from a sociological perspective, at the ways in which the big internet companies like Amazon, Google, Facebook and Apple influence the global economy and change state control strategies in the process. Although - or perhaps because - I had little contact with the economic aspects of the rise of these leading internet companies in my previous studies, this seminar was very enriching for me.
Leuphana sees itself as an inter- and transdisciplinary university. The orientation of your study programme is also interdisciplinary. How do you perceive this?
During the past four semesters that I have spent at Leuphana so far, I have not only learned a lot of new things in the field of Cultural Studies, but have also become acquainted with theories from history or sociology, for example. Each of the students and lecturers brings their own disciplinary background, and in the seminars, we then have the chance to share our ideas, approaches and previous knowledge with each other - even if this sometimes goes beyond the seminar description. In the process, I have experienced that all participants are open and grateful for the most diverse possible ways of looking at things and perspectives, and I have really come to appreciate this.
The Cultural Studies Integration Modules bring together students from all Masters programmes at the Faculty of Cultural Studies. How have they experienced these parts of the degree?
I found it an enriching experience to get to know students from the other Cultural Studies Masters programmes, and their academic interests and backgrounds. In part, I was positively surprised at how different the focal points and topics are that we Masters students deal with. For example, approaches from philosophy, art studies, literature, sociology, media studies and sometimes also from areas such as education or economics come together, which helps enormously to broaden one's own horizons and, for example in discussions or group work, to leave one's own comfort zone.
What is the relationship like among the students and with the lecturers?
The students treat each other in a friendly manner, with respect and mutual interest. Because, with a few exceptions, the courses take place in the form of smaller seminars, you get to know the lecturers more quickly than is the case at large universities. As a result, the interaction with each other is quite personal and there is a pleasant and open atmosphere in the seminars.
What keeps you busy besides your studies?
On the one hand, I work as a student assistant in Leuphana's university communications department. There, I write articles for the university homepage, manage central websites and prepare social media posts for the Leuphana Instagram account. On the side, I have been working as a freelance social media editor for various institutions for several years. I advise smaller companies on setting up a social media presence and create photographs, videos and texts for their online presence. Since my first semester at Leuphana, I have also been an active member of the AStA radio station unit "Katerfrühstück". In the unit, we produce a one-hour programme every fortnight during the lecture period, which is broadcast live from the studio of the citizens' radio station Radio ZuSa, which is located directly on the Leuphana campus. Until recently, I was the administrator of the AStA radio station unit for a year, where I planned and moderated our editorial meetings, took responsibility for broadcasting and did public relations work, for example. During my studies at Leuphana, I also completed a voluntary three-month internship in the local editorial office of a daily newspaper for further career orientation and to learn practical journalistic skills, and I will start another internship at another daily newspaper in September.
How do you like Lüneburg as a place to live and how do you spend your free time here?
I like Lüneburg very much as a place to live. I grew up not far from here, in the Heidekreis, so I already knew the city a little. What I like about Lüneburg is the beautiful architecture, the committed people, the many nice pubs and cafés and also the good connections to Hamburg. Overall, the atmosphere here is just very warm.
What are your plans after your Masters degree?
After my Masters degree, I would like to do a traineeship at a radio station, a daily newspaper or a press office.
To whom would you recommend your study programme at the Leuphana Graduate School?
I would recommend the study programme Media and Digital Studies to anyone who wants to critically examine the culture-generating influence digital media have on our lifeworlds. The study programme is wide-ranging and, in my view, demands the ability to reflect, think critically and creatively, as well as the willingness to show initiative. The study programme can offer the chance to leave one's own disciplinary 'bubble' and in this way broaden one's horizons, if one gets involved.
Author: Jonas Kernein
08.03.21 The 24-year-old is in his first semester of the Master's programme "Cultural Studies: Media and Digital Cultures". As a student assistant, he is helping to organise the Graduate School's digital Masters Information Day on 18 March.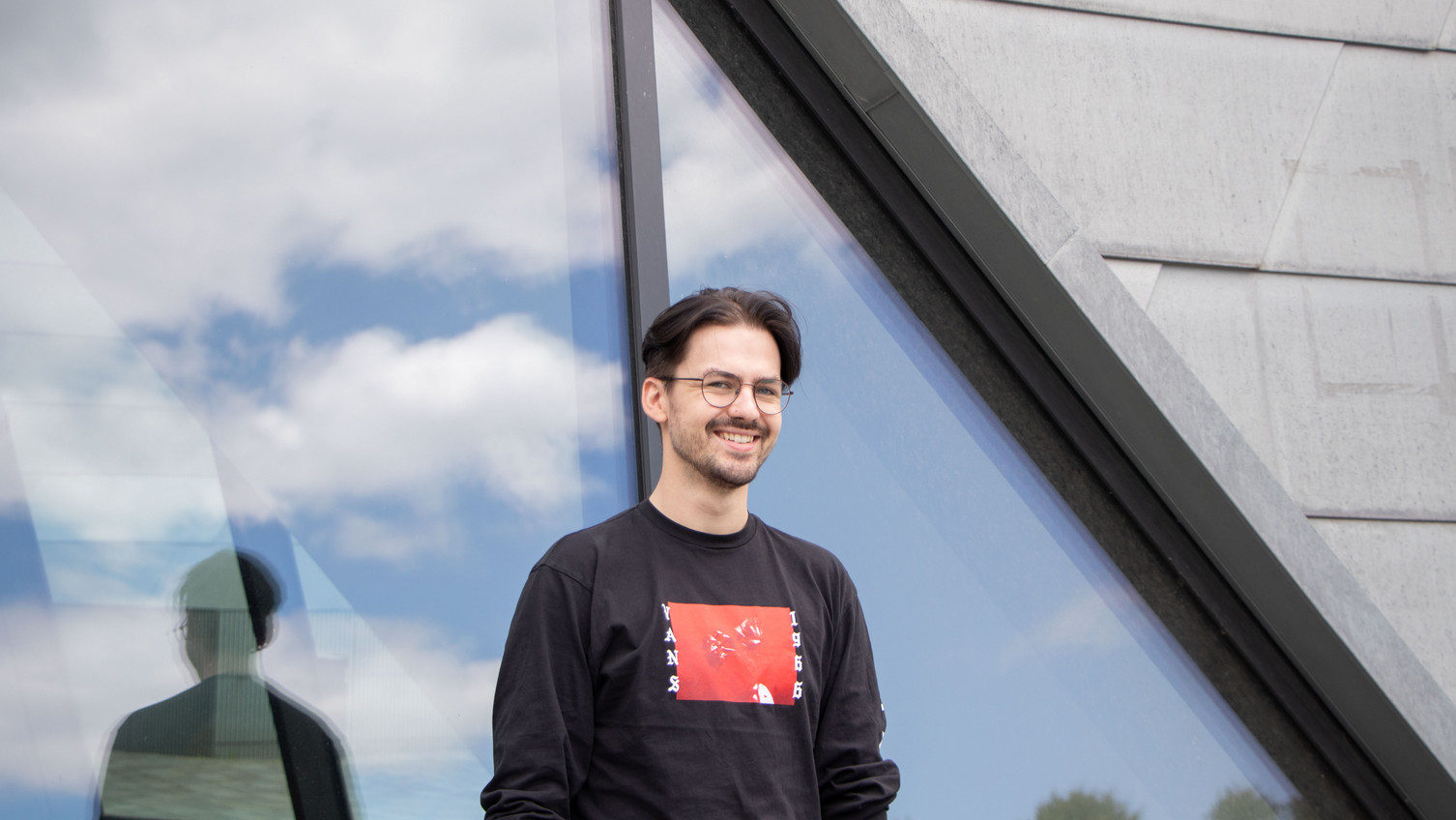 Jonas Kernein first heard about Leuphana in a youth club in Nienburg an der Weser. A local rock group playing there had won the band contest at the lunatic Festival at Leuphana. "After that, I went to the festival with friends. It was very different from the other concerts I had attended until then: more sustainable and organised by students." Jonas Kernein became curious, found out about the study model at Leuphana and learned that the festival was accompanied by a seminar in the complementary studies programme: "I would like to work in cultural organisation or marketing later. The possibility of combining practice and academic theory is exciting for me." In the meantime, Jonas Kernein has co-organised several lunatic festivals and has his Bachelor's degree in the bag. Now he is studying the Master's programme "Cultural Studies: Media and Digital Studies" in the first semester and is helping to organise the Graduate School's Masters Information Day on 18 March as a student assistant. "For me, Leuphana was the right choice. There are a lot of opportunities to get involved here and we are a good community. That's why I stayed here after my Bachelor's degree." Jonas Kernein is able to put his experience in event organisation to good use in the preparation of the Master's Info Day and, among other things, he takes care of the maintenance of the website and social media channels and is the student contact person for external partners.
He wrote his Bachelor's thesis on digital music media and their influence on Fidelity. "My Master's programme follows on from this thematically. I like the modern approach. We deal with cultural theory, among other things, but the topics almost always have to do with my life world." Jonas Kernein is interested in contemporary and pop culture, among other things, and most recently completed an internship at a well-known hip-hop magazine in Hamburg. "I would like to work in the music industry later," says the student. That's why he is deepening his studies in Sound Studies: "I already took additional courses on music and auditory culture in my Bachelor's degree. I find many intersections between music and media in my studies. For me, Lüneburg is a real upgrade."
Author: Dr. Marietta Hülsmann