Student portraits
Major in the Leuphana Bachelor
On this page you will find testimonials from our students in the Leuphana Bachelor with the Major Psychology (Principles).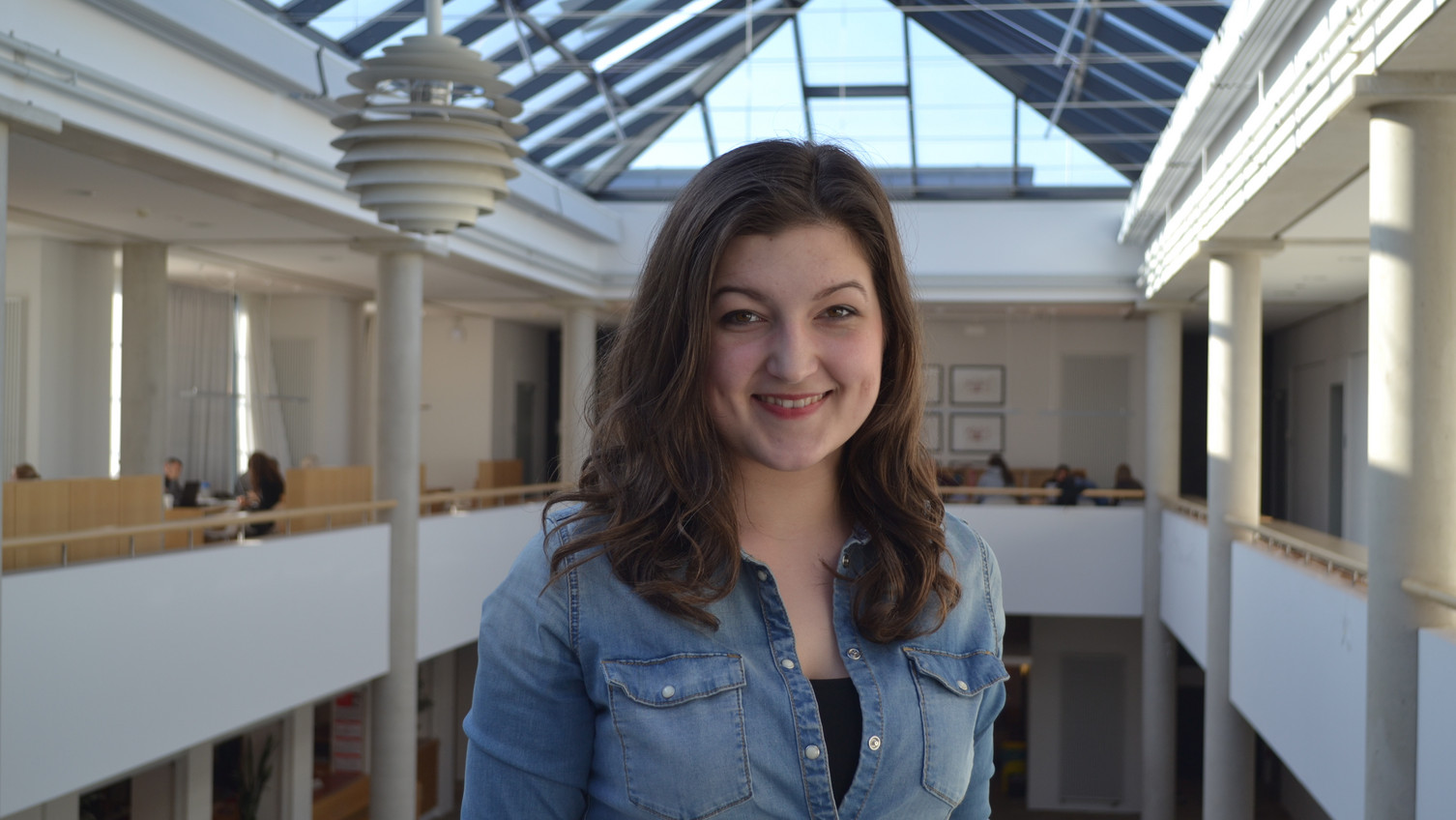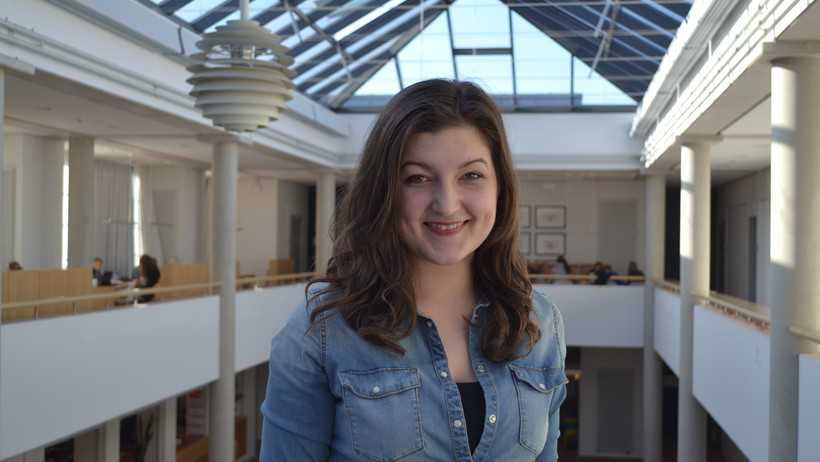 Why are you studying psychology and business psychology at Leuphana College?
I started looking at brochures, going to fairs and thinking about what I wanted to do long before I finished school. But I never came across anything that my heart beat for and that I thought was something I wanted to do for life. The inspiration that it could be psychology came quite unexpectedly at some point and suddenly everything was clear. I realised that I had always been involved in things that had something to do with psychology before. I want to do something later that I can make people happy with and I think everyone can do that in different ways. For me, psychology is the way to do that and that's why I applied.
What are your academic interests? What are your topics / questions that you deal with in your studies?
Psychology is relatively broad in itself and you have an immense number of opportunities to look for a job later on. Leuphana focuses on business psychology, but I have found that this is not my focus at all. For me, it's very much in the direction of clinical psychology.
Nevertheless, I would choose Leuphana again. The lecturers, for example, are very good. From what I can tell from my experience, they are really well positioned thematically. Everyone has his or her own area that he or she fully supports, everyone is full of enthusiasm and can also convey that. Business psychology is not a bad foundation either. On the contrary, I believe that it offers good job prospects and a great deal of security later on.
What are the advantages of studying at Leuphana College?
I am one of those people who like to try out new things. The complementary studies programme is great for that, of course. There I have the opportunity to tackle completely new areas and look around to see what I might be interested in, to combine topics or to specialise. In the end, in addition to my degree, I can show many more areas that I have dealt with and that make me stand out from the crowd.
The psychology profile in the complementary programme also helps immensely to be able to collect credit points for the Master's degree, especially if you don't want to specialise in business psychology but want to look further and are interested in other areas within psychology.
Why and for whom is studying at the college recommendable?
For everyone. I have the feeling that Leuphana's reputation is getting better and better. But I think that Leuphana still has a long way to go before it has the reputation that it should theoretically have because of its quality. I think that everyone can feel in good hands here at the university because you are always supported in what you would like to do and you also have contact persons everywhere. I've never had the experience of going somewhere and not getting a friendly answer. So I think everyone should feel comfortable here.
The entire extra-curricular programme is also very large. For example, I studied Swedish for two semesters and was able to integrate it well into my schedule. I'm also doing a salsa course at the university right now, and that's just a very small fraction of everything else I could do. I would love to do everything if I had the time.
Study concept of Leuphana
What advantages do you see in the Leuphana Semester? Which modules/module contents were your personal highlight?
I thought the Leuphana Semester was great and I had a lot of fun, but I couldn't get any added value out of it for my major. It didn't prepare me for my psychology degree, but it didn't have a negative impact either. I find the topic of sustainability interesting in general, but that's a personal aspect. Either you're interested in the topic, in which case the Leuphana semester is good and exciting, or you're not interested in it, in which case it has neither an advantage nor a disadvantage for the rest of your studies and you just have to get through it.
That's why many people complain that they can only collect a few credit points in psychology during the Leuphana Semester. You have to weigh that up for yourself in advance.
How do you rate the complementary studies? Did the complementary studies help you to deal with foreign scientific ways of thinking and to think outside the box? What did you learn from it?
So far I have only taken two complementary seminars and I rate them as very positive. The complementary studies give me the choice to do something that is purely in line with my interests and not predetermined. The fact that I'm completely free to do whatever I want is something I don't have in the psychology major. So far, however, I haven't been able to make full use of the options in the complementary studies and probably won't be able to use them as much. Because I realised that psychology is what I want to study, I'm doing the psychology profile in the complementary degree programme in order to collect additional credit points in psychology.
Have you already completed internships during your studies?
No, not yet during my studies. But I have now applied for a semester abroad. Since I was rejected by the partner university, I am now developing a plan to apply as a freemover. If that doesn't work out, I would also like to go abroad via internships. Of course, that's always a question of funding.
Are you a scholarship holder?
No. I applied for the state scholarship once, but I'm not a permanent scholarship holder.
Do you work while you study?
Yes, I started working at the university as a student assistant (SHK) in the psychology department and did that for 20 hours a month. Now I work 10 hours at the university and an additional 20 hours at the psychiatric clinic in Lüneburg. I work there in child and adolescent psychiatry. It's a lot of fun, great work and I can gain experience and make contacts.
Are you involved in a student initiative, a student council or an association on a voluntary basis alongside your studies?
I'm active in Enactus and am currently involved in the Second Page project. At Second Page we recycle printed paper. Since many misprints are often only written on one side, we have set up collection points and re-bind these pages into new notepads.
The aim of Enactus in general is to make the world a little bit better and to design and guide projects. These projects should eventually stand on their own two feet and be able to finance themselves - independent of the students who may have already left university.
Lüneburg as a city to study
How do you like Lüneburg as a place to study?
Super. I'm actually from Schleswig-Holstein. I love the sea and am therefore quite happy that I still live quite close to it. In addition, the city is not only very beautiful, but also offers an incredible number of recreational opportunities. That's why relatives like to visit me, but the connection to Hamburg is also great. I also find the size ideal for a student city, I couldn't imagine a better one.
What do you think of the admission process at the college?
Totally super. It's often been scientifically proven that grades don't say what they're supposed to say. I think it's right to use a grade point average as a criterion for an application; if there are too many applications, the selection has to be made somehow. But that shouldn't be the only criterion. I think it generally makes sense to pay attention to more than just the grade point average. Other universities should also introduce this.
Future prospects - what's next for you after graduating from college?
I definitely want to do my Master's degree, but I haven't got any further yet. I'm just trying to get my credit points together so I can do the Master's I want to do. I haven't decided on a place to study yet, I'm relatively open and would like to stay here because I feel very comfortable here. But it doesn't have to be here, I'm also interested in studying abroad, so we'll see what happens.
If you want to become a psychological therapist, you can add a three-year training programme to your Master's degree. That's a very long way to go, but I can well imagine it right now.
At the moment, I'm still interested in so many things that I don't want to commit myself to clinical psychology. Maybe in the next few years there will be subjects that interest me more. I just want to get carried away and am still open to everything.
Information Office (Infoportal)
Building 8, ground floor
Universitätsallee 1, 21335 Lüneburg
Fon +49.4131.677-2277
infoportal@leuphana.de
Opening hours
Term time & term break:
Mon - Thu 9 - 16 h
Fr 9 - 12 h