Programme
The Opening Week marks the start of your studies: it begins on Thursday, October 5th and ends on Friday, October 13th. During the first two days you can arrive and receive all important information for the start of your studies. You will meet the tutors, your project group and get to know the professors of your degree programme.
After a free weekend, you will then devote yourself to the topic of the Opening Week, "Collecting", and your project work. You will gather impressions in group work and discussions with people from science, society and politics. In the process, you will develop your own vision for the world society of tomorrow. After an exciting week in which you have approached the topic from different perspectives, the Opening Week will come to an end with the grand finale on Friday, October 13th.
Please find details about the packed programme below, short-term changes are possible.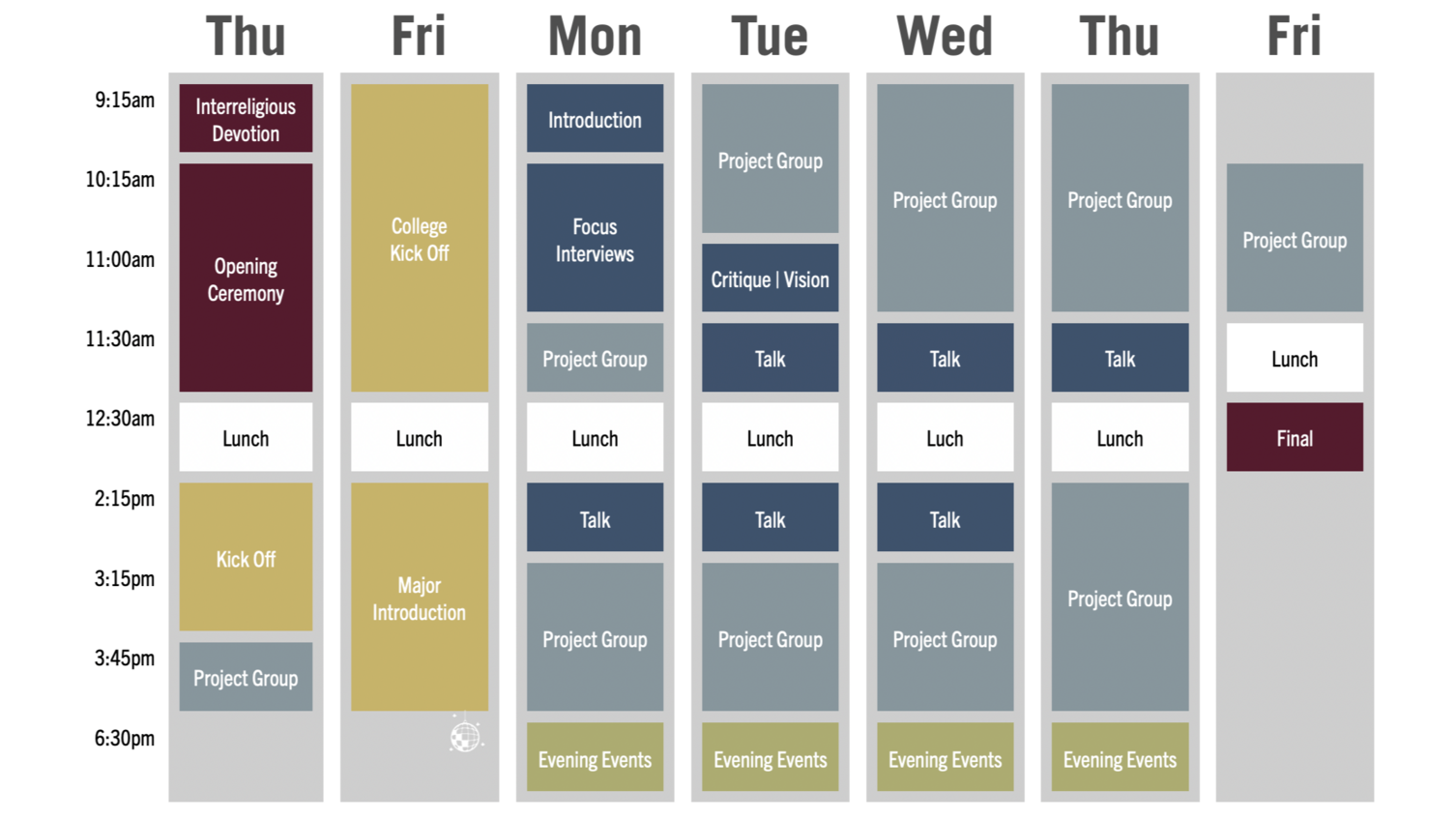 Programme Overview
Programme
09:00 - 09:45
Auditorium

Interreligious Devotion

10:15 - 11:45
Auditorium

Opening Ceremony

Welcome Speech | Sascha Spoun
Opening Talk | Barbara Plankensteiner with Lynn Rother: De-Collecting / Re-Collecting
Greeting | Claudia Kalisch
Invitation of the AStA
Overview of Leuphana Bachelor | Jelena Bäumler

Moderation: Christian Brei

Music: ensemble reflektor e.V.

11:45 - 12:30

Meeting in the Project Group

12:30 - 14:00

Lunch Break

14:15 - 15:15
Auditorium

Kick-Off
with Sylvia Haider and Valentin Schatz
Cooperative Mind | Anke Karber
Questioning Mind | Steffi Hobuß

Bibliothek: Erik Senst
Awareness: Max Dietrich

Moderation: Pascal Kölpien

15:45 - 18:00

Get Together in the Project Groups
09:15 - 9:55
Auditorium

The Idea of the Leuphana Bachelors (in German)
Michaela Wieandt and Steffi Hobuß

Moderation: Sven Prien-Ribcke, Head of Acadamic Events

9:55 - 10:05
Auditorium

Mobility Break with University Sport

10:05 - 10:35
Auditorium

The interdisciplinary modules in the Leuphana Semester
Laura Picht-Wiggering, Module Coordination "Wissenschaft problematisiert: Kritisches Denken"
Lina Bürgener, Module Coordination "Wissenschaft transformiert: Verantwortliches Handeln"
Johannes van Deest, Coordination DATAx
Henrik von Wehrden, Module Coordination "Wissenschaft produziert: Methodisches Wissen"

Moderation: Sven Prien-Ribcke, Head of Acadamic Events

10:35 - 10:40

AStA and DSI

10:40 - 11:00

Break

11:00 - 11:05
Auditorium

Musical Intervention (Orchester)

11:05 - 12:30
Auditorium

Introduction myStudy, myCampus (in German)
Studienberatung
Medien- & Informationszentrum (MiZ)

12:30 - 14:00

Break & Campus Connection

14:00 - 15:30

Major Presentations
List of rooms

from 15:30

Schedule consultation
09:15 - 10:00
Auditorium

Introduction
with Sylvia Haider, Lynn Rother, Phillip Sandermann, Valentin Schatz & Hannah Trittin

10:15 - 11:15

Focus Interviews

Auditorium

Art & Archives | Lynn Rother & Susanne Leeb

C40.606

Data & Values | Hannah Trittin & Ricardo Usbeck

Hörsaal 1

Power & Rights | Valentin Schatz & Maximilian Steinbeis

Forum

Nature & Resources | Sylvia Haider & Werner Härdtle

Hörsaal 3

Trust & Recognition | Philipp Sandermann & Martin Hartmann

11:30 - 12:30

Project groups

12:30 - 14:00

Lunch Break

14:15 - 15:15
Auditorium

Talk "Collecting Nature now?"
with Johannes Vogel | Host: Lynn Rother & Sylvia Haider

15:15 - 18:00

Group work I: Exploring the topic

18:30 - 20:00
KLIPPO

Lesung "Natürlich kann man hier nicht leben" (in German)
with Özge Inan | Moderation: Lukas Dalpke
09:15 - 10:30

Project work II: Consulting the topic

10:15 - 11:45
Auditorium

Critical or visionary? Two modes of project work

Critique | Steffi Hobuß
Vision | Matthias Wenzel

11:30 - 12:30
Auditorium

Talk "How responsible implementation of AI could look like? A talk on Digital Ethics"
with Maike Scholz | Host: Hannah Trittin

12:30 - 14:00

Lunch Break

14:15 - 15:15
Auditorium

Talk "Power and Rights in Russia's War against Ukraine".
with Sabine Fischer | Host: Valentin Schatz

15:15 - 18:00

Project work II: Consulting the topic

from 18:30
KLIPPO

Improtheater "ImProGress"
Einlass: 18:30 Uhr / Beginn: 19:00 Uhr
Wednesday, 11 October 2023
09:15 - 11:00

Project work III: Developing visions

11:00 - 12:30
Auditorium

Talk "Trust and Institutions"
with Reinhard Bachmann | Host: Philipp Sandermann

12:30 - 14:00

Lunch Break

14:15 - 15:15
Auditorium

Talk
with Franziska Tanneberger | Host: Sylvia Haider

15:15 - 18:00

Project work III: Developing visions

from 18:30

Tutor:innen-Abend | Tutors evening
Thursday, 12 October 2023
09:15 - 11:00

Project work IV: Realising visionary and critical contributions

11:00 - 12:30
Auditorium

Talk "Beyond Collecting"
Claudia Emmert | Host: Lynn Rother

12:30 - 14:00

Lunch Break

14:00 - 18:00

Project work IV: Realising visionary and critical contributions

from 21:30

AStA Party
09:15 - 11:30

Criticism and vision: Sessions on 30 topics with advisors
Feedback-Session with Academic

12:30 - 14:00
Auditorium

Final
with Sylvia Haider, Lynn Rother, Phillip Sandermann, Valentin Schatz & Hannah Trittin
Talk: tba
Christian Brei, Vice President
Students Contributions: Videos & Commentaries
Dance Company of the Leuphana University Lüneburg

Moderation: Cornelius Gesing