Program
With the Opening Week we invite you to a special start of your studies. The Opening Week begins on 1 October (Thursday) and ends on 9 October (Friday). The first two days (1 October and 2 October) are all about welcoming you: you meet the tutors, your project group and get to know the professors of your degree program.
After a free weekend, the Opening Week will be devoted to the topic "Future::Cities". You will gather impressions from seminars, discussions and group work situations and develop your own vision for the City of the Future. After an exciting week in which you approached the topic from different perspectives, the Opening Week ends on Friday (9 October) with the final.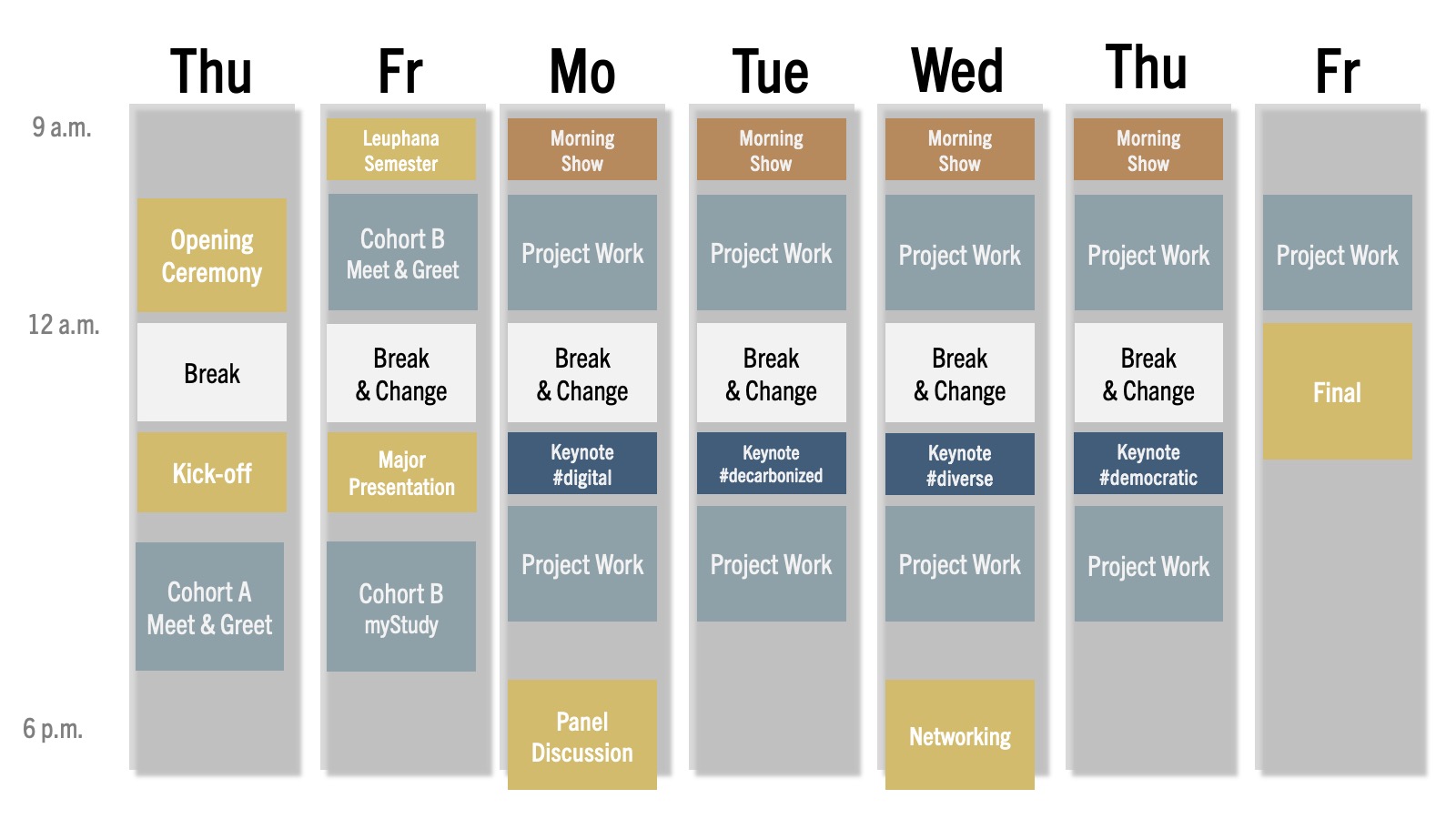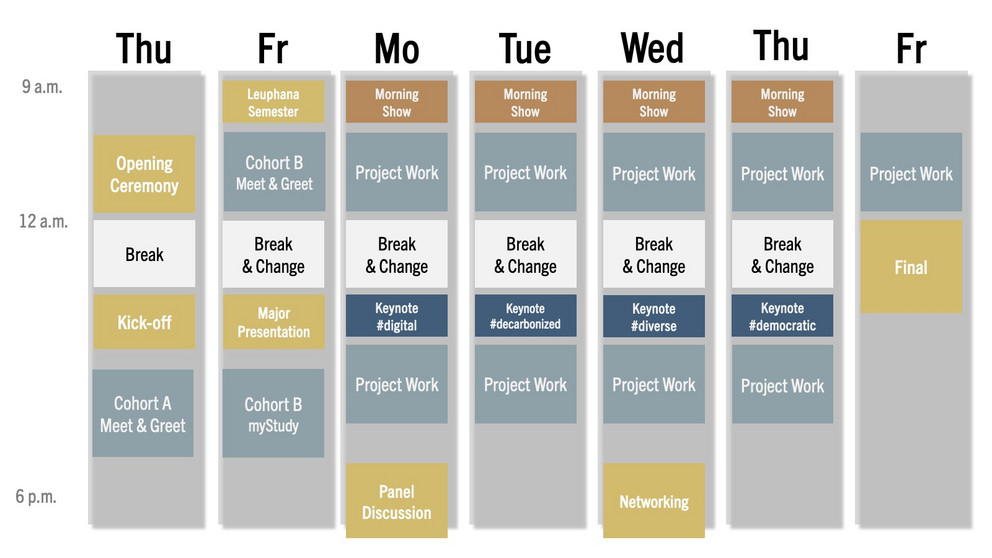 ©Leuphana
On campus the groups are divided into two cohorts of 700 students each and then form groups with a maximum of 15 participants and a tutor from a higher semester. Each project group will have a seminar room at its disposal, in which appropriate distances must also be kept. The cohorts are present on campus in the morning or afternoon. Cohorts which are not on campus will work remotely in their project group. In this way we ensure that we can control the flow of people responsibly. All events such as the morning shows and keynotes take place online. The table below shows which cohort meets on campus at which times.
Cohort A: Groups 001-024 and 079-102
Cohort B: Groups 025-078
When
Cohort A
Cohort B
10:00 am - 10:30 am

Interreligiöses Willkommen

Leevke Johanna Stürmer, Studentin Kulturwissenschaften
Jona Simon, Rabbiner des Landesverbandes der Jüdischen Gemeinden Niedersachen
Roberto Abdurahim Pera, Islamwissenschaftler
Oliver Petersen, Buddhistischer Lehrer
Dr. Barbara Hanusa, Mentorin für Lehramtsstudierende ev. Theologie
Silke Ideker, ev. Hochschulseelsorgerin
Michael Hasenauer, kath. Hochschulseelsorger

optional: on campus

Interreligiöses Willkommen

Leevke Johanna Stürmer, Studentin Kulturwissenschaften
Jona Simon, Rabbiner des Landesverbandes der Jüdischen Gemeinden Niedersachen
Roberto Abdurahim Pera, Islamwissenschaftler
Oliver Petersen, Buddhistischer Lehrer
Dr. Barbara Hanusa, Mentorin für Lehramtsstudierende ev. Theologie
Silke Ideker, ev. Hochschulseelsorgerin
Michael Hasenauer, kath. Hochschulseelsorger

remote

10:30 am - 11:15 am
First Get Together in Project Groups
on campus
First Get Together in Project Groups
remote
11:15 am - 12:15 pm

Opening Ceremony

Sascha Spoun
Opening Dialogue with Diana Kinnert
The Courage to Start with Dorothee Bär, Ulrike Guérot, Phenix Kühnert, Konstantin Kuhle and Andrej Safundzic
Ulrich Mädge
Steffi Hobuß, Julia Klindworth and Zülfikar Ali Simsek
Moderation: Christian Brei
Music: ROTHKO STRING QUARTET

on campus

Opening Ceremony

Sascha Spoun
Opening Dialogue with Diana Kinnert
The Courage to Start with Dorothee Bär, Ulrike Guérot, Phenix Kühnert, Konstantin Kuhle and Andrej Safundzic
Ulrich Mädge
Steffi Hobuß, Julia Klindworth and Zülfikar Ali Simsek
Moderation: Christian Brei
Music: ROTHKO STRING QUARTET

remote
12:30 pm - 2:30 pm
Lunchbreak
Lunchbreak
2:30 pm - 3:30 pm
Kick-Off

The Courage to start with Melanie Brinkmann
Hosts: Monika Schoop, Ursula Kirschner, Daniel Lang and Thomas Gegenhuber
Moderation: Cornelius Gesing and Farina Paetz

on campus
Kick-Off

The Courage to start with Melanie Brinkmann
Hosts: Monika Schoop, Ursula Kirschner, Daniel Lang and Thomas Gegenhuber
Moderation: Cornelius Gesing and Farina Paetz

remote
3:30 pm - 5.45 pm
Get Together in Project Groups
on campus

Get Together in Project Groups
remote
When
Cohort A
Cohort B
9:15 am - 10:15 am
Outlook for the Leuphana Semester

Die Idee des Leuphana Semesters (Erich Hörl, Steffi Hobuß und Max Kretschmer)
The interdisciplinary modules in the Leuphana Semester (Laura Picht-Wiggering, Johannes van Deest, Julius Rathgens and Annika Weiser)

remote
Outlook for the Leuphana Semester

Die Idee des Leuphana Semesters (Erich Hörl, Steffi Hobuß und Max Kretschmer)
The interdisciplinary modules in the Leuphana Semester (Laura Picht-Wiggering, Johannes van Deest, Julius Rathgens and Annika Weiser)

remote
10:15 am - 12:15 pm
MyStudy Introduction
remote

Get Together in Project Groups
remote

12:30 pm - 2:30 pm
Lunchbreak
Lunchbreak
2:30 pm - 4:30 pm

Major Introduction via zoom
remote

Major Introduction via zoom
remote
4:30 pm - 6:30 pm
MyStudy Introduction
remote
When
Cohort A
Cohort B
9:15 am - 10:15 am
Morning Show

Anne Diedrich, HELP 4.0
Holke Brammer, Project Together
Hosts: Thomas Gegenhuber
Brainy Breakfast with Johanna Hopp
Moderation: Cornelius Gesing and Farina Paetz

remote
Morning Show

Anne Diedrich, HELP 4.0
Holke Brammer, Project Together
Hosts: Thomas Gegenhuber
Brainy Breakfast with Johanna Hopp
Moderation: Cornelius Gesing and Farina Paetz

remote
10:15 am - 12:15 pm
Project work: Exploring the topic I
remote
Project work: Exploring the topic I
remote
12:30 pm - 2:30 pm
Lunchbreak
Lunchbreak
2:30 pm - 3:30 pm

Keynote: "Next Exit Future" by Ranga Yogeshwar

Hosts: Monika Schoop and Thomas Gegenhuber
Moderation: Cornelius Gesing

remote

Keynote: "Next Exit Future" by Ranga Yogeshwar

Hosts: Monika Schoop and Thomas Gegenhuber
Moderation: Cornelius Gesing

remote
3:30 pm - 6:30 pm
Project work: Exploring the topic II

Meet with Academic via zoom

remote
Project work: Exploring the topic II

Meet with Academic via zoom

remote
7:00 pm - 8:00 pm

Nachhaltigkeit konkret – wie sich die Zukunftsstadt Lüneburg ihren Namen verdient
- In Kooperation mit dem Projekt "Lüneburg. Die Zukunftsstadt"

Keynote by Uwe Schneidewind
Brainstorming with Felix Englisch, Sebastian Heilmann, Corinna Krome, Eva Kern and Stephan Seeger
Host: Daniel Lang

remote

Nachhaltigkeit konkret – wie sich die Zukunftsstadt Lüneburg ihren Namen verdient
- In Kooperation mit dem Projekt "Lüneburg. Die Zukunftsstadt"

Keynote by Uwe Schneidewind
Brainstorming with Felix Englisch, Sebastian Heilmann, Corinna Krome, Eva Kern and Stephan Seeger
Host: Daniel Lang

remote
When
Cohort A
Cohort B
9:15 am - 10:15 am
Morning Show

Short films on frontier zones
Hosts: Ursula Kirschner and Martin Kohler
Brainy Breakfast with Johanna Hopp
Moderation: Cornelius Gesing and Farina Paetz

remote
Morning Show

Short films on frontier zones
Hosts: Ursula Kirschner and Martin Kohler
Brainy Breakfast with Johanna Hopp
Moderation: Cornelius Gesing and Farina Paetz

on campus
10:15 am - 12:15 pm
Project work: Critically analysing the topic I
remote
Project work: Critically analysing the topic I
on campus
12:30 pm - 2:30 pm
Lunchbreak & Cohort Switch & Sports
Lunchbreak & Cohort Switch & Sports
2:30 pm - 3:30 pm

Keynote: "Cities in a World Economy" by Saskia Sassen

Host: Ursula Kirschner
Moderation: Farina Paetz

on campus

Keynote: "Cities in a World Economy" by Saskia Sassen

Host: Ursula Kirschner
Moderation: Farina Paetz

remote
3:30 pm - 6:30 pm
Project work: Critically analysing the topic II

Meet with Academic via Zoom

on campus
Project work: Critically analysing the topic II

Meet with Academic via Zoom

remote
When
Cohort A
Cohort B
9:15 am - 10:15 am
Morning Show

Talk with Heila Lotz-Sisitka and Injairu Kulundu-Bolus
Host: Daniel Lang
Sascha Spoun
Brainy Breakfast with Johanna Hopp
Moderation: Cornelius Gesing and Farina Paetz

on campus
Morning Show

Talk with Heila Lotz-Sisitka and Injairu Kulundu-Bolus
Host: Daniel Lang
Sascha Spoun
Brainy Breakfast with Johanna Hopp
Moderation: Cornelius Gesing and Farina Paetz

remote
10:15 am - 12:15 pm
Project work: Critically analysing the topic III

Exchange with practitoners via zoom

on campus
Project work: Critically analysing the topic III

Exchange with practitoners via zoom

remote
12:30 pm - 2.30 pm
Lunchbreak & Cohort Switch & Sports
Lunchbreak & Cohort Switch & Sports
2:30 pm - 3:30 pm
Keynote: "Transformation! – For the city of the future" by Dirk Messner

Host: Daniel Lang
Moderation: Cornelius Gesing

remote
Keynote: "Transformation! – For the city of the future" by Dirk Messner

Host: Daniel Lang
Moderation: Cornelius Gesing

on campus
3:30 pm - 6:30 pm
Project work: Engaging with visions
remote
Project work: Engaging with visions
on campus
7:00 pm - 9.00 pm
Quizzen macht AhStA! - Evening stream by AStA
Quizzen macht AhStA! - Evening stream by AStA
When
Cohort A
Cohort B
9:15 am - 10:15 am
Morning Show

Interview: "smart green cities" with Katharina Fegebank
Interview: "We are also under attack" - Concerned Artists of the Phillipines with Edgie Francis Uyanguren
Brainy Breakfast with Burkhardt Funk: DATAx
Hosts: Daniel Lang and Monika Schoop
Moderation: Cornelius Gesing and Farina Paetz

remote
Morning Show

Interview: "smart green cities" with Katharina Fegebank
Interview: "We are also under attack" - Concerned Artists of the Phillipines with Edgie Francis Uyanguren
Brainy Breakfast with Burkhardt Funk: DATAx
Hosts: Daniel Lang and Monika Schoop
Moderation: Cornelius Gesing and Farina Paetz

on campus

10:15 am - 12:15 pm

Project work: Producing critical comment and visionary video I
remote (flexible)
Project work: Producing critical comment and visionary video I
on campus
12:30 pm - 2:30 pm
Lunchbreak & Cohort Switch & Sports
Lunchbreak & Cohort Switch & Sports
2:30 pm - 3:30 pm
Keynote: "Where Democracy Grows - digital participation in the urban space" by Marina Weisband

Hosts: Monika Schoop and Daniel Lang
Moderation: Farina Paetz

on campus
Keynote: "Where Democracy Grows - digital participation in the urban space" by Marina Weisband

Hosts: Monika Schoop and Daniel Lang
Moderation: Farina Paetz

remote
3:30 pm - 6:30 pm
Project work: Producing critical comment and visionary video II
on campus
Project work: Producing critical comment and visionary video II
remote (flexible)
When
Cohort A
Cohort B
10:15 am - 11:45 am
Criticism and visison: Session on 33 topics with advisors
remote
Criticism and visison: Session on 33 topics with advisors
remote
12:15 pm - 1:30 pm
Final event

Keynote and Talk "Black Space, White Space, and the American City" with Elijah Anderson (Moderation: Steffi Hobuß and Leonie Schmitt)
Hosts: Daniel Lang, Ursula Kirschner and Monika Schoop
Handover Leuphana Semester (Laura Picht-Wiggering, Julius Rathgen and Annika Weiser)
Moderation: Cornelius Gesing and Farina Paetz
Opening Week - The Movie
Closing words: Christian Brei and Steffi Hobuß
Artistic Statement by the Rothko String Quartett, Sadie Weis, Florian Hermes, Marie van Alst and Rebecca Lang

remote
Final event

Keynote and Talk "Black Space, White Space, and the American City" with Elijah Anderson (Moderation: Steffi Hobuß and Leonie Schmitt)
Hosts: Daniel Lang, Ursula Kirschner and Monika Schoop
Handover Leuphana Semester (Laura Picht-Wiggering, Julius Rathgen and Annika Weiser)
Moderation: Cornelius Gesing and Farina Paetz
Opening Week - The Movie
Closing words: Christian Brei and Steffi Hobuß
Artistic Statement by the Rothko String Quartett, Sadie Weis, Florian Hermes, Marie van Alst and Rebecca Lang

remote