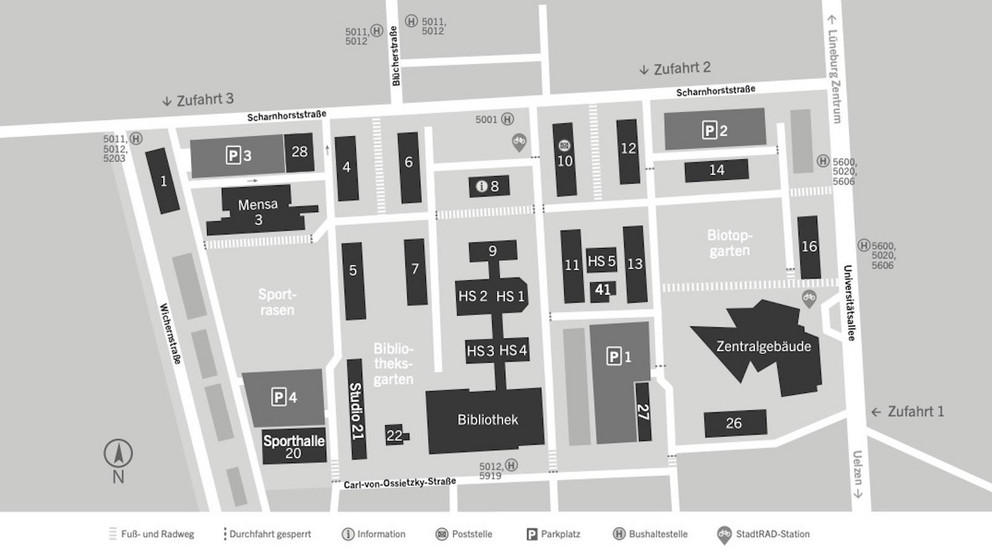 ©Leuphana
Abbreviations of rooms and locations at Leuphana University
C = Location Universitätsallee 1 (Campus)
VA = Location Volgershall / Altbau
V = Location Volgershall / Neubau
W = Location Rotes Feld / Wilschenbrucher Weg 84
What do the room numbers mean?
Room number = location, house, floor and room. For example: C7.209 >> maincampus, house 7, second floor, room 09.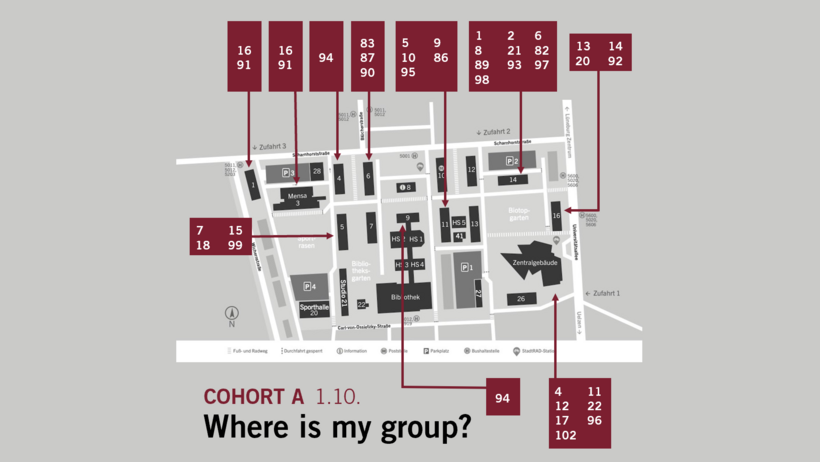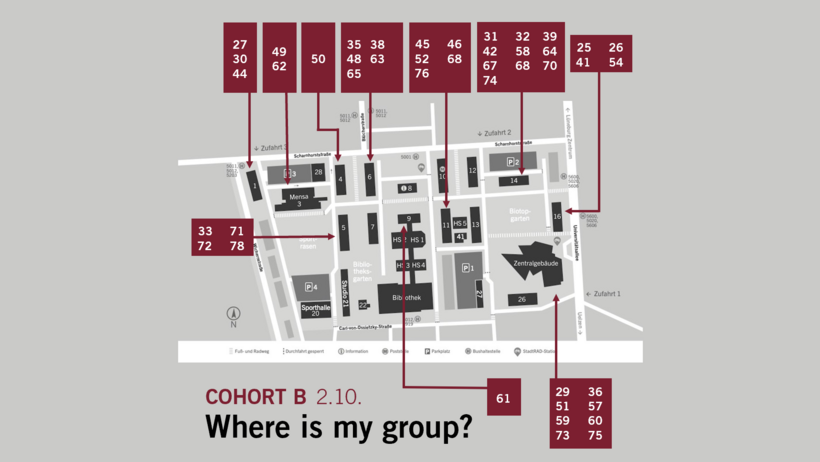 There is a special Leuphana shuttle bus here in Lüneburg during the lecture period. The line 5001 takes you either directly to the central campus in 13 minutes, or with a detour via the Red Field also to the university location there.
This is especially interesting for commuters from Hamburg or Uelzen, as the departure and arrival times are adapted to the metronome.

In order to ensure that you can keep the necessary distances during the opening week, a shuttle service will be set up at peak times. Like the 5001, this shuttle runs from the train station to the main campus and back.

The bus stop on campus is located in Scharnhorststraße opposite building 8.
In principle, however, we recommend that anyone who is able to take the bike. Not only will you get your circulation going early in the morning, but the risk of infection is lowest here.
October 1st
| | | |
| --- | --- | --- |
| 9.36 Uhr | ZOB --> Campus | 5001 |
| 9.40 Uhr | ZOB --> Campus | Shuttle |
| 9.42 Uhr | ZOB --> Campus | 5001 |
| | | |
| 18.00 Uhr | Campus --> ZOB | 5001 |
| 18.08 Uhr | Campus --> ZOB | Shuttle |
| 19.01 Uhr | Campus --> ZOB | 5001 |
| 19.08 Uhr | Campus --> ZOB | Shuttle |
October 2nd
| | | |
| --- | --- | --- |
| 7.30 Uhr | ZOB --> Campus | 5001 |
| 8.45 Uhr | ZOB --> Campus | Shuttle |
| 8.45 Uhr | ZOB --> Campus | 5001 |
| | | |
| 13.01 Uhr | Campus --> ZOB | 5001 |
| 13.07 Uhr | Campus --> ZOB | Shuttle |
5 - 7 October
| | | |
| --- | --- | --- |
| 8.45 Uhr | ZOB --> Campus | 5001 |
| 8.45 Uhr | ZOB --> Campus | Shuttle |
| 12.38 Uhr | ZOB --> Campus | Shuttle |
| 12.45 Uhr | ZOB --> Campus | 5001 |
| | | |
| 13.01 Uhr | Campus --> ZOB | 5001 |
| 13.07 Uhr | Campus --> ZOB | Shuttle |
| | | |
| 13.40 Uhr | ZOB --> Campus | Shuttle |
| 13.45 Uhr | ZOB --> Campus | 5001 |
| | | |
| 19.00 Uhr | Campus --> ZOB | Shuttle |
| 19.01 Uhr | Campus --> ZOB | 5001 |
October 8th
| | | |
| --- | --- | --- |
| 8.45 Uhr | ZOB --> Campus | 5001 |
| 8.45 Uhr | ZOB --> Campus | Shuttle |
| 12.38 Uhr | ZOB --> Campus | Shuttle |
| 12.45 Uhr | ZOB --> Campus | 5001 |
| | | |
| 13.01 Uhr | Campus --> ZOB | 5001 |
| 13.07 Uhr | Campus --> ZOB | Shuttle |
| | | |
| 13.40 Uhr | ZOB --> Campus | Shuttle |
| 13.45 Uhr | ZOB --> Campus | 5001 |
| | | |
| 18.00 Uhr | Campus --> ZOB | 5001 |
| 18.08 Uhr | Campus --> ZOB | Shuttle |
| 19.00 Uhr | Campus --> ZOB | Shuttle |
| 19.01 Uhr | Campus --> ZOB | 5001 |